Zalman VF3000F GTX 570/580 GPU Cooler Review

Date: August 10, 2011
Author(s): Rob Williams

NVIDIA's GeForce GTX 580 is a beast of a card, able to reach 80°C with minimal effort. So what about those who value high performance along with silence? There are some options, such as Zalman's VF3000F after-market cooler. But with it requiring three slots in your PC, and $75 from your wallet, can it deem itself worthy?
---
Introduction
Compared to the GeForce GTX 480 that prefaced it, the GTX 580 became a card that proved NVIDIA's determination to make sure its cards don't overheat. While it took no effort to see the GTX 480 reach 95°C or higher, the GTX 580's improved power architecture made sure it never got much higher than 80°C. A major improvement if there ever was one.
But while manageable, 80°C temps might not be ideal for those who have their PC in a room that's notoriously warm (*raises hand*), are using a small chassis, or can't stand the noticeable whine that can emit from a card like the GTX 580 during a gaming session. Again, where noise is concerned, NVIDIA improved the GTX 580 over the 480 quite a bit, but at full load, you'll easily hear it above every other component inside your PC.
Somewhat surprisingly, there isn't a huge market for GPU coolers, and at one popular e-tailer, there's a mere 50 available (compared to the 200 or so CPU coolers), and of those, 15 belong to Zalman. It's clear that the company takes GPU cooling seriously, so we look forward to seeing what the VF3000F is capable of.
Closer Look
Before diving in, I should mention that I took a look at a near-identical Zalman GPU cooler last fall. Dubbed the VF3000N, that cooler worked with older GeForce models, and required a lot more effort to install. There, the cooling performance was quite good, but as the GTX 580 could be even harder to cool, the results should be interesting.
The most important thing to mention about the VF3000F will also be the first: triple slot. For those with smaller motherboards or lots of PCI/PCIe peripherals, a cooler of this form-factor is not going to be ideal for most. With my particular motherboard, I still managed to have a PCIe NIC and audio card installed and still have one slot free, but not all motherboards are going to be quite as forgiving, so please do your research before committing to a cooler of this size.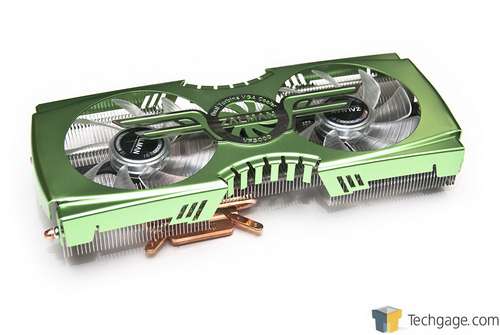 The first thing that may catch your eye with this cooler is its color, which while green, doesn't quite align itself to the NVIDIA green that it could be trying to mock. Most people I've spoken with don't like this shade, but I don't have much of a problem with it – though I would have preferred something even darker.
Nonetheless, the cooler features a multitude of fins along with five long copper heatpipes and an ultra-smooth base – one of the smoothest I've seen on a cooler in some time.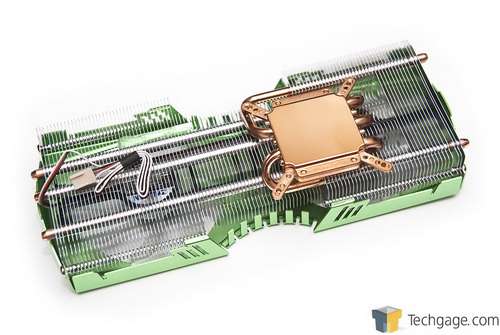 While taking photos of the cooler, I somehow forgot to take a photo of it without its shroud, but from what I can see, it's identical to the one found with the VF3000N, so this photo should suffice. Here's a close-up of the base, however, which I managed to smudge just a little bit before taking the photo (it's harder than you'd imagine to avoid this!):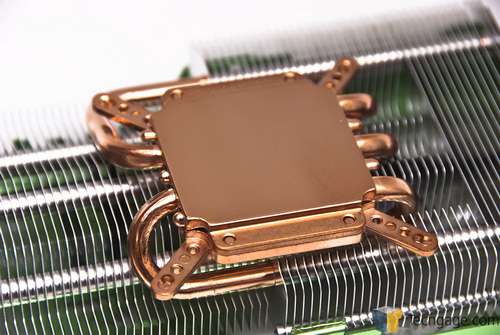 Compared to the VF3000N, the number of install components found with this cooler is minimal. With that cooler, each memory chip needed its own small heatsink, while here, Zalman has included a large block that makes things so much easier. Don't believe me? Take a look at this photo of the VF3000N's components and you will.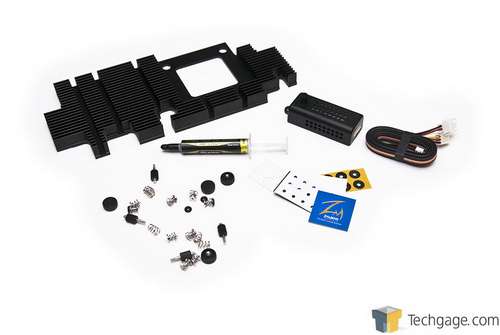 The goal of most coolers is to deliver as good performance as possible while retaining reasonable audio levels, and the VF3000F is no different. With its dual-92mm fans, huge number of fins, thick heatpipes and super-smooth base, this cooler could well prove to be an excellent performer – and we'd hope so given its $75 USD price tag.
With that said, let's move onto the installation and testing.
Installation and Testing
The first required step of installing any graphics card cooler is to uninstall the other one, and in this case, that cooler was reference. This is where, somewhat hilariously, we ran into our first roadblock, but it's far from being the fault of Zalman.
For some reason, even though both of our GTX 580 cards came straight from NVIDIA, the cooler on one card was secured using six-side star screws that I've never seen before. I had to use the smallest Allen wrench (hex key) I own to unscrew them, and this is where the roadblock hit me hard.
While I managed to get half of the screws undone no problem, the others refused to come out, as if they were stripped. This totally ruined our chances of installing this cooler on that card, so I implore anyone who plans to buy this or another third-party cooler to make sure first that they'll even be able to get the stock cooler off. This was the first time I ever encountered this problem, and I'm hoping it'll be the last. Our second GTX 580 thankfully had regular screws so we were able to remove the reference cooler without an issue.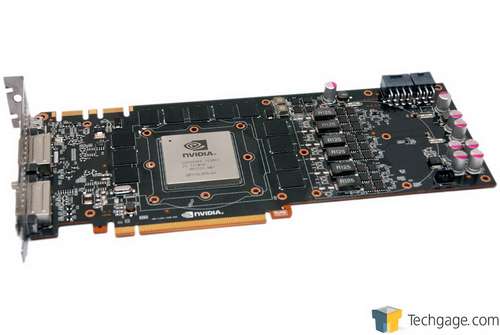 Once the card is clean, each one of the memory chips (12 in total) and mini MOSFETs (22 in total) need to have thermal paste applied to them. If that sounds tedious, it's because it is. Zalman includes with the VF3000F a tube of its ZM-STG2 thermal paste, but like all thermal paste, it's difficult to push out onto small chips like these and spread out. On a big CPU, it's fine, but here, not so much.
I'm afraid to admit that this is where I took a shortcut. After applying some thermal paste to the first memory chip, I realized that doing the rest was just going to be rife with tedium, due to how slow the paste comes out and how hard it is to apply neatly. Thus, I replaced the included thermal paste with Zalman's own STG1. Since first discovering it years ago, I haven't been able to let it go. It in essence allows you to apply the paste like nail polish (not that I understand this too well), and because its more of a liquid than other pastes, it both applies and removes easier than any other – it's truly unparalleled.
That said, even with paste that's much easier to use, the mini MOSFETs area did end up a little messier than I had planned. Still, good coverage all-around.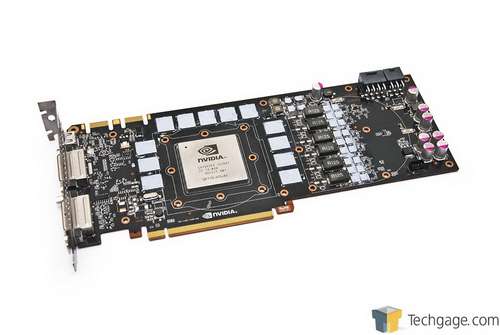 With the card itself prepped, the next step is to take the included large heatsink and apply 10 super-small 'rubber rings' to each one of the holes on the back, which are shown applied in the photo below. These are rubber on one side, sticky on the other, and require a steady hand to apply properly. These are used to reduce vibration between the cooler and the card.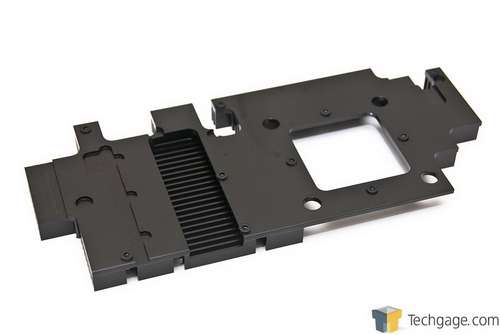 Prior to affixing the heatsink to the card, 10 PET washers need to be applied to the back of it, one over each of the holes that corresponds with the holes on back of the heatsink. You will be able to easily tell the appropriate locations, or simply look at the photo below to see where they are meant to be applied. Once done, you can place the heatsink on the card and use the included bolts to connect the two pieces together.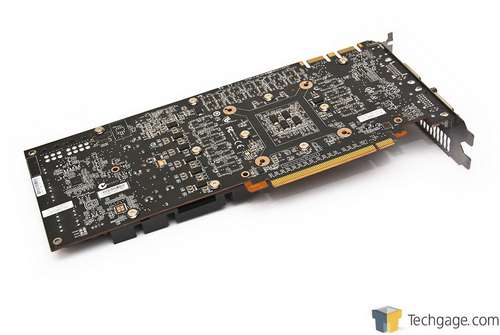 At this point, here is where we stand: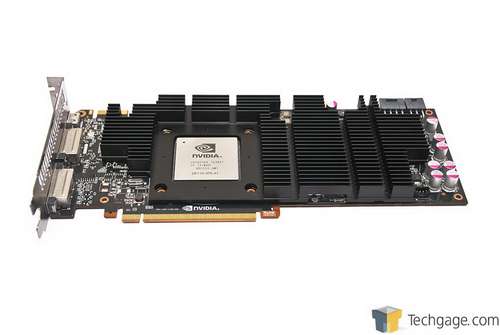 With the card where it is now, we're almost done. On the heatsink, nipple screws and rubber rings need to be attached to the heatsink base, as seen here: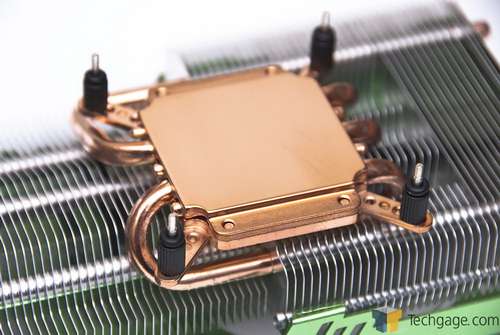 After, a fair amount of thermal paste is to be applied to the GPU. Rather than push a huge pile of the stuff to the center of the chip, I'd recommend creating a thin spiral shape, making sure that the entire surface will be covered once the cooler is put into place. You do not want to put too much, however, as the paste could leak out on either side, and could become a detriment to the overall performance.
Before the heatsink is attached to the card, you will need to combine the included springs and fixing nuts together so that the spring's widest opening faces the card. Once that's done, you can combine the heatsink to the card and use these new fixing nut + spring combos to secure the pieces together.
In case it's not obvious enough from that statement, it takes a mere 4 screws to remove the entire heatsink from the card. In the event that you want to replace the thermal paste, detaching the two segments is very, very easy.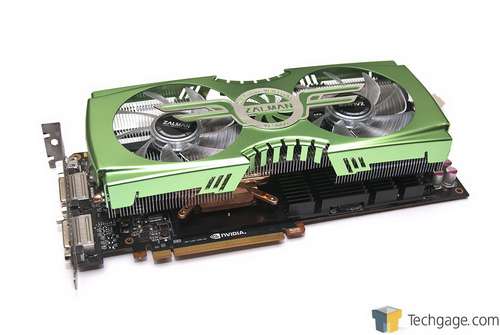 After the card is installed into your PC, the fan controller module will need to be connected. Installing this is simple, but one 3-pin motherboard header will be required (or a 3-pin to Molex connector adapter if one doesn't exist).
While all of the performance testing was conducted with our GPU test PC, using a Cooler Master HAF X full-tower chassis, the card's home for the time-being is my personal PC, so I'm using it for the sake of photos to give an idea of what it looks like installed, replete with its fan controller module: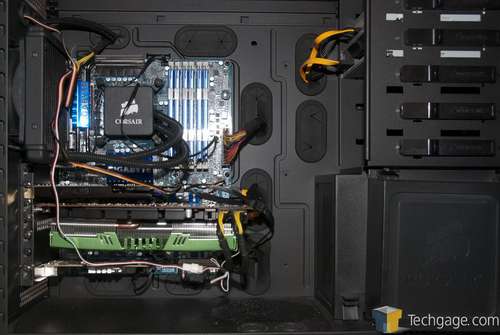 "Domination" is a good term to use here, because when I look at this photo, all I can see is the VF3000F. If not for the fact that the motherboard I'm using includes a 1x PCIe slot at the top, I wouldn't have been able to use this card (or, my ASUS Xonar STX). Also, when using a cooler like this, SLI is going to be a tough deal to manage.
Test Results
To test the difference between the reference cooler (pictured in this article) and Zalman's VF3000F, I used a combination of GPU-Z 0.5.4 to record all of the temperatures, and Futuremark's 3DMark 11 at Extreme mode in a loop of 3 to push the card about as hard as it can be.
Here are the specs of the test machine:
| | |
| --- | --- |
| | |
| Processor | Intel Core i7-975 Extreme Edition – Quad-Core @ 4.05GHz – 1.40v |
| Motherboard | Gigabyte GA-EX58-EXTREME – F13j BIOS (08/02/2010) |
| Memory | Corsair DOMINATOR – 12GB DDR3-1333 7-7-7-24-1T, 1.60v |
| Graphics | NVIDIA GeForce GTX 580 1.5GB |
| Audio | |
| Storage | Seagate Barracuda 500GB 7200.11 |
| Power Supply | |
| Chassis | Cooler Master HAF X Full-Tower |
| Display | |
| Cooling | Corsair H50 Self-Contained Liquid Cooler |
| Et cetera | Windows 7 Ultimate 64-bit |
Coolers of any sort can be a little sporadic with their effectiveness from one run to another, mostly depending on room temperature, so for the sake of added confidence in our results, each test was run a total of three times. Due to the equally sporadic nature of my city's weather, testing took about a week to complete as it was a rare occurrence when my non-temperature-controlled room became cool enough for testing.
First up is a graph containing the best results across the three runs for each configuration. Following that is a break-down of each run to give ourselves a clearer picture of what the VF3000F is capable of.
Cooler & Fan Setting


Run #1

Run #2

Run #3

Stock Cooler (Default)

23.3°C Room
40°C / 81°C

23.8°C Room
38°C / 81°C

22.9°C Room
37°C / 80°C

Stock Cooler (85% Fan)

24.6°C Room
33°C / 62°C

22.4°C Room
30°C / 59°C

22.4°C Room
30°C / 57°C

Zalman VF3000F (Low)

24.1°C Room
32°C / 75°C

23.9°C Room
32°C / 74°C

23.9°C Room
32°C / 74°C

Zalman VF3000F (Medium)

23.3°C Room
31°C / 63°C

24.4°C Room
31°C / 65°C

25.0°C Room
32°C / 65°C

Zalman VF3000F (High)

25.2°C Room
33°C / 66°C

25.1°C Room
33°C / 66°C

23.4°C Room
33°C / 63°C

Results in "Idle / Load" format. Bold results are those found in graph above.
Using the VF3000F's lowest fan setting, which is just about inaudible, it outperforms the stock cooler by a fair margin. It knocked 5°C off both the idle and load, which is more impressive than it seems by numbers alone. The reference cooler's noise at its default setting is very noticeable during a gaming session if headphones or loud speaker volume levels are not being used. The VF3000F on the other hand is easily overshadowed by every other component in the PC.
At about the 30% mark on Zalman's fan controller module, the fans begin to become audible. At about 50%, the height of the audio is reached, and judging by our Medium and High results, it's clear that the fans operate at the same speed when the dial is settled anywhere between 50~100%.
That in itself might be a little odd, but even stranger to me is the fact that the reference cooler, when cranked up to an 85% fan speed, out-performed the Zalman cooler at its highest fan speed quite easily. Of course, the reference cooler at that fan speed made it sound like my PC was about to lift up off the ground, but I still expected a bit more from the Zalman cooler.
Let's wrap things up on the next page.
Final Thoughts
Zalman's VF3000F retails for about $75 USD, so does it manage to accomplish enough to warrant its premium price-tag? The answer for most is going to be "no". Those who will say "yes" will have nothing but noise-levels on the mind, because performance-wise, the VF3000F didn't live up to our expectations.
When I took a look at Zalman's similar VF3000N last fall, with the help of our GeForce GTX 285, the temperature differences in the end were somewhat impressive, but not mind-blowing. With that cooler's lowest fan setting, it managed to drop a staggering 16°C off of the load temp, but given that the GTX 285 peaked at 96°C, the higher gains are likely due to a much less efficient reference cooler. The reference GTX 580 does have a rather good cooler, on the other hand, making it harder for the VF3000F to impress.
Let's recap. The VF3000F dropped 6°C off the load temperature in our best run compared to the reference cooler, while at a higher fan speed that increased to a 17°C drop. That figure starts off somewhat impressive, but when you can see that the reference cooler with a high fan speed can out-preform it, it doesn't exactly instill enough confidence for a purchase.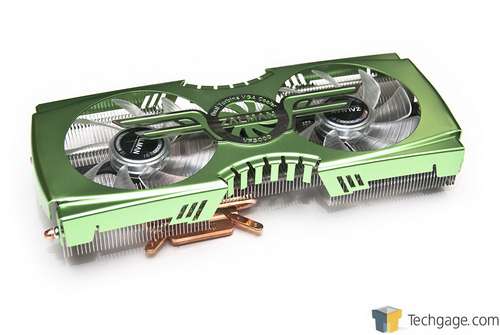 With all of that said, I do have to raise again what I did differently with our sample. Rather than use the included thermal paste for the memory and MOSFETs, I opted to use the easier-to-apply STG1 instead. While it's also made by Zalman, there's little doubt in my mind that the included paste would in fact perform a little bit better. The caveat is that it will also be a lot harder to remove.
That in mind, given a perfect configuration, it wouldn't surprise me to see a 3~5°C load temperature difference from what we saw at each setting.
Even if Zalman's VF3000F managed to match the reference cooler at its highest speed, that's still not something to be too impressed by. The reference cooler is without question far louder, but the Zalman is clearly audible as well. Instead of a whine, it produces a quieter and far more natural fan noise on part with chassis or CPU cooler fans.
Is this all worth $75? As far as I'm concerned, no. That again brings me back to the group of people who don't only care about performance but also cooling power. With the VF3000F, you can use a GTX 570 or GTX 580 and quite literally not hear it – and I mean that. If you have a single fan in your machine, chances are adding this cooler to the mix at its lowest speed won't even be noticed. With it installed in my personal rig, I can only single it if I put my ear against the top of the chassis (which currently has no fans).
For the reason of silence alone, I could possibly understand the appeal of a cooler like this, but given its price and the fact that it takes up three slots, it's not for everyone.
Discuss this article in our forums!
Have a comment you wish to make on this article? Recommendations? Criticism? Feel free to head over to our related thread and put your words to our virtual paper! There is no requirement to register in order to respond to these threads, but it sure doesn't hurt!
Copyright © 2005-2019 Techgage Networks Inc. - All Rights Reserved.