Apple TV (2010)

Date: October 6, 2010
Author(s): Rob Williams

The latest Apple TV media streamer is here, and unlike the original that launched in 2007, this one has a lot of competition. It features a super-small frame, fantastic iTunes movie rental and Netflix support, a clean-looking and smooth-operating interface and overall good performance. But can Apple's latest compete with the established competition?
---
Introduction; Close Look at the Apple TV
Since this past August, we've taken a look at three popular media players… ASUS' O!Play Air, WD's TV Live Plus, and most recently, AC Ryan's Playon!HD mini. Of these, it'd be difficult to call one more feature-rich than the other, as all of them support most of the common audio and video formats, along with some Web services, such as Netflix and Flickr.
If anything, each time we review a new media player, it feels even more robust than the last, but with the Apple TV, we're actually in a strange situation where we're not really moving far ahead in terms of media support, but quite a bit back. But like most things Apple creates, what the Apple TV lacks in such support, it hopes to make up with in other ways, such as with exclusive iTunes integration, a classy user interface and smooth operation. Does it deliver? We're here to find that out.
When Apple launched its first Apple TV in early 2007, no one could quite understand what the company's goals with it were, and suffice to say, adoption was somewhat slow. But what it offered was a simple device for media fiends, especially those addicted to Apple's iTunes, to play content on their TV… and it did those things well. This was long before such devices become a total fad, which is what we're seeing today. It's harder to find a company not developing these things than those that are.
With the 2010 iteration of the Apple TV, the company has improved on the original in many ways, and has tried to appeal to a larger crowd with the introduction of Netflix support. At the same time, some aspects have been scaled back, and we'll cover all those throughout the article. The biggest difference might be the fact that there's no internal hard drive in this version, but rather an internal 8GB NAND flash chip used for improving the reliability of "streaming" online video.
Of course, some might argue that the "biggest" change is actually the fact that the new Apple TV is small… very small. I don't have an original Apple TV to compare to, but the differences between the two are incredible. What I can compare it to is the recently reviewed WD TV Live Plus, which up to this point has likely been the smallest set-top media player available: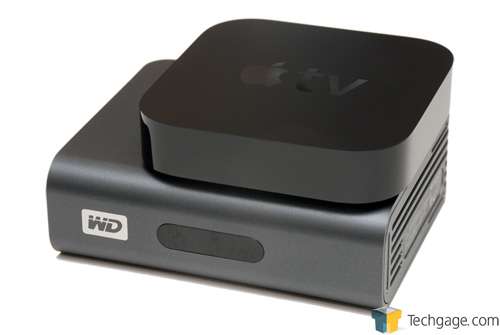 Interally, the Apple TV contains similar hardware to current iPod touch's, which includes an Apple A4 processor that handles both the normal processing and graphics. There's 256MB of on-board memory, and as mentioned before, 8GB of NAND flash accessible to the device only. It can be assumed that this flash could be used to store multiple movie rentals off the iTunes store, and perhaps some sort of caching that supplements the RAM.
One of the nicest features of the current-gen Apple TV is the built-in WiFi support, which seems to be somewhat of a rarity on many media players today. Overall, the entire device seems capable, but one notable "downside" is the lack of support for a 1080p output. It might seem like a strange omission, given the support can be easily found on most other media players out there, but the reason for it is simple.
The current Apple TV, like the older model, is designed to act as a gateway for those who love taking advantage of Apple's services, such as iTunes. There, HD movies top out at 720p, not 1080p, and for that reason, this thing doesn't need to support anything higher. Theoretically, given the A4 CPU being used here, it could no doubt handle 1080p fine for the UI and images, but Apple's design prevents the device from having to switch between video modes when moving from the UI to HD video playback.
I haven't touched on aesthetics yet, but overall, there isn't much to say… except that it's the best-looking media player I've ever had the pleasure of using. I admit that most often, I don't like the design cues seen on Apple's devices, primarily its desktops and notebooks (the Mac Pro being an exception), but here, the look appeals to me far more than any other device I've used. It's about as pitch black as could be, smooth to the touch, and doesn't easily attract thumb prints. The side might to an extent though, because while the top and bottom have more of a matte surface, the sides are all comprised of a glossy plastic.
At the back of the device, as seen above, is a standard-sized HDMI port, optical audio, LAN, power port, and a non-user USB port. This leads us to one of Apple TV's biggest downfalls… the lack of support for external storage. If your network is down, bye bye media.
Apple TV Remote, Media Support
I mentioned in the intro that the Apple TV has certain limitations, and I'll cover the most important ones on this page… media support. Unlike the other media players we've taken a look at in recent months, the Apple TV almost exclusively supports media formats that Apple itself has a hand in. That includes all formats purchased through iTunes, and others that can be had by ripping CDs or converting video… through iTunes of course.
This lacking support automatically rules out those who consider themselves to be media hounds, because chances are good that your media library includes many formats that the Apple TV, or iTunes for that matter, won't even recognize. There's no typical AVI support here, and also no support for one of the biggest formats of the moment, MKV.
The lack of some of this support is likely for the reason that much of it is heavily used in piracy. But even so, it's unfortunate that Apple has decided for us that we should avoid non-Apple formats, and in truth, it would have taken little effort on Apple's part to include more support than it had. Apple's known to hate licensing fees, but Matroska (MKV), for example, has none at all. And better still, the Apple TV already supports H.264… a codec commonly used for MKV encodes.
It's for this reason that the Apple TV is perfectly suited for those who heavily use iTunes, because chances are good that if you have video files gained either by ripping or by being purchased from other services, they're not going to be playable here. On the upside, for those that do have lots of Apple-derived content, you can't get much better support than this.
| | |
| --- | --- |
| Feature | Supported Formats |
| | |
| | H.264, MPEG-4, Motion JPEG (M-JPEG) |
| | |
| | Unknown (Yes if hard-coded) |
| | HE-AAC, AAC, Protected AAC, MP3 CBR, MP3 VBR, Audible, Apple Lossless, AIFF, WAV, Dolby Digital 5.1 Surround Sound Pass-Through |
| | |
| | |
If there's an immediate downside on the hardware side, it might be the exclusive support for HDMI and nothing else. For older TV's, or even newer ones with already-occupied HDMI ports, hooking the Apple TV up might prove to be a challenge. If you're so willing, you could purchase an adapter to convert HDMI to another connector, but there's no guarantee that such a configuration will work out for the best. Of course, the result of the exclusive HDMI connector is the smallest set-top media player out there, so it's hard to consider that a "con".
The piece of lacking support I find to be most major is for iTunes LP, a format Apple brought to the table with iTunes 9 last fall. For music albums purchased in that format, users are greeted with interactive menus and special content, but for some reason, the Apple TV doesn't take advantage of it. It's unfortunate, because it's a format that's perfect for a device like this. Hopefully a future firmware update will introduce support, since it should be here.
Like the Apple TV itself, the included remote control is also small, and quite simple. It features a total of four buttons: "Menu", "Pause/Start", the "OK" button which is in the center of the "wheel", and also the wheel itself. Though small, this remote is about as sturdy as it gets. The entire unit is built of aluminium, so dropping it shouldn't affect it in the least. On the back is a simple hatch that can be removed to swap out the battery (Panasonic CR 2032).
In way of accessories, Apple includes the manual, two pure white Apple logo stickers (not pictured), and also a very sturdy power cable. Unlike the other media players I've tested in recent months, this power cable thankfully doesn't have a super-thick adapter plug, so it can be plugged in anywhere, easily.
With a look at the hardware and support out of the way, we can move right into a look at the usage of the device, and its implementations.
Movie Rentals
Hooking up the Apple TV is as simple as to be expected. You connect the HDMI and power cables to the device, and then the other ends to their proper locations (please don't try plugging the HDMI cable into the power socket, okay?). After that's done, the device might already be turned on, but if not, any of the buttons on the remote will take care of it.
Apologies in advance for some of these photos, as they're horrible. Photographing a UI like this on a typical display isn't too easy!
The interface as a whole is rather simple, with the main screen being comprised of the menu options down bottom, and recent content being shown above. The "Movies" section is the first one listed, and it's all about iTunes integration. The movies shown are available as rentals, and can be selected by simply using your remote to access that area and then pushing the button to enter a particular title.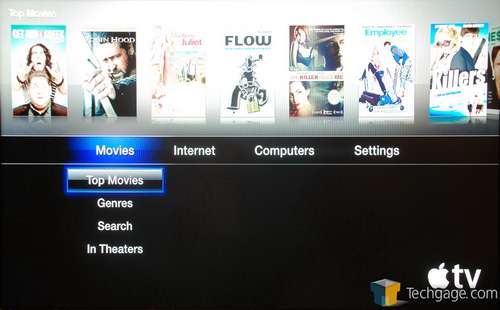 For all intents and purposes, the interfaces for both iTunes and Netflix are similar, but I will tackle them separate since they do vary in some interesting, but not so noticeable ways. After entering the "Top Movies" section, you'll be greeted to a barrage of different movies available for rent. Not all are going to be available in HD, and unfortunately, there's no way to know which are until you access one.
At the top of the display are different featured categories, including one where you can access $0.99 rentals if you're feeling like watching a flick on the cheap. HD rentals, if available in this category, are priced at fairly modest $1.99 each.
For the most part, these featured categories are nice if you want to simply find a movie fast, but like with iTunes, the Apple TV can let you fine-tune the genres to help you find something more suitable for your mood.
Once a category is chosen, the resulting selection is further refined by splitting up the results into sub-categories, such as Action Comedy, Romantic Comedy, et cetera. By default, about 20 movies are shown per category, but you'll have the option to view more with the help of a button at the end of each of them.
Finding a specific movie to watch is quite simple, and all of my tests proved fruitful. As you "type" in the name, the results will automatically be displayed on the right side, a la instant Google. In the example below, I typed in "fig", and it brought Fight Club up right away.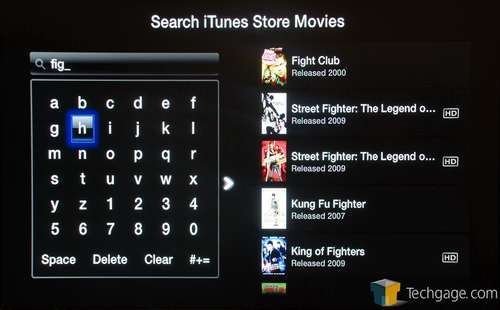 After selecting a movie, you'll be greeted with a light description, an actor list, and other bits of various information, including whether or not the rental will be in HD. Conveniently, all of the movies available here that have a Rotten Tomato rating will also be seen here, helping you to avoid movies that might not be worth a rent at all. Fight Club is far from being one of those.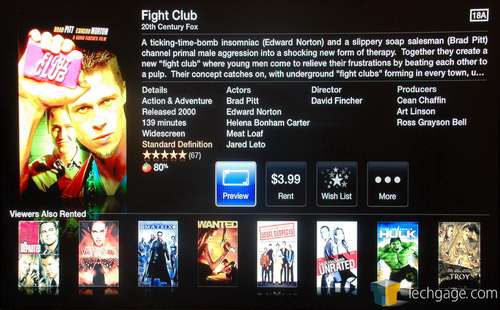 Selecting the "More" option will replace the entire screen with specific movie info, including actual quotes from various critics at Rotten Tomatoes, more rating information, and also a split-up list of actors, producers, directors and so forth. Any of these names can be selected to get a fresh list of movies that are related to that person.
Overall, the implementation of iTunes on the Apple TV is quite good, but there are a couple of downsides. The main one is the fact that from the Apple TV itself, you can only rent movies, not purchase. If you wish to do the latter, you will need to do so through iTunes on a computer. Another light downside is that not every movie available on iTunes is available as a rental, so in some regards, the selection could prove to be a little slim.
Netflix & YouTube
For the most part, navigating Netflix on the Apple TV isn't too different from navigating iTunes movie rentals, but there are some key differences, mostly wrapped into features that makes Netflix unique. Once signed into your Netflix account, hovering over the option in the menu will show previews of recommended movies above, which is a rather nice touch. That's not something iTunes can do, or at least not yet.
Once entered into the menu, you can go straight to the suggested titles, or split things up by movies and TV genres, or also look through new arrivals. Of course, you can also search for something specific.
In the suggested section, you're greeted with just that. But to make thigns more useful, it splits things up into different categories based on specific movies you like, so that you can find something to watch that suits the mood best. As one example, because I rated House of 1,000 Corpses highly on the Netflix website, the device here recommends me similar movies, such as American Psycho.
The TV categories are split up similarly. Since I'm in Canada, the current Netflix selection is pretty slim, but still not too bad given the service just launched mere weeks ago.
Where TV seasons are available, you will be able to look at one season's worth of episodes at a time, and also add any in particular to your "Instant Queue".
Each episode will have a unique description, but the ratings are lumped together from the season as a whole.
Like the iTunes movie rental implementation, using Netflix on the Apple TV is an absolute breeze. Being in Canada, I haven't had much Netflix experience up to this point, but I can rightfully say that I'm a borderline addict – despite the seemingly lacking selection. Even over lunch I've found myself running to turn the Apple TV on just to watch a quick TV episode. You can't beat the convenience!
For more spontaneous and off-beat videos, there's YouTube, and I have to say, Apple's implementation here is the best I've used up to this point. Once you enter the menu, you can go straight to the featured or most viewed videos, or log into your account and delve into your favorites.
Inside one of the menus, you'll see a simple list of related videos on the right side, a preview of the video on the left, and related information in the bottom left corner. If you're in a "top" category, you can choose to view the top videos of the day, week, or of all time. The latter is great if you have a hankering to watch the Evolution of Dance just once more.
After you finish watching a video, or exit one out, you'll be presented with the option of resuming or leaving, and also be presented with related videos. The interface here is the best I've seen so far… very, very clean.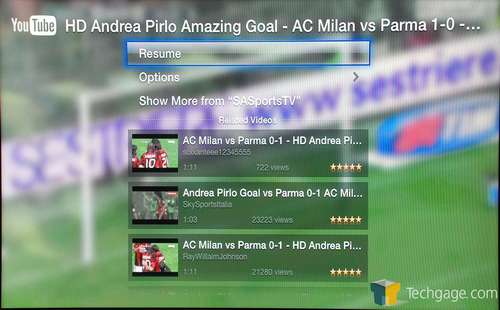 It's almost impossible to portray image quality through a sub-par photo, but this is the best I can do:
It wasn't only the YouTube interface that was best on the Apple TV, but also the image quality, though it's difficult to tell from the photo. I've used YouTube on four media players in the past two months, and while AC Ryan's Playon!HD mini looked the best at the time, Apple's device takes things one step further.
Podcasts, Flickr & Radio
The Apple TV prides itself on availing its users of quick iTunes movie rentals, but for those who enjoy a good podcast now and then, or everyday for that matter, Apple's latest device is perfect for that use as well. Once into the menu, you are able to peruse the top podcasts, genres, providers (this is a fairly limited list), or go right to the source by searching for it.
The interface seen here is quite similar to the one seen when browsing the movie rentals. The top pane lists featured content, while different categories split up the rest. Of most interest to those who want to take good advantage of their HDTV, there's a good list of HD content, and like on iTunes, the selection almost feels unlimited.
If you want to chill out to audio, not video, or want to preserve bandwidth, you can change the filter at the top of the screen to list only the audio. Again, since I'm in Canada, most of the content I see reflects that.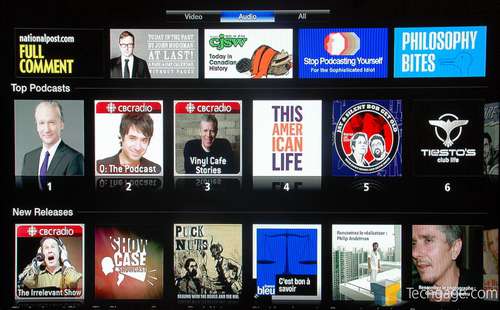 Tackling Flickr, I once again have to say that Apple's usage of the Web service here is the best I've seen. I hate to keep saying this about every feature so far, but up to this point, it's been true. On many media players I've used, searching for something under Flickr would be a finicky process, sometimes induced with lag. That really wasn't the case here, as the interface has a heavy focus on smooth usage.
Like YouTube, you can log into your Flickr account and navigate things that way, or if you simply want to kick back and browse some photos, you can search for any term easily enough: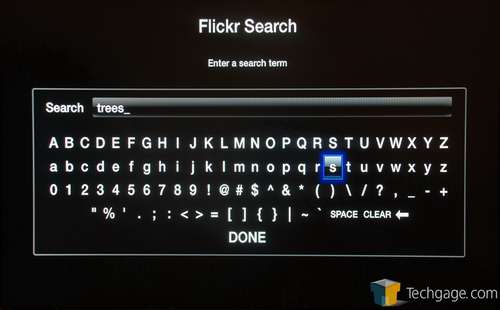 Once your results are loaded, you'll be able to browse them all, and if you click on one to bring it full screen, you can simply hit left or right on the remote to go to the next or previous image – another really nice feature.
Once again, image quality is difficult to portray here, but from all I browsed, it couldn't get much better.
After seeing the implementations of all the features up to this point, I looked forward to checking out what was available for radio, since that's a feature I find falls flat on a lot of devices (clunky on the O!Play, subscription-based on the WD TV). Fortunately, Apple once again delivered here, with what's easily the best radio feature I've seen.
You'll first be greeted with a large list of different categories, and surely, no matter what you're in the mood for, you're going to find something to suit it here. Once you go into one of these categories, you'll be able to peruse a massive list of available radio stations. Of these, many are online-based, but there are also a ton of regular radio stations as well. Chances are, unless it's a local station in a small town, it will be available here. There were some exceptions, though. I couldn't find the Edge (Toronto, Ontario) listed here, despite it being a popular one.
Here's an example of one list, which can at times be huge (some categories had hundreds of stations):
Unfortunately, there is one glaring omission with the radio feature here. For whatever reason, even if you listen to a station that supports displaying the current song being played, the Apple TV won't show it to you. This is a huge problem for me since if I hear a song I really dig, it's frustrating if I can't immediately find the name of it. Oddly, such a feature would be perfect on the Apple TV, since Apple could allow you to add the currently-played track to your iTunes wishlist. Maybe someday…
Local Library & Apple TV Configuration
After the first couple of days of use, I decided to finally test out connecting the Apple TV to my PC to stream some music. Unfortunately, I ran into some show-stopping issues, and it took me a couple of days to figure out a solution. To connect to your PC or Mac, you need to have the latest version of iTunes installed and running, along with Home Sharing enabled. That part is simple.
The problem I ran into is that even though I could see my computer listed fine, trying to access it was met with the Apple TV just going back to the menu. After perusing forums, and posting on a few, I got no help. In the end, I figured out that it was a problem mostly with my iTunes install, and after doing a complete refresh of the application, the option worked fine…
… until I enabled photos in the Home Sharing option. For some reason, the Apple TV had problems with my large photo library (~25,000). Even though accessing my PC didn't time out, it simply took forever to complete its process. This did become faster over time, but it's a frustrating problem nonetheless. If you find yourself in a similar situation, simply add the folders in your Home Sharing one by one and you could be fine.
Once in, you can browse the same content that's available through your iTunes install. I personally don't have anything aside from music and pictures, as I rarely purchase digital music and never purchase digital movies (Blu-ray all the way). Still, I have about 8,000 MP3s and then 800 M4A, and I could see them all through the Apple TV just fine.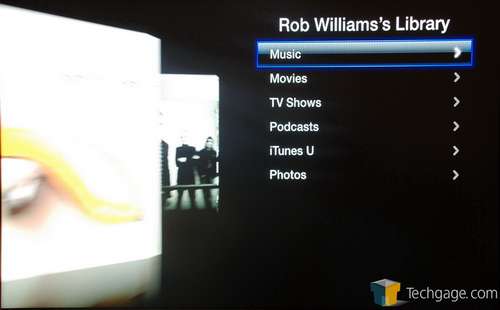 Under the music category, you can fine-tune things as you'd expect. This is useful if you happen to have a lot of music.
Being a bit of a perfectionist when it comes to my music collection, I kind of hated the way the Apple TV displayed my music, which is essentially on a per-artist basis, even if there's a various artists compilation. This is the way most people like it, but not me, and I couldn't find a way to switch to a "folder view".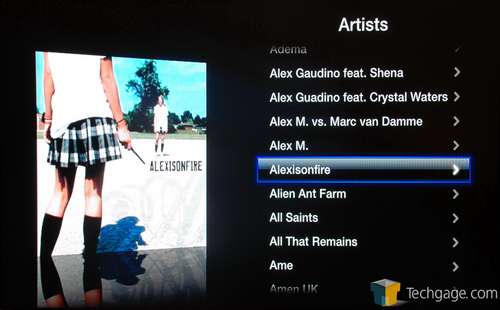 The closest thing I could get was the album view, which still isn't ideal, but served the purpose a lot better.
As this review is getting a bit long, I'll let the "Settings" tab speak for itself.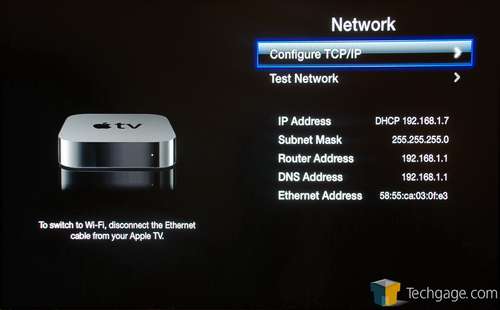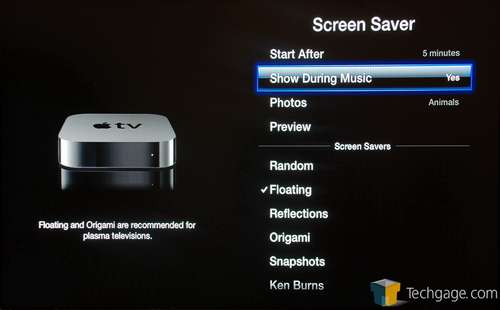 Here's an example of the "Origami" screen saver mode, which if enabled, can utilize your picture library via iTunes. If you don't have one, you can use either of the default installed image galleries, animals and flowers (one is definitely cuter than the other).
I find that posting pictures of playing content to be a little pointless, but for the sake of showing something, here are a couple of examples. The first is The Replacement Killers, via Netflix, and then Superbad, also via Netflix.
When fast-forwarding HD content, the full-screen film will shrink to a small box, for the sake of performance, and after you reach the desired time, you can unpause and it will revert back to full-screen (or wide-screen, depending on how the movie is formatted).
Whew, finally… let's get right into my overall impressions of the Apple TV!
Final Thoughts
When Apple first announced its revised Apple TV, I thought, "Wow, an Apple TV for $99!". It's no secret that Apple's products tend to carry an "Apple tax", so I was confused about this one. After all, the top current media players on the market cost just about the same. So what was the deal? The specs, of course… and perhaps the feature set.
So… the obvious downsides. The biggest one to me is the fact that the latest Apple TV doesn't support external storage devices. Because the device is so small, I can understand this, but it does leave potential issues open. If your network is down for any reason, the Apple TV becomes useless. If you want to watch an online movie, but your Internet connection is down, you're again out of luck.
That kind of situation is going to be rare, at least hopefully, but it's still a real issue as far as I'm concerned. I'm not sure why Apple doesn't allow people to use the mini-USB port on this unit for personal storage, but it would have been a great feature, if not for any other reason than to allow people to use their Apple TV where a network connection simply might not be available.
Another obvious downside is the lack of 1080p support, and to be honest, I hated that at first. But after I saw some of the movies available in HD, even via Netflix, I was sold on the fact that 720p isn't so bad. Unfortunately, I don't have immediate examples, given that I found them during personal tests and didn't track them, but suffice to say, I was impressed.
Support for popular media codecs is another area where the Apple TV falls short, but it's one of those things that Apple's done on purpose… it's not an accident. The device supports all of Apple's own formats just fine, and then a couple of others that can't be ignored, like MP3. But for those who like FLAC audio or MKV video, you're out of luck. There's been rumors that some extra codecs play, but out of my massive and diverse collection of audio and video, nothing aside from content I purchased on iTunes did.
Though not a major hit, I do find the lack of support for iTunes LPs to be a bit strange, as it seems like the perfect complement to a device such as the Apple TV. In looking around the Web, I can see I'm far from being the only one who thinks this, so hopefully Apple will consider adding such functionality in a future firmware update.
Finally, one major hit to some might be the lack of overall support for other streaming services, like Hulu, Amazon Video, Pandora and so forth. Devices such as the Roku support all this fine, and with Google TV around the corner, there look to be many more devices soon that are literally filled to the brim with media support.
With these faults, the Apple TV becomes a very limited device, and to be specific, the people who wouldn't find it limited are those who A) don't mind owning more than one media player or B) use iTunes for almost all of their digital content. It's really that simple.
Despite the limitations, the latest Apple TV is one of the nicest devices I've used in a while. The interface is clean, easy to use, and thanks to obvious optimization, browsing it couldn't be smoother. All of the online services I used loaded up fast, and overall, performance across all of them was equally good. There were some instances when Netflix content would stutter, but I blame that more on my personal Internet connection and not the Apple TV.
What I have found, though, is that Apple doesn't use the internal 8GB of NAND flash for Netflix or other services at all, because while I had Netflix content stutter at least once per every hour of video, the two movies I rented from the iTunes store didn't stutter a single time while I watched them. That's because the Apple TV caches some of the iTunes-derived video before you can even watch it, and because of that, it allows smooth playback the entire way through. Netflix on the other hand, looks to be 100% streaming, so if you have a semi-unreliable connection like me, you might experience the same.
It's hard for me to call the latest Apple TV a "winner", but for what it does do, it does it all extremely well. There's some functionality clearly "missing", but for iTunes rentals and Netflix use, not to mention image viewing, music playing and radio perusing, the device proved itself to be an excellent offering as far as I'm concerned.
Discuss this article in our forums!
Have a comment you wish to make on this article? Recommendations? Criticism? Feel free to head over to our related thread and put your words to our virtual paper! There is no requirement to register in order to respond to these threads, but it sure doesn't hurt!
Copyright © 2005-2021 Techgage Networks Inc. - All Rights Reserved.