ASUS ZenBook UX305 Ultrabook Review

Date: July 15, 2015
Author(s): Rob Williams

With its ZenBook UX305, ASUS has given the world an ultraportable notebook that doesn't just butt heads with the best of them, but beats many of them. The UX305 is good looking, offers competent performance, is built well, offers great battery-life, is priced well, and is dead silent. Let's take it for a spin.
---
Introduction, A Look At The Hardware
It might be hard to believe, but Apple released the first iteration of its MacBook Air seven-and-a-half years ago. At the time, it didn't take long to realize its impact. I'd wager that it single-handedly spawned the craze of making notebooks crazy thin. Apple proved that high-performance isn't always necessary. Sometimes, portability and style are.
On the PC side of things, finding super-thin / portable notebooks isn't challenging anymore, but it is admittedly rare to find one that matches the MacBook Air in terms of aesthetics. The situation has improved lot in recent years, however. This year in particular, Dell released its latest XPS 13, and ASUS launched its ZenBook UX305. I think both fit the bill of being a proper MacBook Air competitor.

The fact that you're here reading this probably means that you know I'll be taking a look at the latter notebook today. The UX305 came out in February, a month before Apple revealed its latest MacBook – one, you guessed it – aims to be super thin. Somewhat interestingly, ASUS has beat Apple in the thinness department – its UX305 is 12.3mm "thick", while the latest MacBook is 13.1mm.
Not that any of that matters much. When we're talking about notebooks this thin, you'd be hard-pressed to notice the shaving-off of another millimeter or two. From both a form-factor and performance standpoint though, ASUS' UX305 takes on both the MacBook and Dell XPS 13, although it has one trick up its sleeve: it's less expensive.
As with all of ASUS' notebooks, there are multiple configurations of its UX305. The biggest differences between them relate to the storage and display resolution. This particular model I'm looking at, the UX305, includes a 256GB SSD and a 1080p display. Opting for the beefiest UX305 will net you 512GB of storage and a 3200×1800 display.
ASUS ZenBook UX305 Ultrabook
Processor
Intel Core M-5Y10c Dual-core @ 800MHz
2.0GHz Turbo; 4MB L3 Cache; HyperThreading
Motherboard
ASUS UX305FA
Memory
8GB (4GBx2) (12-15-15)
Graphics
Intel HD Graphics 5300
Display
AU Optronics B133HAN02.1 (13.3″, 1080p)
Storage
SanDisk SD7SN3Q256G1002 256GB (SSD)
Optical
None
Audio
Intel HD
Wireless
Intel Dual Band Wireless-N 7265
Bluetooth 4.0
1Gbit Ethernet via included adapter
Connectivity
1x mini-HDMI
3x USB 3.0
Audio Out Port
Card Reader
Et cetera
324 x 226 x 12.3 mm (WxDxH)
2.65 lbs
Windows 8.1 (upgradeable to 10)
Being a 13.3-inch notebook, either the 1080p or 1800p resolutions are going to result in needing to use DPI scaling, else text and icons on the screen are going to look small. While this isn't a workhorse notebook, it does have capable enough performance for normal productivity work, but I certainly wouldn't plan on encoding or editing video with it (unless you have excellent patience, perhaps.)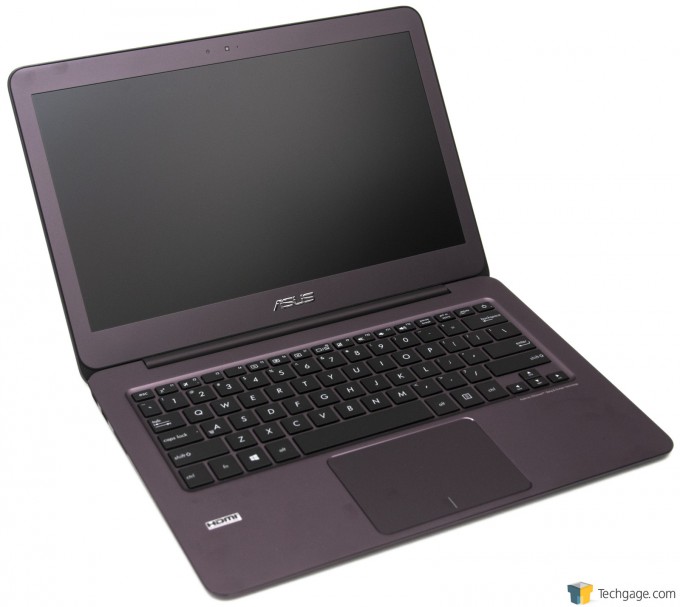 The color situation surrounding the UX305 is a bit odd. The model I received is a tinge of purple, and I believe that to be the most common one. At the top of this page, you can see that there are also beige, black, and white models. Most etail listings I've seen have shown the black model, but I was told that there is no black model sold in North America. That's too bad, because the official product page highlights one – and it's fantastic. The white model was available in NA, but it was just for a brief time. As for the beige, I can't figure out where that comes in.
Long story short: the UX305 you buy will probably be an elegant shade of purple, not the colors seen in the top-most shot. If anyone confirms that the other colors are available for sale anywhere, I'd appreciate a heads-up.
To give an idea of just how thin the UX305 is, here's a shot showing its side in comparison to a cardboard music CD. They're actually close to being the same thickness. It's hard to appreciate through flat images, but the UX305 is thin, thin, thin. Likewise, it's super-light, and definitely the most portable notebook I've ever used. It slips into any bag without issue – you'll not even notice it, and it certainly won't hog space. If you can fit a magazine into a bag, you can fit the UX305.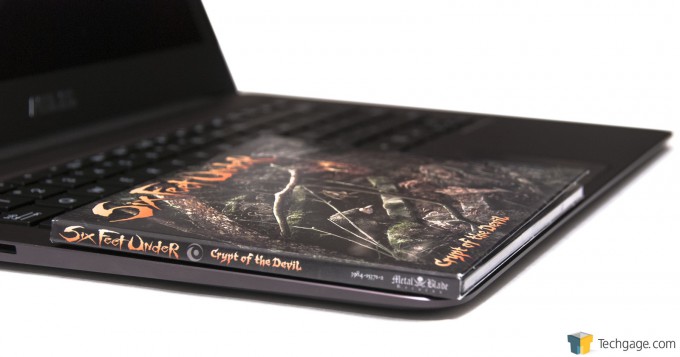 For connectivity, the UX305 offers 3x USB 3.0 ports, with two at the left side, and the other at the right. There's also a card reader (SD/SDXC), a mini-HDMI connector, as well as audio out jack. The power port is found on the right side at the absolute back.
Despite the fact that Apple's MacBook starts out at $500 more than this UX305, ASUS managed to pack in a 720p webcam, beating out the MacBook's 480p. That said, most webcams included with notebooks are going to deliver modest quality at best. If you care a lot about delivering a clear image, you'll want to opt for an after-market option.
Also worthy of note is the fact that the UX305 is too thin to have an Ethernet port. Kindly enough, ASUS includes a USB 3.0 Ethernet adapter in the box, saving you from having to splurge extra for one after-the-fact.
From a hardware standpoint, ASUS' UX305 is just stellar. A super-thin notebook like this isn't going to be for everyone, but for the business traveler, or those who have simpler needs while on-the-go, it's fantastic. It's thin enough to fit into a briefcase or backpack without getting in the way, and despite that, it feels extremely sturdy when closed.
Where the keyboard's concerned, I have no complaints. The keys both look great and are great to type on. The only fault is one that can't be helped: the lack of a numpad. One potential issue some might find with this keyboard though is that the notebook's power button is located to the top-right – rather than it being a switch on the side. I thought at first that this might prove to be a nuisance, but after all of the use I've put this notebook through, I never once hit it by accident. Now, if it were located on the opposite corner, that'd be a definitive issue.
While the keyboard is great, the touchpad isn't quite as excellent. Navigation wise, it's good, but I find the buttons to be a little finicky, with me sometimes clicking by accident or not clicking accurately enough. In addition, I typically open folders by double tapping the touchpad, and on this notebook, I find that works only half of the time. I think part of the reason for these oddities is that the entire touchpad is clickable – it acts as a left click. Double-clicking this way doesn't feel natural at all, though. Overall, no major complaints about the touchpad, but it could certainly be better.
And with that all covered, let's tackle the software and other necessities.
Software, Battery-life & Final Thoughts
The software side of notebooks is one that I enter with a bit of suspicion. It's hard to tell how much "bloat" a notebook is going to ship with – or, perhaps more accurately, how much time you'll spend uninstalling it.
ASUS has done alright with its UX305. The "bloat" consists of Microsoft Office, McAfee Internet Security, Skype, and a WildTangent game suite. The other apps are ASUS homebrewed, including Smart Gesture, for adjusting multi-touch settings; Splendid, for adjusting video profiles; and Giftbox, a hub of sorts to view ASUS-recommended software.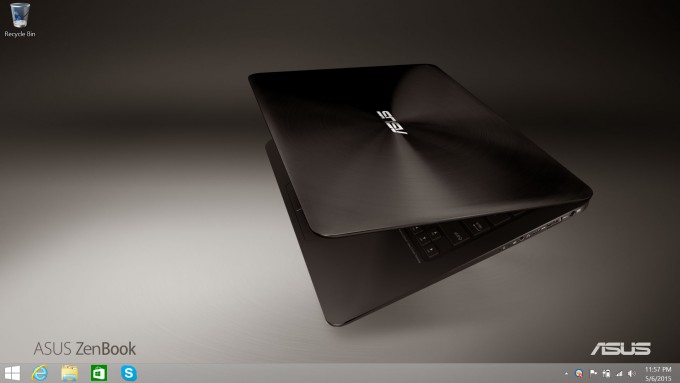 Out-of-the-box, the 256GB SSD avails 85GB on the main partition, and 127GB on the second. When such small density drives are used, I am not sure why vendors find it so important to split them into two partitions, but it's unfortunate. It means that you're going to run out of space on one or the other before long. Due to Windows' complex boot loader and recovery partitions, I don't think it'd be safe to merge these two partitions together.
Most notebook reviews I write are full of reports from various benchmarks, but given the target purpose of the UX305, I didn't think it made much sense to do much benchmarking. At 800MHz stock and 2.0GHz, the UX305's dual-core processor isn't designed for heavy-lifting, something that should be obvious by the fact that the notebook is a mere ~12mm thick. It's designed to be competent for day-to-day activities. No gaming, outside of the simplest titles, and no video editing. In some cases, even a bunch of photos in Photoshop might require a bit of patience.
Because of its overall lack of oopmh, the UX305 boasts some fantastic battery-life results. Using Futuremark's Powermark, I tested ASUS' super-thin notebook with adaptive brightness both enabled (default) and disabled. The fixed brightness represents the slider set at 50%, which is suitable for indoor use.
ASUS ZenBook UX305 – Futuremark Powermark
Fixed Brightness
Adaptive Brightness
Balanced
8 hours 36 minutes
11 hours 42 minutes
Productivity
9 hours 13 minutes
10 hours 18 minutes
Entertainment
7 hours 32 minutes
8 hours 43 minutes
I personally can't stand using a computer that auto-adjusts its brightness at random, but if you can, you'll be able to eke at about 10 hours of life out of the UX305 during regular use. Even if you're planning to mix movies with work, you'll be able to surpass 7 hours with a fixed brightness.
Final Thoughts
When I wrote about the release of the UX305 a couple of months ago, I knew that I had to get a unit in for testing. I am sure that the reasons for that are obvious: it's sleek, thin, and portable. Well, for those reasons and others, I've come to like the UX305 a lot.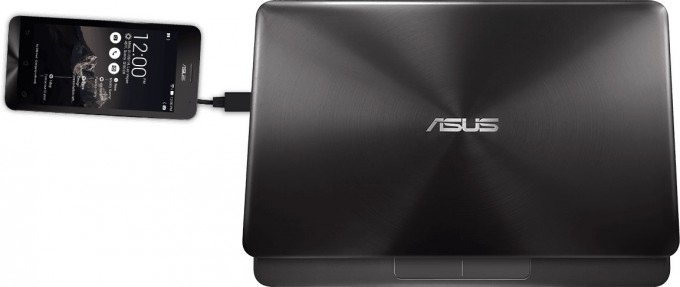 If you've never used a notebook this small before, you might be surprised by how portable it is. It's one thing to look at specs; it's another to close the notebook and realize it's no larger than a magazine, able to be shoved basically anywhere. I'm someone who doesn't mind bigger notebooks even while traveling – heck, I even lugged ASUS' G751 17.3″ notebook through multiple airports (and I was dumb for doing so). After having used the UX305, though, I feel like I'll never want a bigger notebook to travel with. It's light, small, and more than capable for getting important work done while on-the-go. As long as that work doesn't include video, that is.
But enough about its stature. The UX305 also looks great, and boasts fantastic battery-life. Whether you're needing to do work or relax to a movie, the notebook can last between 8~10 hours. That should be suitable enough for most trips.
I've mentioned a couple of times that the UX305 isn't meant for power-hungry tasks, and that should be obvious. It includes a modest dual-core processor, and part of what helps that feel faster than it is, is the included fast SSD, which I've clocked at over 450MB/s. It also includes 8GB of RAM, so there's a fair bit of breathing room. The most notable time I'd notice system lag was when I was heavily browsing the Internet and had multiple tabs open. There's nothing but the CPU to blame in a scenario like that.
Overall, the ZenBook UX305 is a fantastic offering from ASUS. It looks great, is built great, performs great, and boasts great battery-life. This one's a winner.
You can pick up the UX305 from Amazon, Newegg, Ebuyer, or your preferred etailer.
Pros
Super-thin and super-light.
Aesthetically pleasing.
Screen looks good; DPI scales nicely.
Excellent build quality.
It's fanless.
Includes a fast SSD (benchmarked at ~475MB/s read/write).
Price compared to competition.
Cons
Touchpad can be finicky, mostly with regards to clicking.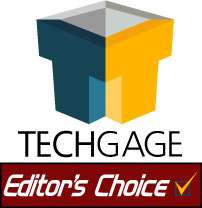 ASUS ZenBook UX305 Ultrabook
Copyright © 2005-2020 Techgage Networks Inc. - All Rights Reserved.