Intel's 'Skylake' Core i7-6700K: A Performance Look

Date: August 19, 2015
Author(s): Jamie Fletcher

Intel's latest generation of CPUs, Skylake, is put under test, starting with the gamer and overclock friendly i7-6700K. Find out how it compares to the also recently released desktop Broadwell 5775C and the now aging 4770K. With a higher clock speed and the switch to DDR4, does Skylake bring enough to the table to convince Ivy & Sandy Bridge users to upgrade?
---
Intel's Skylake 6th Generation i7-6700K CPU Review
Intel released its first batch of Skylake processors last week, the 6th generation Core processors which are targeted at gamers and overclockers. This came just a short couple months after the first mainstream desktop part of Intel's Broadwell, or 5th generation CPU. The reason for the long delay between the top-tier gen-5 and gen-6 chips is anybody's guess, but the fact is, the 6th generation is here and it's time to put it through our regular review process.
Because things never quite go to plan, Intel's Developer Forum is this week as well, so Rob went to get lost in an airport for 12 hours to pick up the details on the actual changes in the micro-architecture. This is a strange turn of events for Intel, as usually the details of the architecture are released at the same time as the launch, but we've been left out of the loop, at least for a couple weeks. What we know so far can be found in our previous article, but expect to see more details soon (providing Rob finds a way out of the airport).
Skylake is a new platform; with it comes a new motherboard, chipset, new DDR4 memory, and just everything new. Performing a direct apples-to-apples comparison will be tricky. The Skylake i7-6700K will be sharing a test-bench with its two older cousins, the recently launched 5th gen Intel Core i7-5775C, and the gracefully aged 4th generation i7-4770K.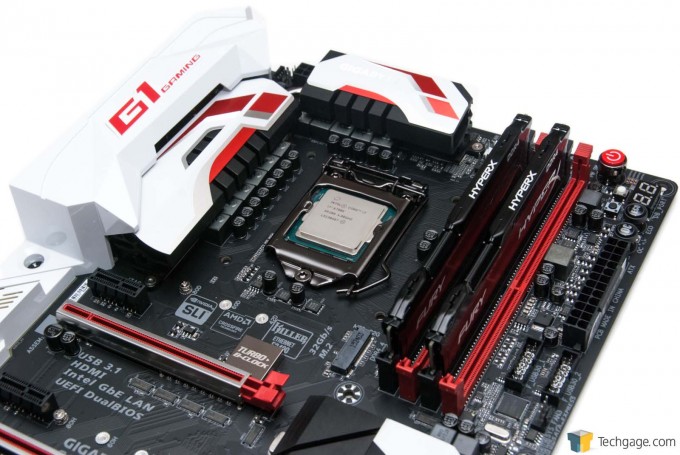 Throughout this review, the 6700K will be paired with GIGABYTE's GA-Z170X Gaming 7 motherboard, which will be reviewed in a later article. The 5775C and 4770K will be using an ASUS Z97I-PLUS.

Processor pics aren't very interesting to look at; they're metal squares with a heat-spreader and a whole bunch of contacts on the bottom. The CPU on the far right is the 6700K and you'll notice that is has a fair few more filter capacitors than the other two. One can only assume that's what will help keep the chip a little more stable when overclockers start to experiment.
Before we get into the testing, we'll give you a quick rundown as to the system specifications.
Performing a direct comparison will be tricky because of the different clock speeds between the three CPUs and the switch from DDR3 to DDR4 memory. While DDR4 is clocked higher, it also has a higher latency, but this is not enough to throw the results out wildly. If you wish to mentally negate the impact of the memory speed, you can lower the results for the 6700K by 2-3%.
General System Performance
As always, we like to start all benchmarks off with an overall view of system performance. SPEC provides a broad range of tests with various weightings put on each component under different usage scenarios. This is done through snippets of real-world application code, making SPEC a very reliable indicator for performance, despite being a 'synthetic' test.
SPECwpc 1.0
Media
Financial
Development
Energy
Sciences
General
Intel Core i7-6700K
2.34
2.83
2.49
2.77
2.64
4.72
Intel Core i7-5775C
3.11
2.42
3.01
2.79
2.76
3.72
Intel Core i7-4770K
2.31
2.28
2.53
2.63
2.37
4.84
The difference between the 6700K and 4770K are not too far apart, with the 6700K edging ahead most of the time due to being clocked slightly higher. The 5775C pulls ahead in a number of scenarios due to its rather beefy Iris Pro IGP, giving it an edge in OpenCL and GPU related tasks.
PCMark 8 Suite Scores
Home
Work
Creative
Intel Core i7-6700K
4165
5347
4790
Intel Core i7-5775C
4531
5092
5421
Intel Core i7-4770K
3799
4939
4263
We see a similar situation in PCMark 8. The 5775C pulls ahead due to the extra OpenCL based tasks, but loses out when it comes to pure computation. The 6700K holds a conservative gain over the 4770K, again, due to the high clock speed and RAM.
Rendering & Image Manipulation
Adobe products have integrated OpenGL support and upped its multi-threaded processing a lot over the years. We use Lightroom to convert 500 RAW images to JPG and time the result.
Adobe Lightroom
Result
Intel Core i7-6700K
278 s
Intel Core i7-5775C
319 s
Intel Core i7-4770K
400 s
This follows on from what we were expecting, a linear improvement over the generations. It's uncertain as to how much of this is attributed to clock speed alone, and if the IGP is being used since the 5775C and 6700K are quite close, despite the 5775C being some 500-700MHz slower.
We have a new workload for Premiere Pro, as we have now included 4K video, as well as leveraging Premiere's new processing techniques that take advantage of GPUs.
Adobe Premiere Pro CC
4K to 1080p
PPBM9(IGP)
PPBM9(GTX 960)
Intel Core i7-6700K
661 s
451 s
112 s
Intel Core i7-5775C
693 s
423 s
121 s
Intel Core i7-4770K
710 s
568 s
122 s
This is a little more like it. In the 4K video tests, there is a clear improvement over the generations. With the IGP tests, the Iris Pro in the 5775C dominates again, but the HD 530 in the 6700K is not terrible either. The extra efficiency and high clock speed even helps when switching to a discrete GPU.
Autodesk 3ds Max 2016
Result
Intel Core i7-6700K
1768 s
Intel Core i7-5775C
2059 s
Intel Core i7-4770K
2169 s
With our Naomi render in 3ds Max, there are strong improvements overall, with the 6700K shaving quite a bit of time off the render. The 6700K pulls ahead not just because of the faster clocks, but a good improvement in its architecture, too.
Cinebench R15
OpenGL
CPU
Intel Core i7-6700K
16.79
919
Intel Core i7-5775C
78.70
773
Intel Core i7-4770K
36.78
760
With the CPU test, it's the 6700K that pulls ahead by quite the margin. Again, the improvements are due to more than just clock speeds alone. With the GPU result, we see some oddity, and we're not quite sure what's happening. As we'll see later, this low GPU performance from the 6700K seems to be only under specific tests. At this point, we'll chalk it up to driver-related issues, and are likely to retest at a later date.
dBpoweramp R15
FLAC to MP3
Intel Core i7-6700K
789 s
Intel Core i7-5775C
942 s
Intel Core i7-4770K
953 s
HandBrake 0.99
Result
Intel Core i7-6700K
1388 s
Intel Core i7-5775C
1736 s
Intel Core i7-4770K
1757 s
POV-Ray
Single
Multi
Intel Core i7-6700K
443
1999
Intel Core i7-5775C
376
1572
Intel Core i7-4770K
369
1551
Finishing up the CPU specific performance metrics, we're back to the expected gains over the generations. In a future article, we'll look into clock matching the three CPUs to see what the per-clock performance is like.
Gaming Performance
A CPU's weighting on game related performance is often negligible for modern titles. For the most part, the CPU's single-threaded performance is the biggest factor. However, CPUs often come with integrated graphics too, so it's still worth checking out a few games to see how well they perform.
3D Mark
CPU IGP
Fire Strike
Sky Diver
Cloud Gate
Intel Core i7-6700K
—
—
—
Intel Core i7-5775C
1716
6662
12896
Intel Core i7-4770K
860
3867
8546
GTX 960
Fire Strike
Sky Diver
Cloud Gate
Intel Core i7-6700K
6841
22533
26501
Intel Core i7-5775C
6845
21702
24669
Intel Core i7-4770K
6752
20941
22533
Ice Storm is no longer included in our results, even for CPU testing, because it's just too easy. When a 15W TDP NUC with two cores at 2GHz and a low-end IGP can achieve 300+ FPS… it's time to move on.
The reason for a lack of IGP results for the 6700K is not because it doesn't have a GPU, but because 3DMark would consistently crash every time we tested it. This could be because of two reasons: Poor driver support since this is a new GPU (and the details are unknown as to its architecture until IDF), or Futuremark hasn't had an opportunity to tweak its engine to better support the new IGP. It's for that reason we've included results for a mid-range GPU too, an EVGA GTX 960.
You can see scaling with Cloud Gate and Sky Diver quite clearly with the 960, but keep in mind that those scores are the result of 100+ FPS, so even small fluctuations in the CPU can cause huge changes to the score. With a more realistic and modern benchmark, Fire Strike, we see barely any difference.
Unigine Heaven 4.0
1920×1080
(CPU IGP)
1920×1080
(GTX 960)
Min FPS
Avg FPS
Min FPS
Avg FPS
Intel Core i7-6700K
5.8
7.9
28.8
46.6
Intel Core i7-5775C
9.7
13.1
28.2
46.6
Intel Core i7-4770K
4.9
6.7
28.6
46.7
This time, the 6700K's IGP worked fine, but the results are disappointing, as the 6700K's HD 530 is not much faster than the 4770K's two-year-old HD 4600. With the discrete GPU, it's just natural variation between tests.
Sub-system Performance
With the system specific tests completed, we'll delve into the sub-system performance with SANDRA. These tests are long and arduous with huge amounts of granularity to them, providing a better understanding of the types of workload the chips are best suited to.
Arithmetic
Dhrystone
Whetstone
Single-Float
Whetstone
Double-Float
Intel Core i7-6700K
207.23 GIPS
113.53 GFlops
81.28 GFlops
Intel Core i7-5775C
156.34 GIPS
105.49 GFlops
73.37 GFlops
Intel Core i7-4770K
159.32 GIPS
101.63 GFlops
70 GFlops
Multi-Media

Intel Core i7-6700K

Intel Core i7-5775C

Intel Core i7-4770K

Integer x32 AVX2
410.33 MPix/s
254 MPix/s
279.87 MPix/s
Long-Int x16 AVX2
194.37 MPix/s
117.23 MPix/s
121.22MPix/s
Quad-Int x1 ALU
2.25 MPix/s
1.88 MPix/s
1.9 MPix/s
Single-Float x16 FMA
354.64 MPix/s
240.67 MPix/s
282.38 MPix/s
Double-Float x8 FMA
265.54 MPix/s
190.51 MPix/s
198.51 MPix/s
Quad-Float x2 FMA
10.91 MPix/s
7.35 MPix/s
7.59 MPix/s
Cryptography (High Security)
Crypto Bandwidth
Encryption
Decryption
Hashing
SHA2-256
Intel Core i7-6700K
9.74 GB/s
15.46 GB/s
6.13 GB/s
Intel Core i7-5775C
8 GB/s
13.24 GB/s
4.81 GB/s
Intel Core i7-4770K
8.12 GB/s
13.31 GB/s
5 GB/s
It's almost a complete walkover for the 6700K, proving to be consistently better all around. The switch to DDR4 certainly helped here with the high frequency RAM. What's surprising is the generally lower performance of the Broadwell 5775C. Even with its 128MB of eDRAM (level 4 cache equivalent), it barely gets a chance to make use of it; its lower CPU clock speed causes performance to drop compared to its peers.
Power Consumption
Idle
Load (3DMark)
Load (POV-Ray)
Intel Core i7-6700K
36W
70W
132W
Intel Core i7-5775C
35W
107W
90W
Intel Core i7-4770K
43W
74W
112W
Power is recorded at the wall and measures the total system draw. Skylake has a higher TDP than the other two CPUs, but its idle consumption is on par with the 5775C. However, the overall power draw when things ramp up becomes much higher. This could be the result of the motherboard too, with all the new tech bundled in; perhaps with another generation of boards and some firmware tweaks, the power under load can be reduced by a few watts.
Final Thoughts
It's a little bit of a roller-coaster all around. There are a greater number of similarities between the 6700K and the 4770K than with the 5775C. It's also safe to say that the Broadwell desktop part was just far too late to the game to realistically be worth mentioning, as it's only been on sale for 2 months.
If you recently bought an older generation Haswell or Broadwell chip, and feeling the burn that Intel has just released yet another CPU on a new platform, socket and RAM type… don't worry, you are not missing out on a huge performance boost.
If you are on an older architecture, like the now long-lived Sandy Bridge 2600K, it might be worth looking at an upgrade simply because of all the new technologies that have been released since (PCIe 3.0, USB 3.1, Thunderbolt 2 and 3, introduction of USB Type-C, more PCIe lanes, the switch to DDR4).
DDR4 going mainstream is a big step, and it's a sign that things are ready to change. Skylake brings about a transition, though, with its support of DDR3L, the low voltage variant of DDR3 – expect to see compact motherboards utilizing SO-DIMM slots in the future.
Skylake sips just a tad more power than Haswell, too, going from 85 to 91W TDP, but with that comes quite the increase in clock speed. The support for two memory types has an advantage too with voltages. In order to support DDR3L, Skylake needs to provide 1.35v as per the standard. This means it's built ready for that higher voltage, compared to DDR4's 1.2v standard. This will give you that little extra breathing room in the power selector when overclocking DDR4 – should you so desire. If you intend to use the IGP in Skylake, that extra RAM speed will help, otherwise normal desktop gains are likely to see a mere 1-2% gain, rather than the 5-7% with the IGP.

Overclocking is not something we've had a chance to dig into yet, and it's something we'll tackle when we get back from IDF. Not only overclocking, but a quick look at a clock-for-clock comparison of the three main CPUs too. In either case, expect to see a more in-depth article on overclocking in the future.
Skylake's gains over Broadwell are modest at best. In fact, Broadwell's Iris Pro IGP gives it quite the advantage under a number of tasks. From a pure CPU perspective, the higher base clock and the switch to faster DDR4 give Skylake a bit of a jump, especially over Haswell. Even though Broadwell is clocked slower than Haswell, it still performs relatively well.
Post IDF intervention
It turns out that the HD 530 GPU in the 6700K is heavily stunted, to accommodate the rather large overclocking headroom available. The IGP in the 6700K has just a mere 24 execution units, while the full-blown IGP (likely in the non-overclock chip) will have 72 EUs, and is reported to be 50% faster overall compared with the 6000 series seen in Broadwell. This is not totally surprising, and we might even see throttling behavior with either clock speeds or power limiters in the mainstream parts. It will be interesting to see what the GPU is capable of when the mainstream parts arrive.
If you have been holding off on a new CPU, it might be worth looking at the new Skylake series. Mainstream parts, i.e. the non-overclock parts, won't be available yet for a couple months (Q3 was the only time-line mentioned). If you have already upgraded in the last couple years, there isn't a killer feature that stands out, apart from a new long-term stable platform to take you forward for the next couple years.
The older generations, such as Ivy and Sandy bridge, it might be a good time to jump ships, as it'll provide a good starting point for the next couple upgrade paths.
Copyright © 2005-2021 Techgage Networks Inc. - All Rights Reserved.