Reflecting On An Action-packed Computex 2019

Date: June 5, 2019
Author(s): Rob Williams

With time to reflect, we're looking back at last week's Computex in Taipei. This year's event seemed to start off a bit slower than usual, but it didn't take long for things to ramp up. Before long, we were being overloaded with information, of which all of the important stuff will be tackled in this article. If you need a refresher or want to make sure you didn't miss anything, read on.
---
Reflecting On An Action-packed Computex 2019
In looking back at last week's Computex, the event seemed to be a good one overall. At first, things seemed slower than normal, but they quickly kicked into gear. Even the convention hall seemed less packed than it has been in normal years, but as the week went on, that was quickly corrected. We're not sure on attendance numbers, but all things considered, this Computex seemed to be as busy as ever.
We published a lot of content during Computex week, and will use this article as a way to rehash most of it to make sure you didn't miss anything important. We posted numerous photos to Facebook and Twitter, so if you don't follow us there, you've definitely missed out on some cool stuff (follow links can be found to the right).
When we're at any event that seemingly has every company we work with present, we first make sure we cover the "Big Four". In our case, we're talking about the semiconductor companies we deal with on a nearly daily basis: AMD, Intel, NVIDIA, and Qualcomm. But of course, Computex doesn't revolve around only them, even if they do play a big role. Fortunately, we had other meetings as well, and spent a lot of time roaming the show floor. So let's stop beating around the bush and get right to it:
AMD
Ahead of Computex, it felt like AMD was going to have the "biggest" showing of any other company there, and honestly, it really did feel like the company "won" Computex in many ways. It's not just us who thought that; all of our tech press friends told us the same thing.
First and foremost, Lisa Su gave a great keynote highlighting everything really important that's coming down the pipe, including the Radeon Navi GPU series, and of course, the Zen 2-based Ryzen 3000-series of CPUs. Both are built on 7nm, and promise to deliver a ton of value for their price-points.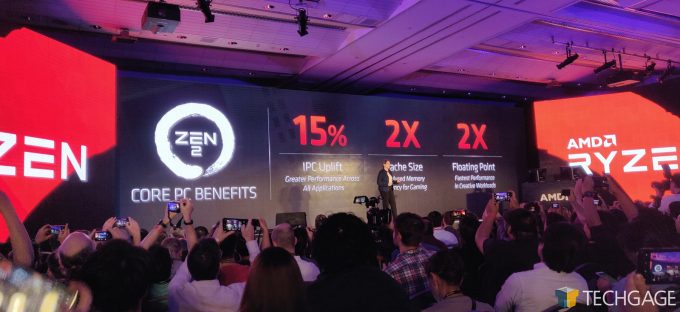 Of course, we're no strangers to Ryzen's strengths around these parts, as we've pit them against many workstation workloads in the past, so we're greatly looking forward to getting our grubby hands on these latest chips and take them for a spin.
The verdict is still out on how Navi is going to compete, but for CPUs, and based on what we know of the previous-generation Ryzen and the new one, it seems inevitable that Intel has a massive fight ahead of it. We've already seen Intel counter AMD's moves a few different ways, and with AMD not letting up at all, the future of desktop (and enterprise) CPUs from both companies is going to be fun to watch.

In meeting with motherboard partners at Computex, we felt some seriously good vibes from our contacts there. GIGABYTE in particular is extremely excited about the launch, as it feels the latest crop of boards is the best it's ever had, and it offers many features to prove that – including true power phases developed through a partnership with Infineon.
Intel
Last Computex, Intel had quite a bit to show off for enthusiasts, as its second-gen Core X-series processors were just around the corner. Those chips still remain the top of the pops for now, but this Computex gave us our first taste of the 10th-gen chips, dubbed Ice Lake. The first model is going to support up to four cores and eight-threads, with all SKUs dedicated to notebooks for now.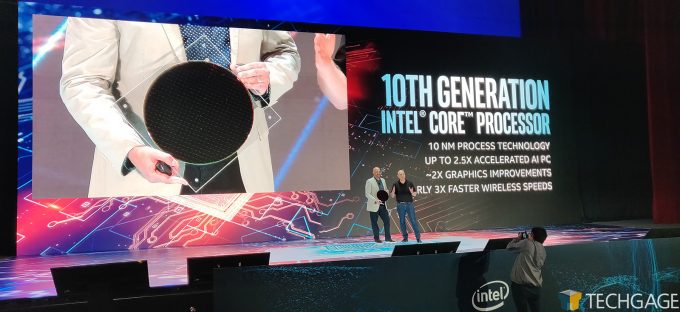 While we'd love to see bigger enthusiast chips from the get-go, what Ice Lake brings to the table is impressive. As tackled in our in-depth look, a new graphics architecture has been rolled out to give a massive boost to performance. Intel says the Gen11 Iris chip will deliver 1080p gaming without being held back too much – something we'd love to test hands-on. Gen11 will not compare to a discrete graphics chip, but in these ultra-thin notebooks? You wouldn't ever expect the level of gaming that Intel is promising here.
As a team that revolves our lives around benchmark results, we can't help but really want to test Ice Lake for a few different reasons. At the forefront, the promise of doubled HEVC encode performance and the introduction of a SHA instruction set really makes us want to dig into our digital toolbox and generate some results. Wi-Fi 6 is also a notable addition, coming to us before 802.11ax routers hit the market in any significant way.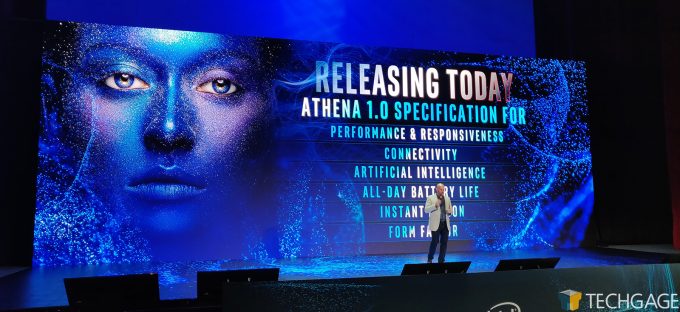 Aside from Ice Lake, Project Athena also got a huge mention. This is Intel's foray into developing a notebook platform that focuses on real indicators of how we use our PCs. Benchmark results only tell some of the story sometimes, but it's really all about the experience that matters. Once products hit the market, Intel promises all-day, always-connected notebooks that deliver more than enough performance to allow you to get your work done throughout the day. This is something Qualcomm has been working on for a couple of years, and it's about to launch its third-gen Snapdragon ACPC platform in just a couple of months.
Another thing worth pointing out is that at the second Odyssey event, Intel made it clear that it pays attention to feedback. It presented a graph of most common requests from users on the /r/hardware and /r/intel subreddits, and based on that, we can confidently say that Rob's suggestion for some Linux love was counted in here.

We've seen companies talk about user feedback before, but not so openly like this, where the popularity of each request is broken down by each bullet-point. It's really great to see, and it's a clear example of how Intel's community relations have changed for the better.

Last, but not least, Intel also announced a new Core i9-9900KS SKU, which takes after the original 9900K but improves the all-core Turbo from 4.7GHz to an even 5GHz. Unfortunately, this chip isn't set to launch until the fall, but when it does, it will likely be unbeatable by those who want the fastest out-of-the-box 8 cores on the planet.
NVIDIA
Compared to previous Computex events, NVIDIA's showings at this one could be considered tepid, although there was still quite a bit to glean from its announcements. While the only desktop hardware shown-off related to G-SYNC, it's important to bear in mind that E3 is right around the corner, and that's where the company is expected to unveil new GPUs tying into its "SUPER" teaser it released two weeks ago.
Back in March, NVIDIA released its first Creator Ready driver, one that would include the latest workstation-esque optimizations as they come out, in the same way the Game Ready driver always supports the latest game releases. Well, despite that being a pretty swank name, NVIDIA's gone ahead and chosen another name to replace it: Studio. It could be that NVIDIA feels the drivers will be taken more seriously if they represent the room people get their work done in.
Nothing changes with the premise of Creator Ready drivers with the conversion to Studio Ready. These drivers still include the latest optimizations, but are aptly-named for the new "RTX Studio" notebooks, of which many graced the Computex show floor.



There are a few new mobile GPUs to speak of as well, including the new Quadro RTX 5000, which includes a 16GB framebuffer just like the desktop counterpart. Ultimately, NVIDIA wants people to do good work while on-the-go, and based on our first impressions with the newest Razer Blade 15, there's a lot to like. We reviewed that notebook ahead of the RTX Studio announcement, but it is in fact an official RTX Studio notebook.
On the topic of RTX, it excited us that despite it being 2019, NVIDIA had shown off Quake II RTX at Computex. This is of course the original game overhauled by NVIDIA's team to infuse it with ray tracing, and the result looks quite stunning for a game that originally came out in 1997. Bonus: it's for Windows and Linux.
Nostalgia is one hell of a drug, so we'll be diving into this game as soon as time allows. Admittedly, now that we see Quake II RTX, we can't help but really want to see the same being done to the original. It might have been software rendered, but the original Quake used lighting well, and could definitely have something added to it with RTX support.
As mentioned before, NVIDIA talked G-SYNC at Computex, unveiling some new monitors that boast drool-worthy specs, like ultrawide 200Hz with a bright 1000 nits panel and HDR support. As we've been using a 100Hz G-SYNC ultrawide in our testing for some time, we can honestly say these new crop of monitors look great. 200Hz is incredible, and HDR just rounds everything out nicely.
Qualcomm
At its second Tech Summit in Maui in 2017, Qualcomm unveiled its Snapdragon 835-based notebooks, dubbed ACPC for "always-connected PC". The launch models were decent enough, but bugs plagued the first year of the release, with Windows itself causing some headaches (even if Qualcomm doesn't say it). Since then, the ecosystem has improved vastly, and by the time the 850-based notebooks were unveiled at Computex 2018, the situation has gotten a lot better.
We've been using a Snapdragon 850 notebook for the past half-year, and it's proven to be very valuable to our on-the-go computing. For regular use, we don't find slowdown to plague the device too much, but it's obvious Intel systems do have advantages some places, as you'd expect, since Windows and the myriad software out there wasn't designed with Arm in mind.
At this year's Computex, the third generation ACPCs were unveiled, sporting a Snapdragon 8cx under their hood. This SoC is going to be offer much better performance from both the CPU and GPU, and of course, models will be available that include 5G. The 5G rollout is taking longer than anyone would like, but by this time next year, availability will be vastly improved.
The fact Qualcomm brought UL to Computex to talk PCMark 10 is a bit telling, since it really shows that the company is confident with where it stands on performance. Even if 8cx can't outright beat Intel in all cases, the fact that it can keep up in this benchmark is impressive. We look forward to seeing how all of this translates to real hands-on testing.
Exploring The Floor
At previous Computex events, PC hardware-loving peeps like us have generally been fine to stick to the Nangang convention center for the bulk of companies worth meeting with, while the Grand Hyatt hotel stored the remainder.
This year, things changed up slightly, with a second hall at Nangang being opened up – one that we didn't end up checking out due to time. Hall 1 had every company we could think of meeting with, or "meeting" might be a bad way to put it, since we didn't actually have a single one on the show floor itself. Instead, we simply wanted to explore. We don't exactly review many things like chassis, PSU, cooling, and gamer chairs, and Hall 1 was littered with them.
Let's start with Corsair, which never ceases to lay off on RGB:

As fun as it is to poke fun at RGB obsession, we admit that it's still so eye-catching (in a good way). Corsair had a PC built up with two systems installed, along with so much liquid cooling, we know whoever put it together spent a lot of time on it. The end result is actually stunning, even though it's a bit of a deliberately absurd build (sometimes that's the best kind).
Corsair was promoting its Hydro X series almost exclusively, with an exception being that Elgato has a new Stream Deck en route, including many more buttons for your use:

Since PNY happened to be on the same hotel floor as Corsair, we decided to crash its party before escaping the building to return to the Humidity City Taipei streets. Interestingly, PNY wasn't showing off GPUs so much as it was showing off storage products, including a new USB 3 SSD that will be made available at up to 2TB densities.

It was a bit odd seeing HP branding all over PNY's display, but it makes sense once you realize that PNY is handling the company's storage products. The company clearly would not earn as much revenue off of these suckers as it would if they were PNY-branded, but alas, this is the nature of business sometimes. Perhaps we need to get some PNY storage in and see how it fares.
The company was one of many that had PCIe 4.0 examples on display, including an NVMe drive promising 4.8GB/s read and 4GB/s writes. That's a huge gain over current SSDs, although we're not sure regular users would notice an inherent difference between it and a fully capable 3.0 drive. We'll have to wait to see what the IOPS performance is going to be like. Either way, faster is always appreciated, and if we run into a point of diminishing returns, it's at least better than trying to continually chase faster performance.
Speaking of faster performance, we were lucky enough to meet legendary overclocker 8Pack at Computex, who showed us off some new liquid-cooled kit that's coming down the pipe. This isn't just some standard fare kit with his name on it, but a completely rethought out design that optimizes everything to eke as much cooling potential out as possible. The block, for example, will have separate streams based on which CPU it's going to be used with, aiming to directly hit each core area rather than the entire IHS to expedite its cooling. This is just scratching the surface, so if you want to learn more, we'd suggest checking out this Gamers Nexus video tackling it in-depth.

It's certain that you're going to bump into a number of interesting looking PCs at Computex, and this year was no exception. We didn't go out of our way to photograph the best mods (though maybe we should have), but did capture a few we thought where interesting in one way or another. Take this Enermax group:

The bike PC mod looks outstanding, but we're not quite sure about the company's own special edition PCs. The lion graffiti art looks great overall, but the gold on black leaves a bit to be desired. The Equilence looks good on its own, and definitely doesn't need any bling.
We mentioned gamer chairs earlier, and honestly, there are so many of them at Computex, it's hard to keep count. But the only booth to catch our eye was noblechairs, which had many excellent designs on display. That included a beautiful Mercedes AMG Petronas Motorsport design that would thrill any fan of the dominating Formula 1 team.

Many gamer chairs look like direct knock-offs of others, but noblechairs seems to have pride in its designs, adding as many custom components as possible, which in this case includes the wheel base and also the lever to lean back and forward.
There is more we could share here, but this is the bulk of the interesting stuff. You can always explore more at our Facebook page, or our Twitter page if that's more your style, to keep in tune with what we're up to.
Overall, this year's Computex was great. We didn't feel that way quite at first, but that was before the week really took off, and the announcements began hitting quicker and quicker. Both AMD's and Intel's keynotes were good, as was Qualcomm's, albeit at a much smaller venue. We missed NVIDIA's due to a scheduling conflict, but we do know Jensen wasn't there. Perhaps he'll show up at E3 when NVIDIA's teased "SUPER" launches?
Copyright © 2005-2020 Techgage Networks Inc. - All Rights Reserved.