Thermaltake WATER3.0 Extreme Liquid CPU Cooler Review
Date: August 23, 2013
Author(s): Rob Williams

Need big cooling performance behind that big CPU? That's exactly what Thermaltake's WATER3.0 Extreme has been designed for. Featuring a double-length radiator design and strapped with two 120mm high CFM fans, the Extreme is preparing itself for a good fight, whether it's against an overclocked quad-core, or brawny six-core.
---
Introduction & Tour of the WATER3.0 Extreme
For as long as I've known it to be an option, I've opted to go the liquid route for keeping my PCs cool. Versus air solutions, I've preferred liquid for its increased efficiency, generally lower noise, smaller footprint, and, if we're going to get petty, the aesthetics.
Years ago, liquid cooling (or "water cooling") was a do-it-yourself endeavor, and I did happen to dabble in it once. As much as I loved the results, though, I didn't care too much for the overall cost, and especially the amount of research required to make sure that what you're buying into is going to last you a while – and of course, not rot out before the end of that expected life cycle. When all-in-one solutions first hit the market, I knew that they were designed for people like me – those who prefer the perks over air as mentioned above, but don't want to invest too much money and time into a proper DIY solution.
Admittedly, the only all-in-one solutions I've used up to this point have been from Corsair, starting with the Nautilus500. Remember that thing? While I loved it at the time, Nautilus500 simply wasn't an elegant solution, but Corsair showed us what was with the release of its Hydro series way back in 2009.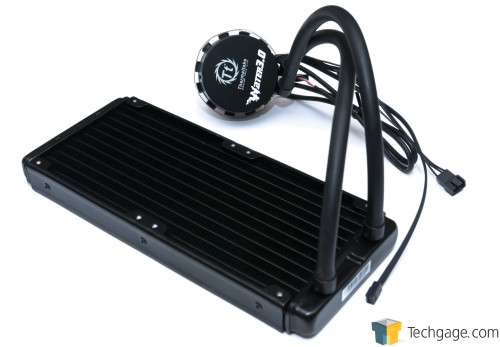 Thermaltake's WATER3.0 Extreme
After this point, the AIO market just seemed to explode, with companies we didn't expect to jump into the cooling market, doing just that. That's been helped by the fact that most of these companies don't build their products from the ground-up. Instead, they opt to buy a proven design from a manufacturer (Asetek or CoolIT, for example), tweak it to their liking, and then release it with their name on it. Overall, this has largely worked out great for everyone involved.
Last fall, I took a look at Thermaltake's WATER2.0 Performer and Pro, and overall, liked what I saw. Of the two, the Performer impressed me the most with its high performance to cost ratio, but both coolers had their perks, and both were very easy to install.
As we've been teasing a bit lately on our Facebook and Twitter, we've been building a brand-new GPU test bench, and because we'll be packing in a next-gen Ivy Bridge-E processor (more on that shortly), I thought the perfect cooling solution would be Thermaltake's recently launched WATER3.0 series – the Extreme edition in particular. Fortunately, the company was kind enough to send one our way. Normally, Ryan heads all of our cooling content, so I have no real basis for comparison here. However, as the test PC is currently packing the biggest and baddest Intel chip around, it's going to be getting a thorough test.
First, let's establish what makes the Extreme so extreme:
| | | | |
| --- | --- | --- | --- |
|   | Performer | Pro | Extreme |
| Radiator | 151 x 120 x 27mm | 151 x 120 x 49mm | 270 x 120 x 27mm |
| Fan(s) | 1x 1000~2000 RPM, 20dBA, 99 CFM | 1x 1000~2000 RPM, 20dBA, 99 CFM | 2x 1000~2000 RPM, 20dBA, 99 CFM |
| Pump | 2900±150 RPM | 2900±150 RPM | 2900±150 RPM |
| Tube | 326mm, Rubber | 326mm, Rubber | 326mm, Rubber |
| Weight | 876g | 1132g | 1071g |
| Software? | No | No | Yes |
| Price | $75 | $95 | $110 |
In a nutshell, the Extreme model WATER3.0 is a double-length radiator solution – it's in effect a Performer, but twice as long, and with software integration as an added perk. Of them all, the Extreme is likely to offer the best blend of performance and reduced noise. 
Let's take a quick trip around the Extreme, shall we?
The shot below shows just how modest the Extreme's radiator is in thickness, but thanks to its double-length, its performance potential is high. If your chassis allows you to mount two 120mm fans side-by-side, installing the Extreme should be no problem at all.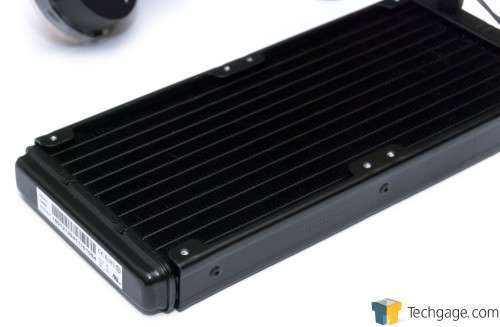 The Extreme's pump is pre-dabbed with some thermal interface material, but if you're like me, you're going to be careless and have to scrape it off and put some fresh stuff on. On that topic, the fingerprint seen on the block didn't come with it.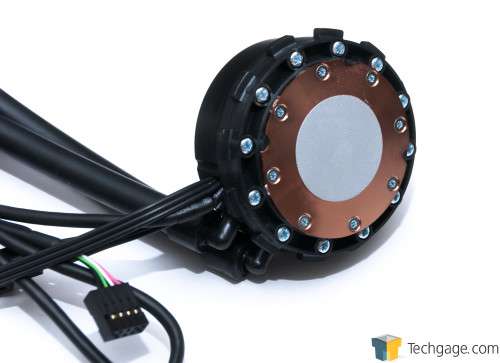 Not entirely pictured in the above shot: Coming out of the block are a couple of wires. First, there's a fan header joiner that allows you to plug in both included fans so that you don't waste more headers on the motherboard than you really need to. Once those are installed, a 3-pin header from the block plugs into the CPU_FAN header on your motherboard. Seen in the pic above is the USB header. This plugs straight into – you guessed it – an available USB 2.0 header on the motherboard; this is what allows you to interface with the cooler via software in Windows.
With its WATER3.0 lineup, Thermaltake supports all recent CPU sockets – even including the LGA1366 one that a lot of manufacturers have been quick to drop. While all of these components may make the installation seem a bit daunting, you'll only need about half of the small pieces, regardless of socket.
The fans included with all WATER3.0 coolers are spec'd at 20 dBA and 99 CFM. While most fan vendors report the dBA as max, Thermaltake has for some reason opted to report the minimum, which is what 20 dBA here is. A true 20 dBA 120mm fan @ 99 CFM would be rather brilliant.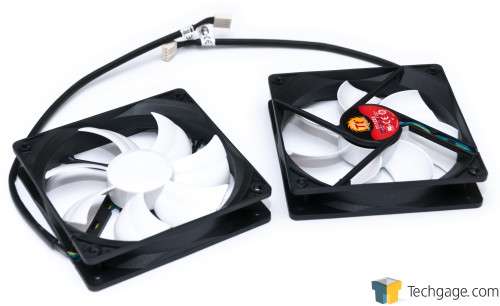 During normal use, I found these fans to be quite ideal – they're barely audible. When ramped up, you'll definitely be able to hear them, but it's hardly overbearing. Fortunately, that kind of noise would be a rarity, only during overclocked load states, and again, it's not loud on the ridiculous level – but it does stand out.
Installation, Testing & Final Thoughts
I'll try my best to explain the installation process here, and hopefully portray what sort of simple experience it really is. The install process does require you to study the included install sheet, however, to know which parts you need for which socket-type. If you find it a little hard to make out some of the pieces on the included sheet, I'd recommend downloading a PDF version from the support site as it allows you to zoom in without quality loss.
The easiest platforms to install the Extreme on are Intel's highest-end, as the base is pre-installed on the motherboard. For mainstream platforms, a base will need to be placed underneath the motherboard – possibly requiring you to remove it from the chassis if you can't easily get behind it. This base will require four small silver inserts which will accept the screws on the other side.
Dealing with the radiator and fans is an absolute breeze – I was rather impressed. You first install the fans on the rad in the orientation required, securing them completely. Then you place the back of the radiator against the part of your chassis that accepts it, and then secure it. You're nearly done at this point.
After constructing the ring that will secure the pump to your socket, and then clip the large O-ring underneath the finished product, you'll secure the pump to the socket. If this is the first cooler like this you've installed, it might take a few minutes to figure everything out, but it really is quite simple overall. With everything in place and secured, you can connect the two fans to the pump, and then the pump to an available 3-pin fan header.
Behold, my installation:
The biggest downside to a cooler like this is that it will result in extra cables dangling in front of it, as seen in the above shot. I admit that I'm not too fond of this, but it can't be helped. The biggest hassle is having to maneuver around them when replacing the GPU, but admittedly that is a problem few people have to deal with. I think the end-result looks quite good.
Also in the picture, and at the bottom of the board, you can see the unit's USB 2.0 connector plugged-in (blue port, half cut-off in the photo). I have this running through to the right of the motherboard, around back and up through the bottom, to help keep the visible wires to a minimum as much as possible.
With that all taken care of, let's get to testing. But not without an obligatory specs table first, of course:
| | |
| --- | --- |
|   | Intel LGA2011 Test System |
| Processors | Intel Core i7-3970X – Six-Core, 3.50GHz |
| Motherboard | ASUS P9X79-E WS (1003 BIOS) |
| Memory | Kingston HyperX Beast 4x8GB – DDR3-2133 11-12-11-31 |
| Graphics | NVIDIA GeForce GTX 770 (GeForce 326.80 Driver) |
| Audio | Onboard |
| Storage | Kingston HyperX 240GB SSD |
| Power Supply | Cooler Master Silent Pro Hybrid 1300W |
| Chassis | CM Storm Trooper Full-Tower |
| Cooling | Thermaltake WATER3.0 EXTREME Liquid Cooler |
| Et cetera | Windows 7 Professional 64-bit |
With the included software, I recorded the temperatures at idle and load with the "Custom", "Silent" and "Extreme" fan presets. Idle temperatures were recorded 10 minutes after system boot (in an ambient environment of around 24°C), while load was recorded 10 minutes into a high-quality video encode (using CyberLink MediaEspresso > Best Quality).
Idle Temperatures

Idle – "Silent"

Idle – "Custom"

Idle – "Extreme"
Overall, no real difference here, with the liquid temperature differing about 1°C overall, and the same applying to the individual core temps. Let's check load:
Load Temperatures

Load – "Silent"

Load – "Custom"

Load – "Extreme"
Much different results here, with temperatures generally scaling as we'd expect – 61°C core #1 temp with Silent, and 55°C with Extreme. Admittedly, not a great difference overall, which is rather impressive given the noise levels between the three modes is certainly noticeable. If your ambient room temperature is comfortable, you should be able to run the Extreme using its Silent mode without the CPU heat ever becoming a real problem. If it does, Custom can take care of that, and still retain quieter noise-levels.
Overclocked Performance
With our particular i7-3970X chip, I found 4.5GHz to be the max stable frequency I could hit (I wouldn't be surprised if it could go higher, but I'm far from being a great overclocker). At this frequency, the chip performs like a champ: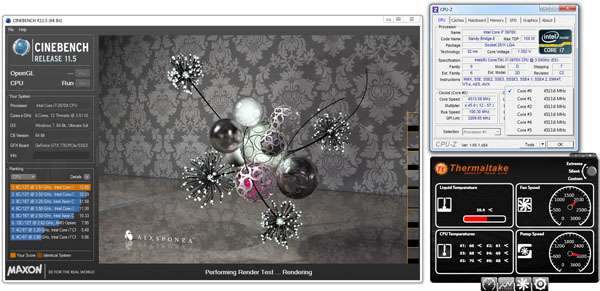 End results as recorded with the help of AIDA64 through the entirety of our high-quality video encode (10 minutes idle + 50 minutes encode time):
 
Stock (3.7GHz)
OC (4.5GHz)
Room Temp
24.1ºC
24.5ºC
Idle
36ºC
39ºC
Load
61ºC
81ºC
Given just how quiet the PC was overall at stock speeds using the "Custom" setting, I'm extremely pleased with the performance here. We're dealing with one of Intel's beefiest chips, after all – six cores under the hood. Our overclocked result isn't quite as impressive, reaching 81ºC at peak.
I should note that these temperatures could be improved with a better chassis configuration. At the moment, there are no fans at the front of the chassis to suck cool air in, nor are there fans installed on the doors. These results are from the rad's dual fans and the lone 120mm fan at the back of the chassis. That's it. Plus there's the fact that this was run using the "Custom" profile, and not "Extreme" – though fan noise still did become noticeable during load.
Final Thoughts
With the results seen above, I have no problem in recommending Thermaltake's WATER3.0 Extreme. Intel's six-core offerings are notorious for being heaters, but Thermaltake's cooler manages to keep them to modest levels – 60°C is just fantastic at full-tilt. Once more fans are installed in this machine for a more optimized setup, I look forward to doing a little more testing.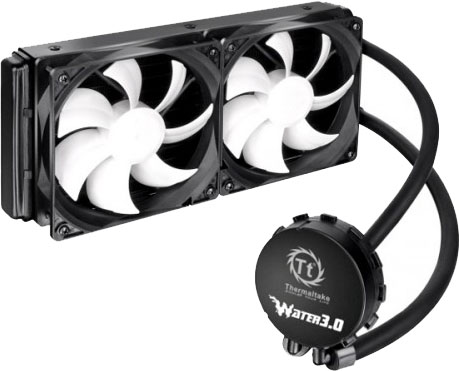 At $110, the Extreme isn't going to be for everyone, and it really isn't for everyone if you have a modest chip and / or overclock. I'd recommend this cooler most for those equipped with six-cores (even at stock), or quad-cores boosted with good overclocks. There's no reason whatsoever to get a cooler this robust if you're running a stock quad-core, even something like the i7-4770K. The Performer would be quite suitable there, while the Pro would be a second option for overclocked quad-cores.
The Extreme's biggest benefit is being able to keep big chips cool while also keeping noise-levels modest. While things can get loud. they don't have to if you don't mind your chip running a little hotter (and by that, I mean 65°~70°C).
Overall, a great cooler from both a performance and ease-of-use standpoint. It'd be nice if the fans were a bit quieter at full-tilt, but it seems we can't have it all.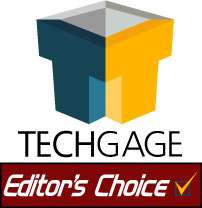 Thermaltake WATER3.0 Extreme Liquid CPU Cooler
Copyright © 2005-2019 Techgage Networks Inc. - All Rights Reserved.