Intel P67 Roundup: ASUS, GIGABYTE, Intel & MSI

Date: May 30, 2011
Author(s): Rob Williams

We've been a little short on motherboard content lately, so to kick things back into action we're taking a look at four P67-based motherboards at once – all benchmarked using our newly revised test suite. The boards we're looking at are the ASUS P8P67 Deluxe, GIGABYTE P67A-UD4, Intel DP67BG and MSI P67A-GD65.
---
Introduction
As much as I hate to admit it, we've been experiencing a drought with our motherboard content, but with the help of this article, things are soon to get back to normal. Prior to this P67 roundup, we spent weeks perfecting the revision of our motherboard testing suite, which I talked a bit about in our news section a couple of weeks ago.
Creating a solid test suite for any type of hardware is tough, but after pouring tons of time into this one, we're confident that the benchmarks and other test results will give us the best possible picture of whether or not one motherboard lives up to where we think it should be.
Because it's difficult to get the bigger picture when dealing with the results from just one motherboard, we decided to kick things off with a look at four mainstream models from "the big 4", including ASUS, GIGABYTE, Intel and MSI. All of these boards range from $180~$230, so we're hoping to find a "sweet spot" board that offers a perfect blend of superb performance and features.
We're going to be taking a deeper look at each board on the following pages, but as a primer, we're going to go over the basics here.
First up is ASUS' P8P67 Deluxe, the highest-priced board we're going to tackle here, at $230. Though the most expensive, it could be argued that it's for a reason, as ASUS' Deluxe models have long been considered the most feature-rich on the market for the price, offering all of what's important to the enthusiast, without going overkill.
Sporting the black PCB + blue components color scheme we've come to expect from ASUS, the P8P67 Deluxe looks to impress, and with its Digi+VRM power efficiency feature, the company aims to give us a board that delivers unparalleled performance and smooth operation.
From GIGABYTE, we have the P67A-UD4, priced at $180. Similar to the P8P67 Deluxe mentioned above, the UD4 series from GIGABYTE tries to deliver the best of all worlds, starting off with a clean and smart design and finishing with great performance. Of all the boards we're looking at here, I am inclined to say this one is the best-looking, as there's nothing about the color scheme that stands out in a bad way, and the heatsink design is simple, yet efficient.
Featuring what GIGABYTE calls its "Dual CPU Power" design, only half of the board's 12 power phases are used during regular use, prolonging the life of the VRM, while at full load, all 12 will kick into gear. This, combined with the use of Intel-approved Intersil PWM controllers, aim to deliver a robust power solution that can instill confidence in both the board's long life and in its reliability.
The most serious board of the bunch might be Intel's ~$200 DP67BG. We use a ~ because at this point in time we can't seem to find the board available online anywhere, though it was in month's past. Whether or not Intel discontinued it to prepare for Z68, we're unsure. Either way, it's being included here for a bit of better comparison.
Intel's board is the least-robust of them all in terms of bling or mind-exploding features, but as we've come to expect, the goal is to deliver a board that is as reliable as possible and gives people all of what they need, and nothing of what they don't. And as we discovered in a recent article, overclocking is something Intel has on its mind, which is nice.
For MSI's board, we have the company's mainstream top offering, the $180 P67A-GD65. Like the above-mentioned boards, MSI takes power efficiency and reliability seriously, so it's no surprise to see this board taking advantage of MSI's "Military Class II" components, which means that Hi-C capacitors are used along with super ferrite chokes and high-quality solid capacitors.
Of the four boards we're looking at here, MSI is the only company other than ASUS to include a colorful EFI, in lieu of a typical BIOS. Whether or not this is a good thing depends on the user, but after using the current options on the market, we have little to complain about.
Let's now take a deeper look at each board, and afterward, we'll tackle our updated test suite before jumping into the actual results.
ASUS P8P67 Deluxe
To help kick things off, let's take a look at what could be the most robust board in this group; ASUS' P8P67 Deluxe. Though a little more expensive than the others, at $230, the Deluxe series of motherboards has long been considered to be one of the best for those who want a bit of everything. While there's no sort of overkill here, the number of features can still be a little overwhelming.
A major feature ASUS is pushing with its x67 and Z68 line-ups is "Digi+VRM", a feature that encompasses two others; EPU (Energy Processing Unit) and TPU (TurboV Processing Unit). Working together, these two features intelligently adjust voltages and other options on-the-fly to help deliver the most efficient power scheme possible – and also the most reliable overclocking.
Though there is a lot of marketing speak to dig through here, I like what ASUS has been doing with its power schemes over the years, and with Digi+VRM, things continue to get even better. While optimized for both performance and temperatures, Digi+VRM also helps to reduce interference and power noise to and from the CPU, which can result in not only improved overclocking, but higher reliability and longer life.
Going further, the EPU component monitors everything from fan speeds to the hard drive to the CPU, and with it in place, you can feel confident in the fact that this board features what I'm sure has to be the most comprehensive system-wide power scheme in any motherboard.
For a lot more information about other features the board offers, I recommend hitting up the official product page. For the sake of time, we're just touching up on the basics here, though I did want to talk a bit about DIgi+VRM since it is one of the most interesting aspects of the board.
ASUS' P8P67 Deluxe has the best overall layout of all four motherboards we're looking at here, and as such, it was the easiest one to deal with installation-wise. It features a total of four fan controllers aside from the CPU, with two found right at the bottom, and one next to the 24-pin motherboard connector.
The other is next to the CPU socket itself, which was convenient since we had no issue plugging in the cord to power the pump with our Corsair H70 liquid cooler. I also appreciated the location and orientation of the 8-pin motherboard connector; top and horizontal. This location made plugging in the cable a breeze, whereas it was a little more tedious with the others (or required a cable extension).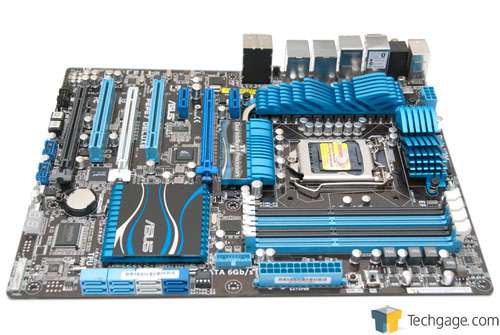 The photos don't do the PCB justice, but the color is a bit darker than that's seen here, though not black like the GIGABYTE UD4. All eight on-board SATA controllers are side-mounted, which today seems more like an expectation than a bonus, as all four boards we're looking at here have the same.
At the top of the board we can see a couple of power phases dedicated to the memory, the TPU switch for enabling a faster bootable setting (a la overclocked) and the MemOK! button that allows the booting of a PC with memory modules that are not too compatible. Yes, it's still possible to run into this problem in this day and age for whatever reason.
You might also notice the small blue connector to the bottom-right of the DIMM slots. Though it states "SATA 6Gb/s" next to it, that's in reference to the SATA ports below. Rather, this blue connector is for used with the included 3 1/4″ peripheral that opens up 2x USB 3.0 ports on the front of your chassis. Though this header is standard fare, ASUS takes things to the next level by actually including the peripheral needed.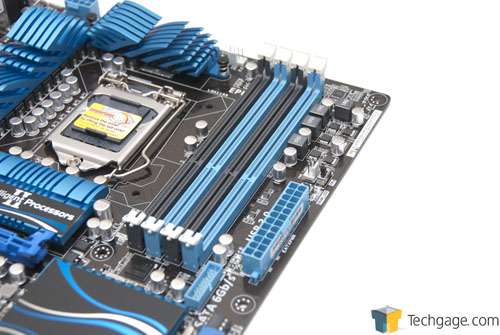 This is a great feature to have, as it negates the need to run two USB 3.0 cables to the back of your motherboard, and then hog those ports there. You can still do that if you like, either way, it means you'll have 4 ports to use with the help of the peripheral rather than just 2.
At the bottom right-hand corner we have what I consider to be the most convenient ATX chassis connectors ever, a BIOS status LED, 2x fan headers, USB port connectors and also side-mounted SATA ports. For what it's worth, the CMOS battery is also readily available, though it's unlikely you'll ever need to remove it.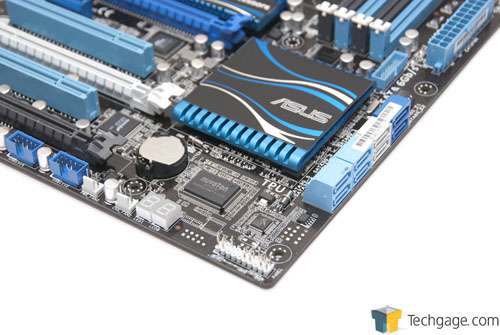 Dual or triple-GPU setups are possible with this board, although the bottom card would require a chassis that offers enough space underneath the motherboard. In addition to those 3 x16 PCI Express slots, there are 2 x1 slots and also 2 legacy PCI slots. On-board power/reset buttons are available here also.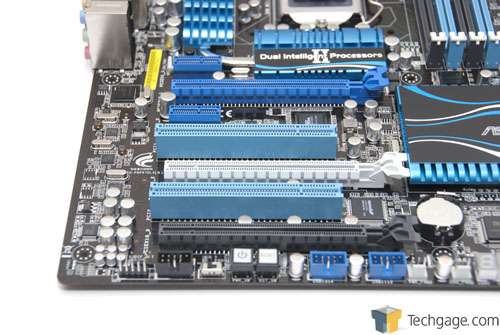 Nestled inside of wave-like heatsinks sits the CPU socket. Though the area looks tight, all large heatsinks should be supported here just fine, unless for some reason the sides stick out far more than normal. Thick tower heatsinks should be no problem, though, and neither was our Corsair H70.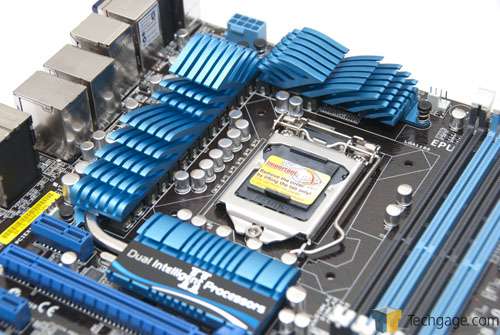 As is to be expected of a Deluxe board from ASUS, there is nothing lacking on the I/O port. In addition to 2x USB 3.0 ports, there are 8x USB 2.0 ports, 2x NIC (Realtek and Intel), eSATA (with external power (green port)), a full range of audio ports, PS/2 keyboard/mouse and also a Bluetooth module.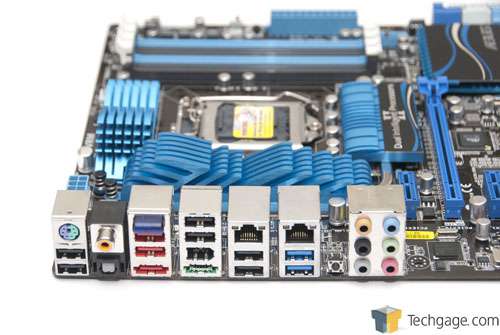 As I mentioned at the top of this page, the P8P67 Deluxe could be considered the most robust board of this bunch, and overall, it's the board I enjoyed working with the most. While the other boards we're soon to look at are not lacking in any serious way, ASUS has done a great job in refining things to a great extent that working with its boards feels natural.
With a look at the board taken care of, let's take a quick look at the EFI ASUS provides us.
ASUS P8P67 Deluxe – EFI
With its P67 line-up, ASUS introduced the best implementation we've seen to date of an EFI, and it does well to show us just what EFI is capable of. Rather than deliver the same bland BIOS we've been using for, well, ever, ASUS gives us a great-looking and feature-packed EFI here, with full mouse support and a generally pleasing interface to peruse.
Upon entering the EFI, you'll be greeted to the "EZ Mode", which in essense is a single-page summary of some important details, such as the EFI version, temperatures and voltages, and also the date and time. You can quickly adjust the power scheme here as well, and also alter the boot priority, simply by clicking a drive in the list and moving it around.
After going into the "Advanced" mode, the EFI becomes more like a traditional BIOS, though still features its great looks and fluidity. You can use both the mouse and keyboard here, but as can be expected, it's much easier, and quicker, to just stick to the keyboard. There are just some things where a mouse can become more of a detriment than a benefit, and this is one of them.
For the sake of time, I am going to let all of the pictures here speak for themselves, but please feel free to ask questions in our related thread. Right off the bat, I can state that without a doubt, I'd take ASUS' implementation of an EFI over anything else today. For the company's first go at an EFI, this one turned out to be amazing.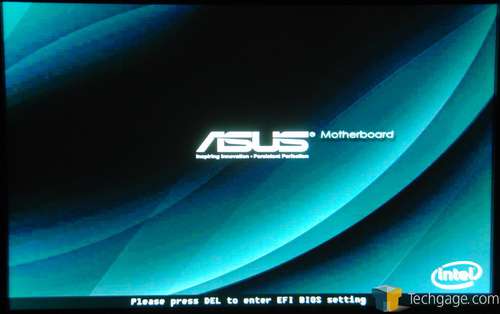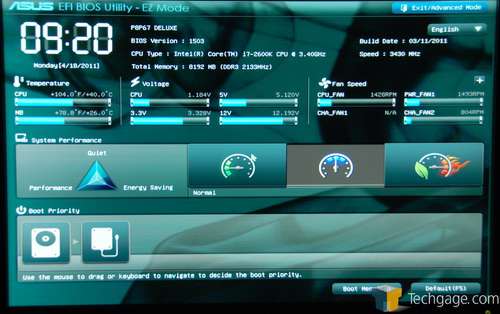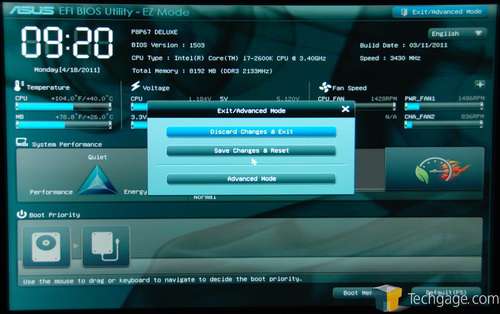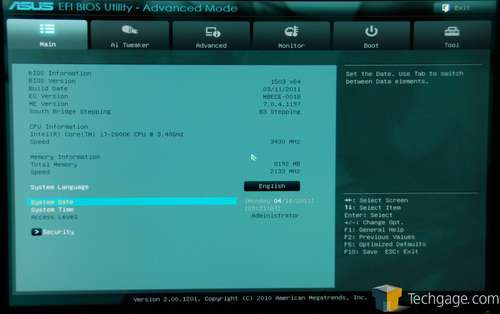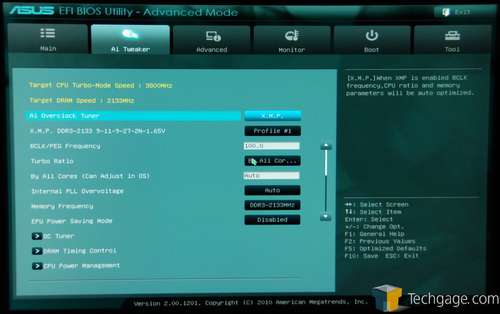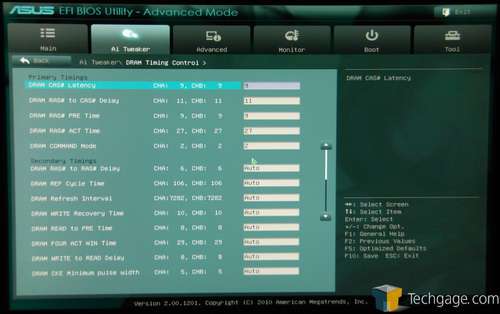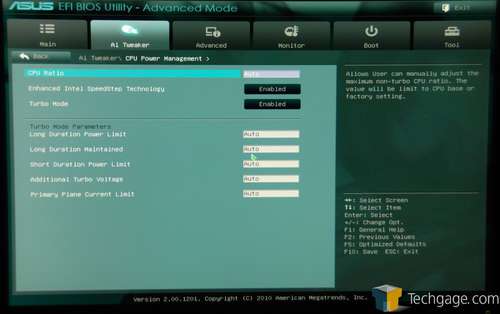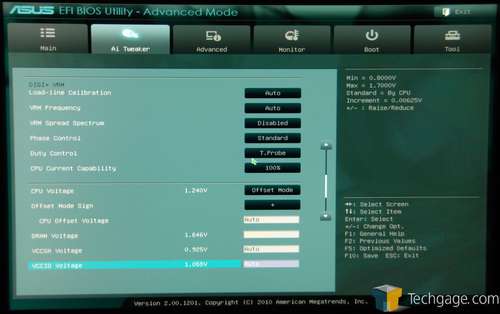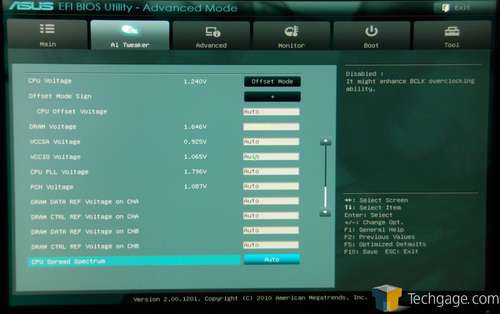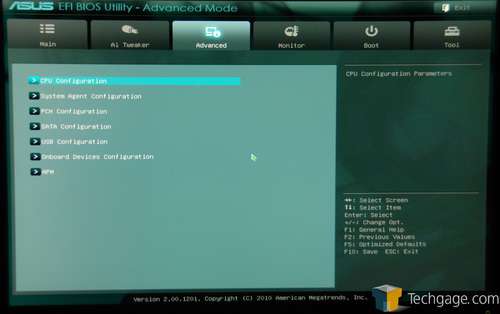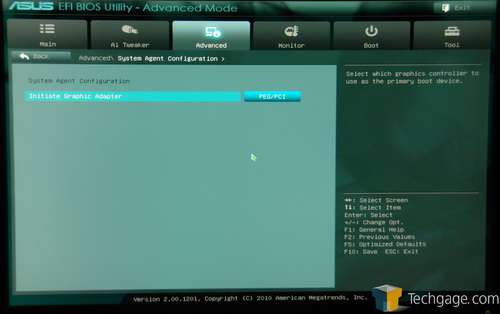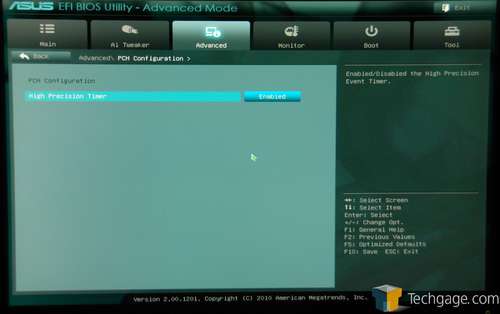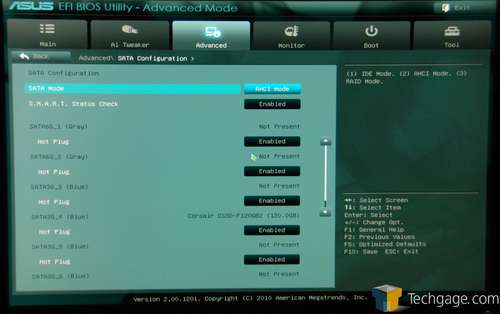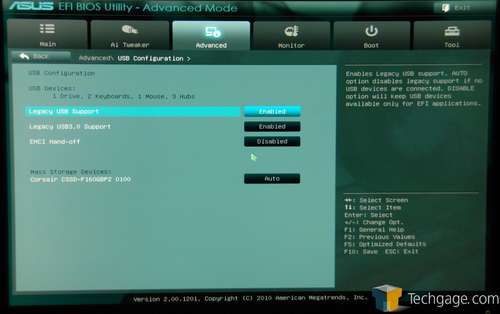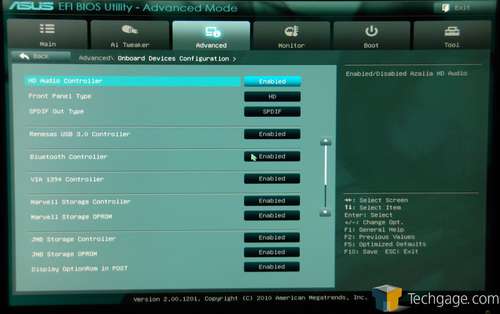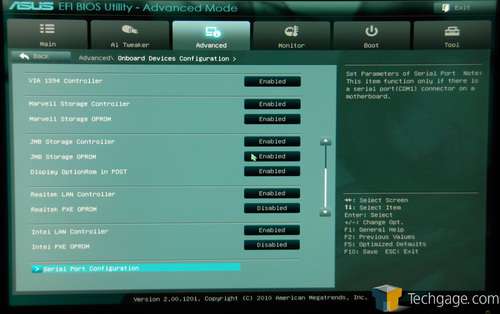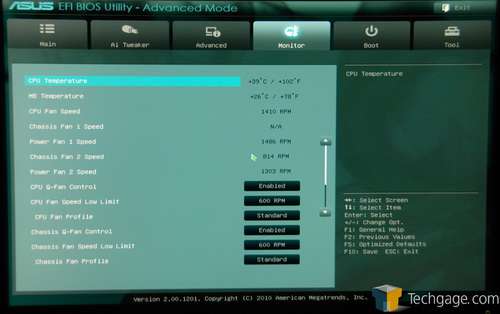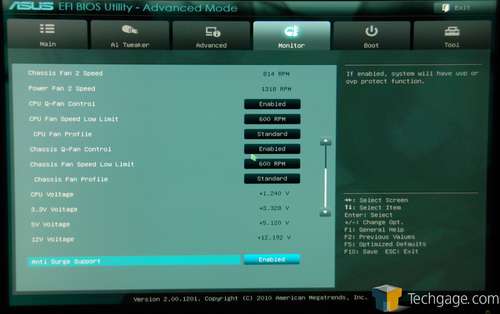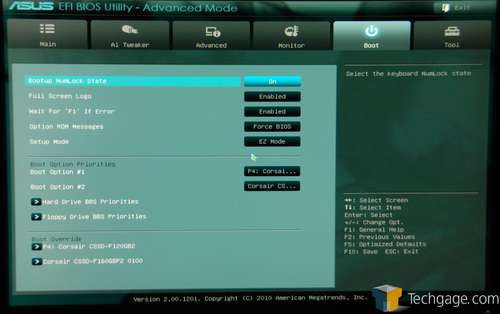 GIGABYTE P67A-UD4-B3
Next up is GIGABYTE's P67A-UD4, which I consider to be one of the best-looking boards on the market (second to GIGABYTE's own UD7 model). Those who love black PCBs and clean aesthetics are going to love this board here, as for the most part, things are kept simple, right down to the heatsinks.
As someone who appreciates lots of fan headers on a motherboard, this board let me down a bit. Aside from the top CPU fan header, there are just three more; one next to the DIMM slots, another at the bottom, and the last up top, next to the 8-pin power connector.
A couple of pages ago, I mentioned that I dislike those 8-pin connectors to be anywhere except at the top, and horizontal, but that's not something accomplished here. However, because the connector is still close to the absolute top, plugging in the connector shouldn't prove to be too much of a problem. While I was forced to use a cable extender with MSI's board, for example, I didn't need to use it for this one.
Like ASUS, GIGABYTE puts a fair bit of focus into efficient power delivery, and the company's P67 line-up is no exception. To deliver "Maximum Power" to the CPU, GIGABYTE first makes sure the board has lots of power phases, and then packs in the "Dual CPU Power" feature, which aims to deliver reliable power to the CPU, and prolong the life of the phases by only using half of them if the CPU isn't doing too much.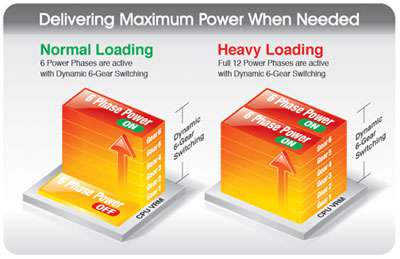 Also included here is an Intel-approved 'Intersil' VRD (VRM) chip which makes the most efficient delivery of voltage from one component to another, and things get so technical when looking into the design that it's overwhelming. So much so that Intel has a 132 page document explaining all of it. Another interesting and related feature is "Driver MOSFETs", which integrate MOSFETs and a driver IC into the same chip in order to increase efficiency and save space.
There's a lot more to this board than what I can mention here, so for those interested in diving in even further, I recommend heading on over to the official product page. For the rest of this page, we'll look through the board design and its features.
As I mentioned before, I consider this board to be one of the better-looking out there, though the UD7 still reigns surpreme where aesthetics are concerned for me. I simply appreciate the super-dark color scheme and complementary heatsinks. GIGABYTE has made some major strides with regards to looks for its current crop of motherboards – it's a major improvement.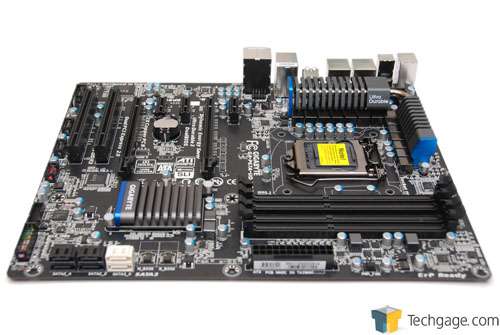 There's not too much to see at the top of the board here except for the 3-pin fan header to the right of the DIMM slots.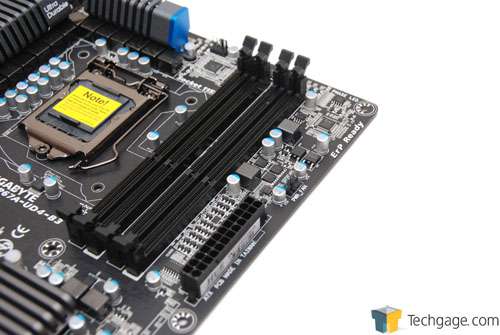 Things get more interesting near the bottom, where there are six SATA ports along with the ATX chassis connectors (right where they should be), a USB 3.0 header and also the USB 2.0 headers.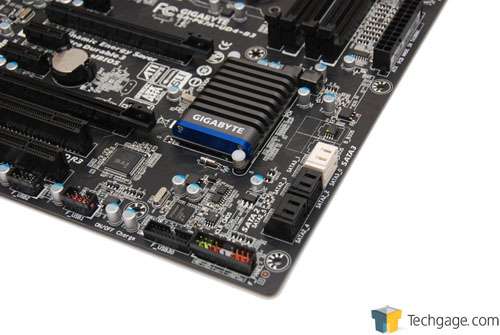 Those wanting dual-GPU setups will have no problem indulging in them with this board, as GIGABYTE leaves plenty of room between both PCI Express x16 slots, and in addition provides a total of 3 PCI-E 1x slots and 2 legacy PCI.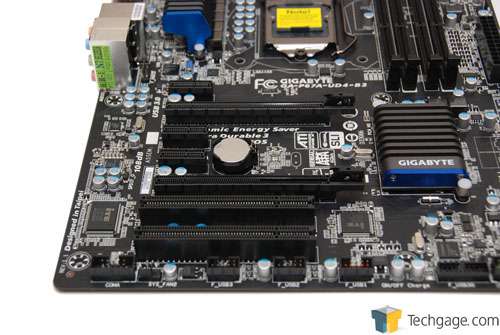 GIGABYTE left a ton of room around the CPU socket on this board, so it's unlikely that any CPU cooler will have a problem in being mounted here. Thanks even to the heatsink design, there is a lot of lenience with the space provided.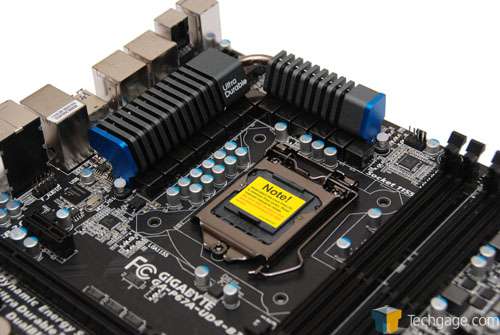 At the back, we can find a full range of audio ports, and also 8x USB 2.0, 2x USB 3.0, 2x eSATA, PS/2 keyboard/mouse and also the LAN port.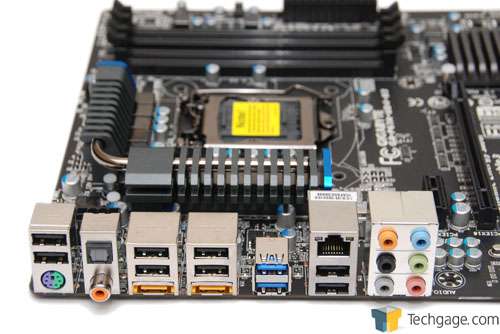 The UD4 board isn't quite as packed as the P8P67 Deluxe we're also looking at, but it does offer a good mix of what's important and leaves nothing out. Plus, the board looks great as well. Does the BIOS match?
GIGABYTE P67A-UD4-B3 – BIOS
After seeing what's possible with EFI, booting up this GIGABYTE board and seeing the same ole blue-background BIOS was a little disappointing. While GIGABYTE will have an EFI in the future, it's sticking to the traditional BIOS for the time-being for the sake of sticking to what's familiar to its users (read: its EFI just wasn't able to come to fruition in time for this launch, or Z68's for that matter).
Seeing as though we've seen this BIOS before, there's little to comment on here. You can expect the usual onslaught of overkill regarding the overclocking options, and everything else you should need.
It's worthy of note that to make up for its lack of EFI, GIGABYTE launched the "TouchBIOS" Windows software tool with its Z68 line-up. We'll soon be taking that for a spin to see if it at all makes up for the lack of an EFI, but alas, that'll do no good to those looking at this P67 board.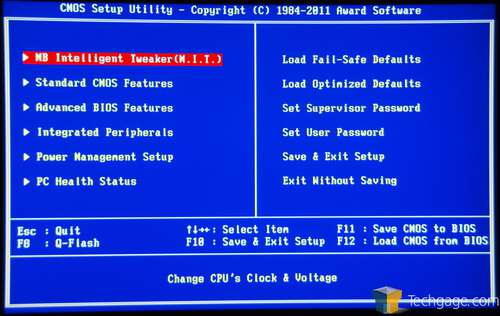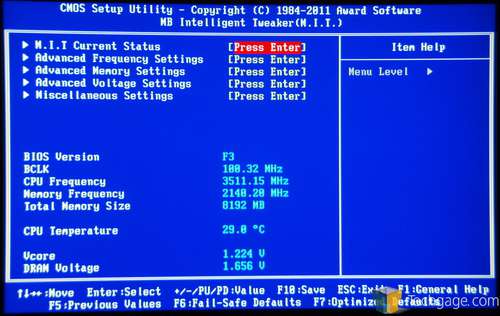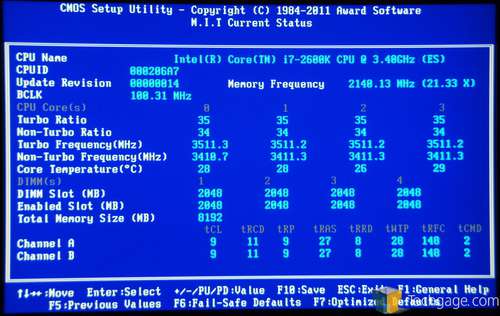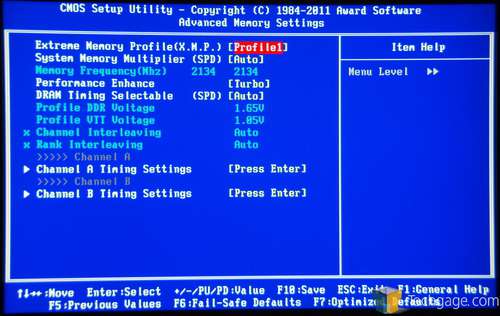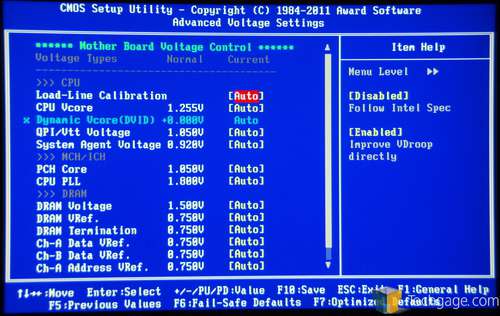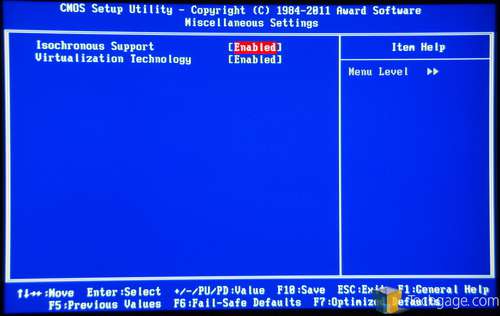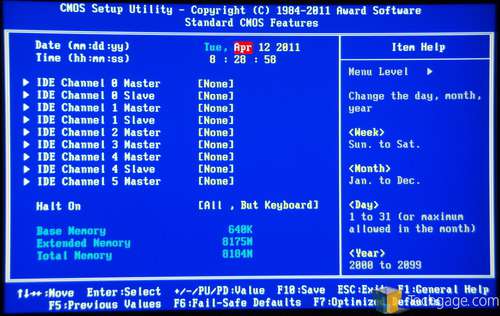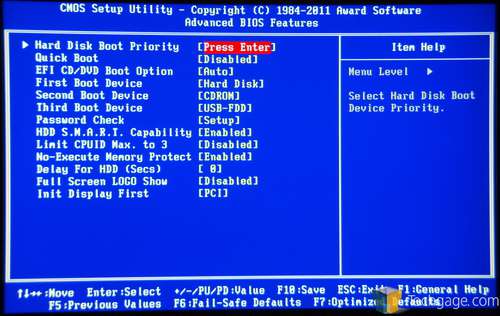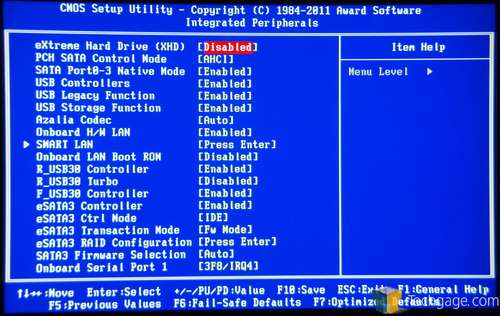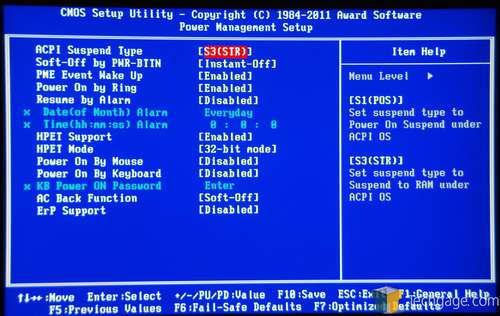 Intel DP67BG
I'd have no qualm in backing up the fact that Intel's boards tend to be the most stable on the market, but at the same time, there's also little to talk about feature-wise. For some, the reasons behind that are what make the company's boards so great – less bling, more of what's important!
After I spent an entire weekend overclocking and tweaking this board last month, I was sold on the fact that Intel does indeed care about its motherboards quite a bit, and while they may not be for everyone, they can't be wrote off just because Intel doesn't pour as much into its marketing as the others.
Of the four boards we're tackling in this article, the DP67BG is the most simple in both features and design, if that can't be guessed already. The board isn't loaded to the nines with on-board components, resulting in one of the cleanest-looking designs around. Simple heatsinks adorn the PWM area, and thanks to its other visual cues, this board comes off as industrial.
Like the other boards here, this one supports a dual-GPU setup – as long as it's with AMD cards. Again, there is sufficient space between both PCI Express x16 slots, so airflow shouldn't be a problem. There are three fan headers available aside from the CPU; one next to the DIMM slots, another at the bottom left-hand corner and another under the CPU socket (perfect for pumps like the one on our Corsair H70).
As nondescript as this board might appear compared to the others, this at least has on-board power and reset buttons, which GIGABYTE's did not. Oh, and the same goes for the LED BIOS status display. Next to this setup is also the BIOS battery, ready to be pulled in the case of emergencies.
At the bottom right-hand corner we can see a variety of headers, including USB 2.0 and ATX, along with six SATA ports and a skull imprint that lights up when the board is powered on (a nice touch). In the event of a failed overclock, the small brown jumper seen here can be switched around in order to boot the board in safe mode, allowing you to change what you need to in order to get the board bootable again.
In addition to the dual PCI Express x16 slots, Intel has included a total of 3 PCI-E 1x slots and, like the others, 2x legacy PCI slots. "Oh these are the slots that never die…"
As is expected of such a "bare" board, there is a ton of room available around the socket, and all CPU coolers should install without issue.
At the I/O area we find 8x USB 2.0 ports, 2x USB 3.0, the usual complement of audio ports, and also an eSATA and LAN port. As a third option to resetting the BIOS to its default values, there's a simple button found here that can be pressed before the PC is booted up.
A simple board in comparison, but I'm still a fan. Simple, but sweet. If only it had a more competitive price tag.
Intel DP67BG – EFI
Intel's recent crop of motherboards have adopted a black-colored background rather than the grey-colored one we've become used to, and though a simple change, it looks way better. I am not sure I could say it's easier on the eyes, but it's much-improved nonetheless.
While not filled to the brim with a billion options for overclocking and the like, the EFI found here gets the job done, and as we discovered in our look at overclocking with this board, there's no limit to its overclocking potential.
One benefit Intel has with this board that the others lack is "HyperBoot", a simple option that disables a lot of the boot-checks that tend to slow down a boot. Enabled, booting into the OS can happen up to 50% faster, and in our tests, it works well. I'd love to see an identical feature on other boards, since nothing brings joy quite like a super-fast OS boot.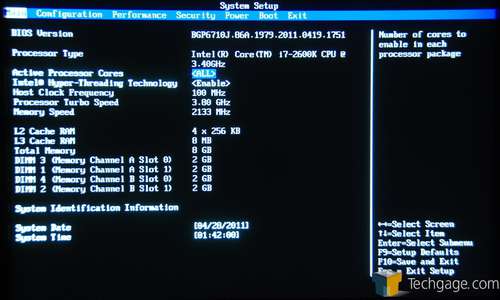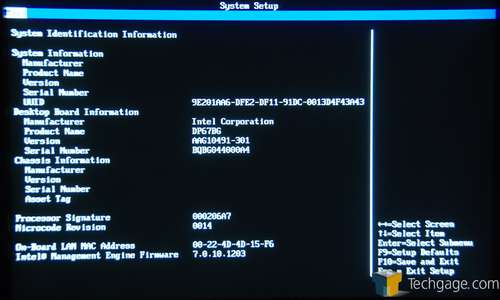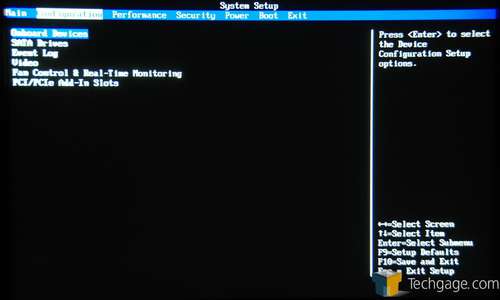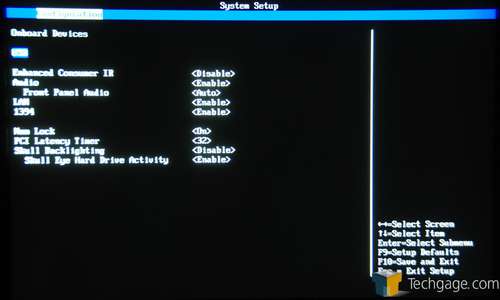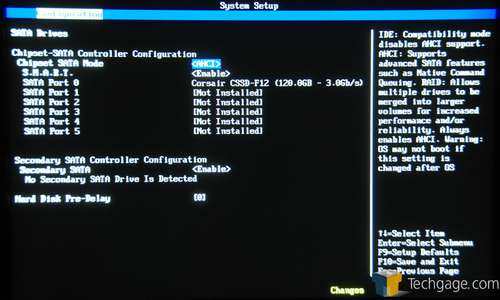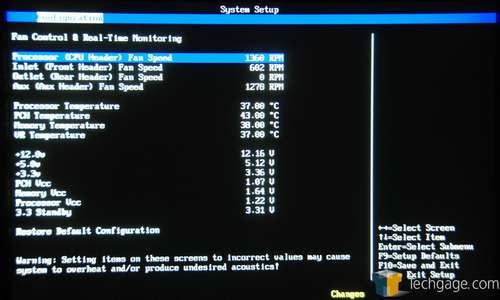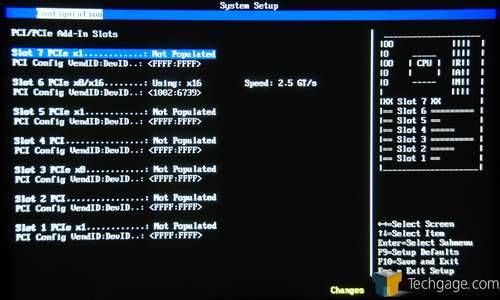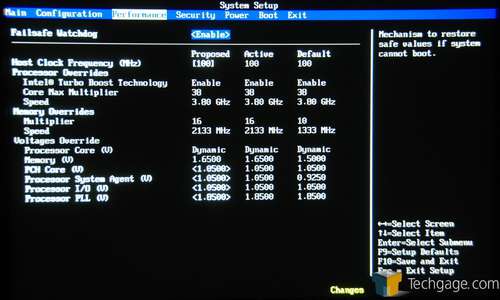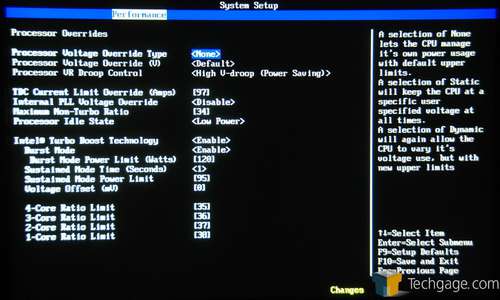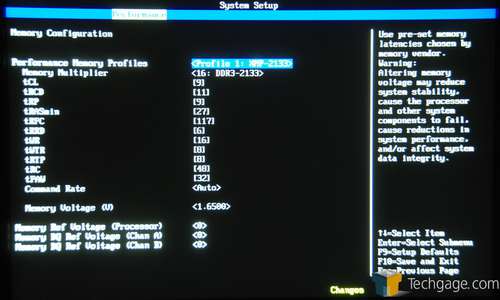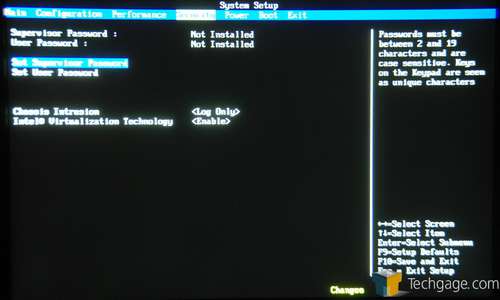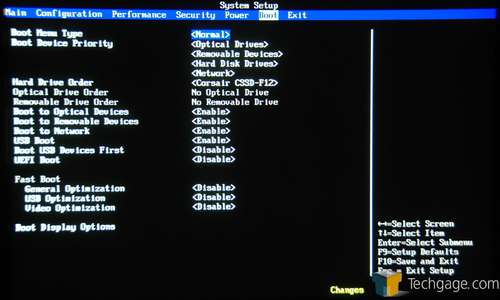 MSI P67A-GD65
MSI's P67A-GD65 comes about as close to Intel's simple design without sacrificing some cool features. And in fact, this board includes some features not found on the other boards we're looking at here, and some features that you don't ordinarily see on a $180 offering.
The board features a dark brown PCB, similar to ASUS' P8P67 Deluxe, and utilizes blue and black components which has almost become default as far as motherboard color schemes go. The heatsinks used here are rather simple in design, but that's all it takes to be sufficient.
One area where the GD65 shines is with its collection of fan headers. Aside from the CPU, there are four others, and while some of the other boards we're looking at here also include four, they are not located in areas quite so convenient. Next to the DIMM slots, there are three, and right underneath the CPU socket, there is one more.
As mentioned at the outset, MSI touts its "Military Class" components across multiple product lines, and with one of its highest-end P67A offerings, we're of course treated to the best of the best. Included in these components are HI-c tantalum-core capacitors, high-quality solid capacitors and super ferrite chokes.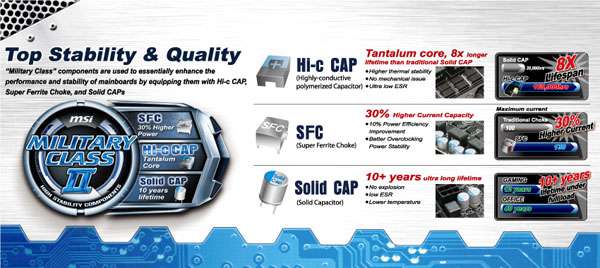 MSI's implementation of these components are a bit interesting, because while they are of very high quality, MSI doesn't seem to offer comprehensive power schemes, similar to ASUS' Digi+VRM or GIGABYTE's Dual CPU Power. It seems MSI either doesn't think those matter, or instead use the highest quality components possible to help make up for what's lacking in the engineering department.
Like the ASUS we looked at earlier, MSI's GD65 offers dual-GPU capabilities for both AMD's Radeon and NVIDIA's GeForce family of graphics cards, opening up many options to consumers.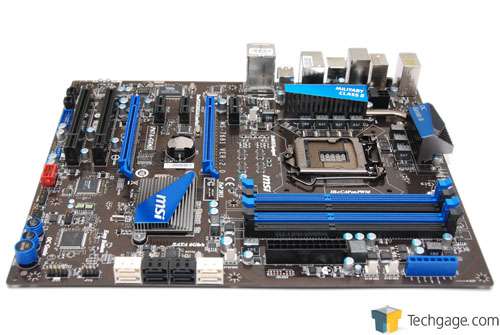 At the top-right corner of the board we see the first three fan headers, with two grouped together near the top. I'm a big fan (no pun, I swear) of this location for two, since many chassis today will have multiple fans located towards the top. Having a couple of headers located right here is quite convenient, especially when you can feed the cables through a rubber grommet such as with our Corsair 700D chassis.
Also here is a bar for monitoring voltages with the help of a multimeter. During overclocking, you can simply stick a probe into one of these and monitor the true voltage values of things, rather than rely on the EFI to relay semi-accurate information.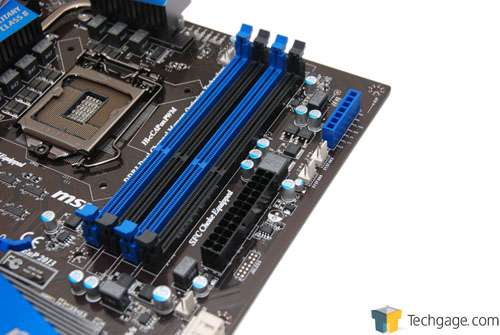 While the P67A-UD4 from GIGABYTE offers SLI support, MSI makes up for its equal price by giving us eight SATA ports to deal with here, along with on-board power/reset buttons. There's another for "OC Genie", which when pressed, will overclock the CPU to around 4GHz, taking out the need to even enter the BIOS. It's a nice feature for those who want a quick, free boost.
As mentioned before, this board offers support for a CrossFireX setup, and as is becoming a theme, MSI also offers 3 x1 slots alongside the x16s, and also two legacy PCI.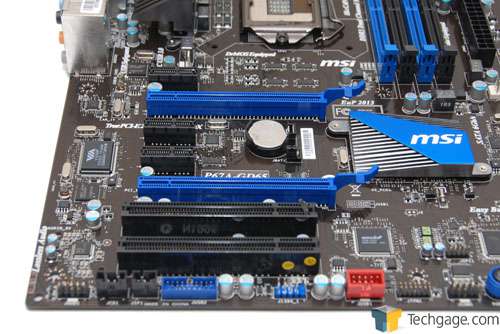 The GD65 looks to support any CPU cooler in production by offering a completely clean surface area around the CPU socket. If there's a cooler that won't fit in here, I am not sure I'd want to see it. One beef I do have here though can be seen with the 8-pin connector to the top-left of the board. This is located just south enough from the top that I had no choice but to use a cable extender – a problem that could be negated it if were located at the absolute top.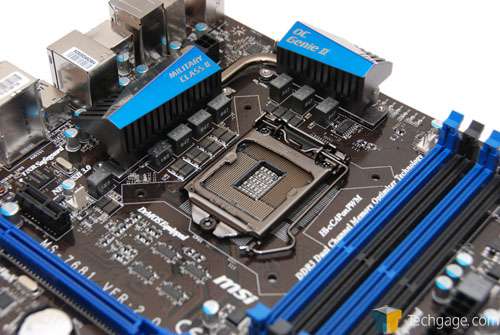 At the back we have 8x USB 2.0 ports, 2x USB 3.0, a LAN, full complement of audio ports, FireWire, eSATA (including power), a PS/2 mouse/keyboard port and also a CMOS clear button.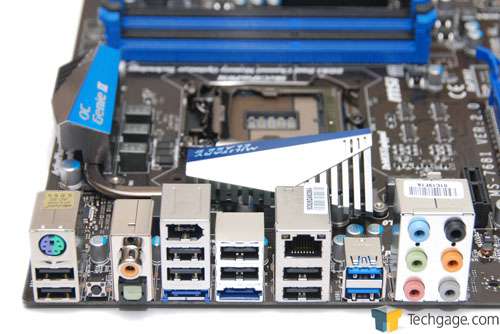 Overall, I like the P67A-GD65 quite a bit in terms of looks, design and features. I love the accessible fan headers, and layout-wise, I have nothing to complain about. Well, aside from the 8-pin power connector, which I really wish was nearer the top (this should be the case on any motherboard).
MSI is the only vendor aside from ASUS of the four here that opted to deliver a full-blown EFI experience, though its take on things is quite a bit different. Let's take a look at see how it compares to the EFI seen on the P8P67 Deluxe.
MSI P67A-GD65 – EFI
The EFI found on the P67A-GD65 is quite a bit different than the one we saw on ASUS' board, which is not a bad thing. It proves that some companies will try different things, and that's to be commended. Though, there is the potential problem that one implementation just isn't that great, and where that's concerned, I can state that ASUS has the advantage here.
Similar in design to GIGABYTE's faux-EFI "TouchBIOS", MSI's EFI kicks off with a simple welcome page, with five large buttons that can be clicked for quick access to various areas. This includes a power section, utilities, overclocking, games (with the help of an included DVD) and also settings.
Most sections, once entered, act like a normal BIOS, though the presentation isn't quite as clean and simple as the EFI on ASUS' board. Though, it's far from being poor, either, and is in fact a major step up from the typical BIOS. Due to its design, however, there will be more steps required to take care of something, and it will take a little getting used to, but I still prefer it over a regular BIOS.
MSI has stated that while its initial EFI implementation is good, there are big plans for the future, and we can expect that the EFI shipping with Intel's next-generation chipset (post-Z68) will look nothing like this one.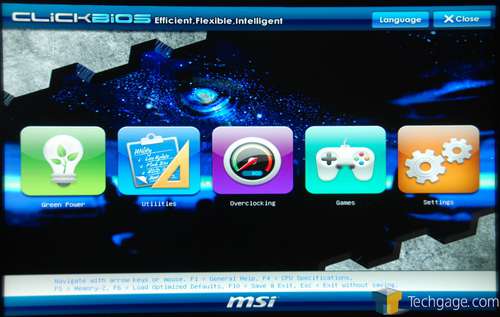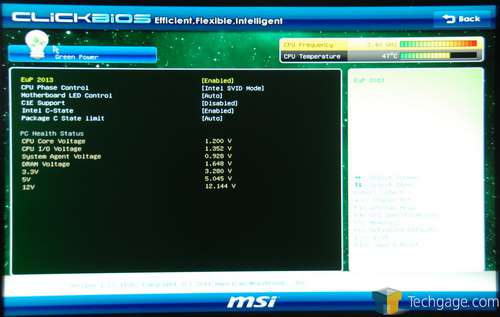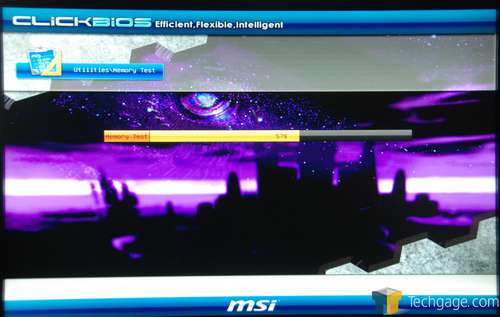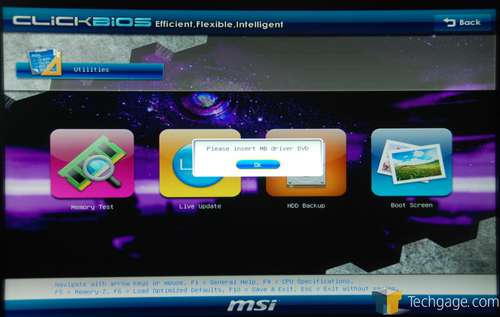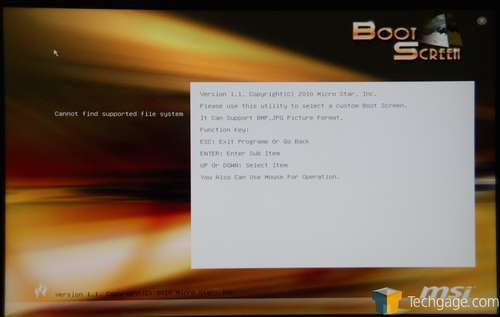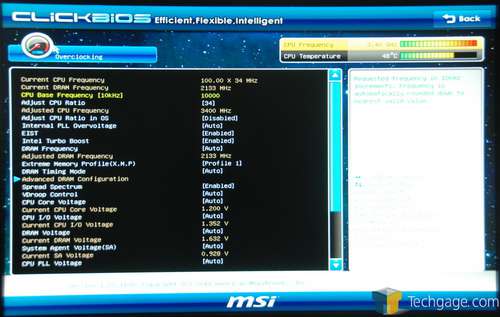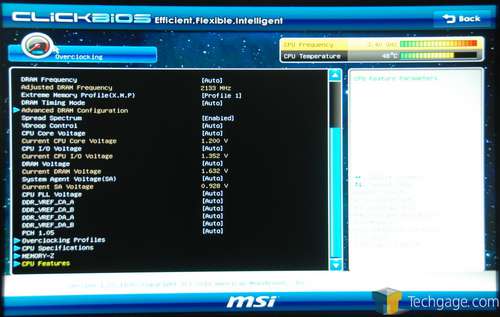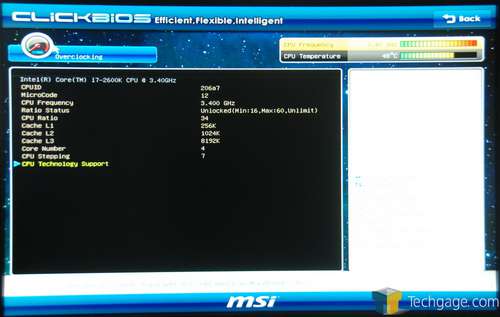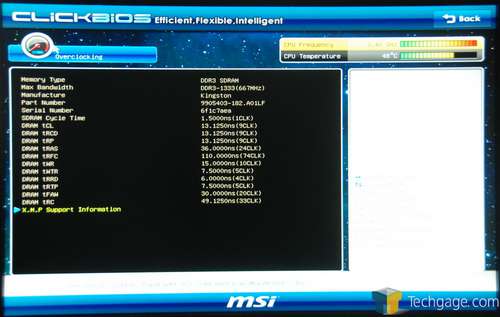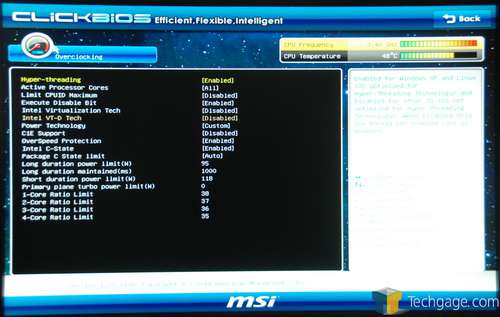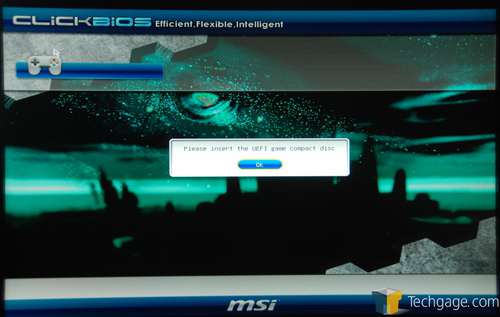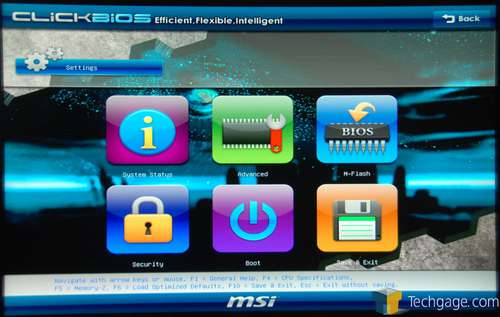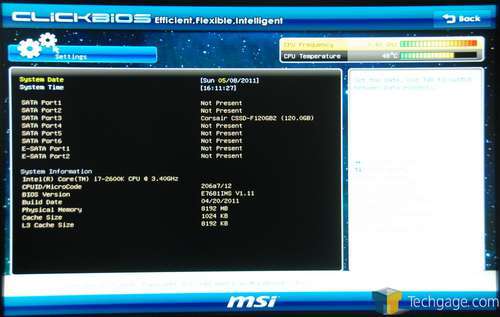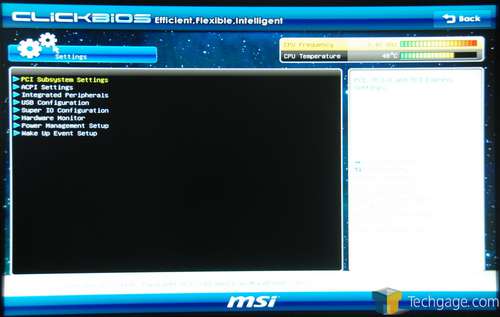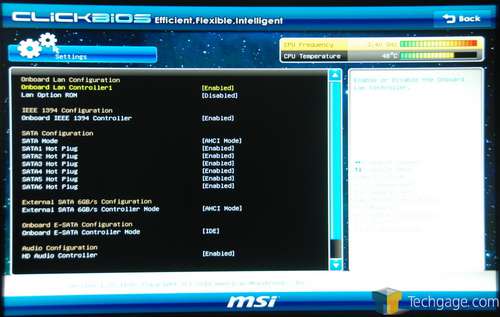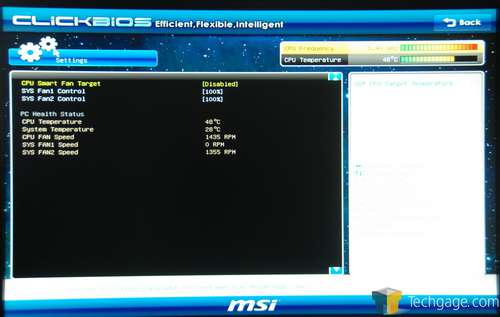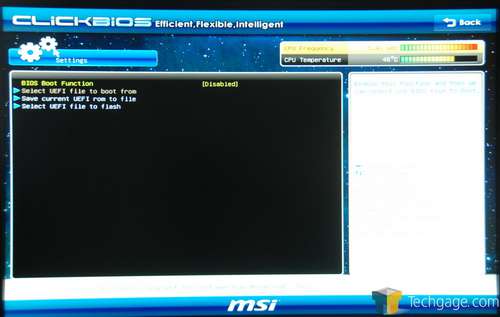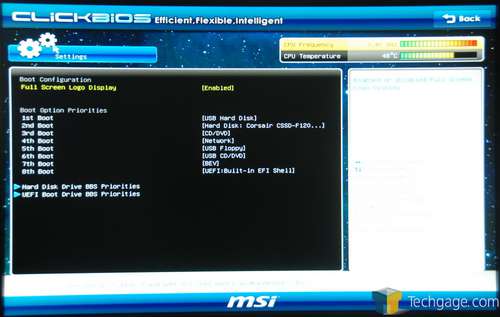 Test System & Methodology; BCLK Values
At Techgage, we strive to make sure our results are as accurate as possible. Our testing is rigorous and time-consuming, but we feel the effort is worth it. In an attempt to leave no question unanswered, this page contains not only our testbed specifications, but also a detailed look at how we conduct our testing.
If there is a bit of information that we've omitted, or you wish to offer thoughts or suggest changes, please feel free to shoot us an e-mail or post in our forums.
Test System
The table below lists the hardware for our current motherboard-testing machine. Each motherboard used for the sake of comparison is also listed here, along with its BIOS version.
Processors
Intel Core i7-2600K – Quad-Core, 3.40GHz, Default Voltage
Motherboard

ASUS P8P67 Deluxe (BIOS: '1503' 04/01/2011)
GIGABYTE P67A-UD4 (BIOS: 'F4' 04/13/2011)
Intel DP67BG (BIOS: '1979' 04/19/2011)

MSI P67A-GD65 (BIOS: '1.B' 04/20/2011)

Memory


Kingston HyperX Genesis 4x2GB – DDR3-2133 9-11-9-27 @ 1.65v


Graphics

AMD Radeon HD 6850 1GB (Catalyst 11.3 Driver)

Audio


On-Board Audio


Storage


Corsair Force F120 120GB Solid-State Drive (OS Drive)
Corsair Force F160 160GB Solid-State Drive (I/O Testing)


Power Supply


Corsair HX750W


Chassis


Corsair Obsidian 700D Full-Tower


Display


Gateway XHD3000 30″


Cooling


Corsair H70 Self-Contained Liquid Cooler


Et cetera


Windows 7 Ultimate 64-bit

When preparing our testbeds for any type of performance testing, we follow these guidelines:
General Guidelines
No power-saving options are enabled in the motherboard's BIOS.
Internet is disabled.
No virus scanner or firewall is installed.
The OS is kept clean; no scrap files are left in between runs.
Machine has proper airflow and the room temperature is 80°F (27°C) or less.
To aide with the goal of keeping accurate and repeatable results, we alter certain services in Windows 7 from starting up at boot. This is due to the fact that these services have the tendency to start up in the background without notice, potentially causing inaccurate test results. For example, disabling "Windows Search" turns off the OS' indexing which can at times utilize the hard drive and memory more than we'd like.
The most important services we disable are:
Windows Defender
Windows Error Reporting Service
Windows Event Log
Windows Firewall
Windows Search
Windows Update
The full list of Windows services we assure are disabled is large, but for those interested in perusing it, please look here. Most of the services we disable are mild, but we go to such an extent to have the PC as highly optimized as possible.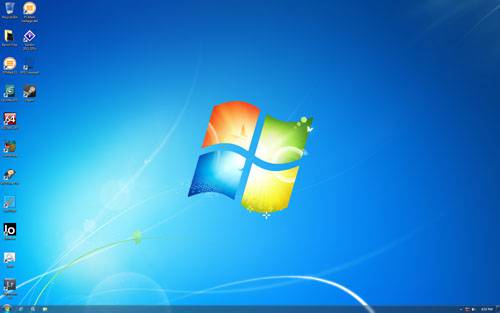 Our Windows 7 Desktop for Motherboard-Testing
To ease the tedium of setting up the OS for each round of benchmarking, we rely on Acronis True Image to restore a pre-setup copy of Windows 7 Ultimate x64. Prior to restoring this image and benchmarking, the OS SSD is securely erased, in order to restore it to like-new conditions. The same applies for our alternate SSD which is used for our I/O performance tests.
Real-World & Synthetic Benchmarks
To help us deliver a well-rounded set of test results for each board, we use a variety of real-world applications and synthetic benchmarks. Our real-world tests consists of Autodesk 3ds Max 2011, Adobe Lightroom 3.3, Handbrake, Civilization V and Left 4 Dead 2. Our synthetics are HD Tune Pro 4.6, Iometer 2006.06.27, Sandra 2011 SP1x, SPECviewperf 11, PCMark Vantage and 3DMark 11.
All tests are run twice over with the results averaged. If there is an unnatural variance between the first two runs, then we continue to run the test until we receive a result we believe to be accurate.
Actual BCLK (Base Clock) Values
A base clock (BCLK) is an innate frequency value used in conjunction with a multiplier to determine the stock speed of a processor. Defined by Intel, it's up to the motherboard to provide the appropriate value, and for overclocking purposes it can be freely adjusted. But, the free nature of BCLK adjusting can also give vendors a creative method of making sure their motherboard performs just a bit better than the rest, and for that reason, we report on the actual BCLK value of each motherboard with the help of CPU-Z.
Unless there is a clear attempt at cheating, these values should be considered "fun facts" and not much else. Fluctuations of +/- 0.5MHz are not uncommon, and could be the result of features or adjustments in the BIOS or EFI, rather than be deliberately set.
Both Intel's and MSI's board falls just a bit short of the 100.0MHz mark, while ASUS hits it dead-on. GIGABYTE pushes things a bit further, and separates itself from both the Intel and MSI by 0.5MHz.
Overall System: Windows 7 Boot Time & PCMark Vantage
It might not seem obvious, but motherboards play a huge role in the amount of time it takes to boot up and reach a usable OS desktop. While the time it takes to go from the Windows boot logo to a usable desktop will be about the same across each board, the number of components included (chipsets, RAID controllers, et cetera) can greatly impact the amount of time it takes to go from a cold boot to the Windows boot screen.
To see which board can boot into Windows the fastest, we take advantage of our Acronis restore image, and once all of the drivers are installed and the PC is rebooted at least twice, we get down to testing. To do that, we leave the PC turned off for at least a minute, and with stopwatches in hand, begin recording the time as soon as the power button is pressed. We record both the total time it takes to reach a usable Windows desktop and also the time it takes to go from the Windows logo to usable desktop.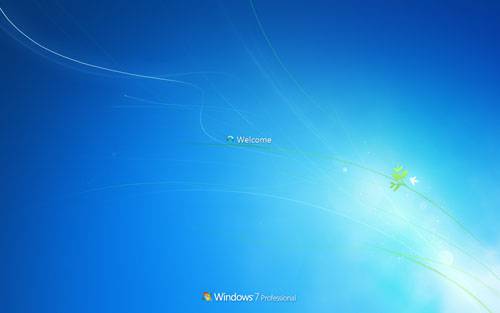 Thanks to the fact that the DP67BG isn't filled to the brim with additional chipsets, Intel becomes a clear winner here. On the opposite end of the spectrum, ASUS' feature-packed P8P67 places last. Across the three non-Intel boards, the delta is a mere three seconds.
PCMark Vantage
Futuremark's no stranger to most enthusiasts, as its benchmarking software has been considered a de facto standard for about as long as it's been fun to benchmark. While its 3DMark software is undoubtedly the company's most popular offering, PCMark is a great tool for summing up the performance of a PC with gaming being a minor focus rather than a major one.
PCMark Vantage runs a total of eight "suites" that aim to stress all of the important hardware found inside of a PC, with the motherboard playing an integral role in overall performance. After all, if a motherboard isn't as efficient as it claims, then that should be visible in our results. The most important score to be found here is with the overall "PCMark Suite" score, and for that reason we split those results into a separate graph.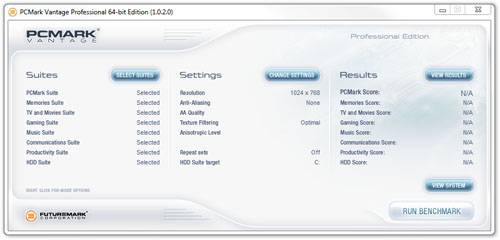 Overall, ASUS' board comes out on top, thanks to its Auto Rule feature that boosts the CPU to 3.80GHz. The other boards show little variation, though Intel's DP67BG does fall a bit behind both the GIGABYTE and MSI.
Overall System: Autodesk 3ds Max 2011 & SPECviewperf 11
Autodesk offers a mind-blowing number of software production tools, but for those who are looking to build complex 3D models and scenes, it's 3ds Max that stands at the forefront. First launched in 1995 as '3D Studio Max', the program has since become a standard within some important industries, including architecture design, gaming development and film production.
For our test, we render a scene commissioned from Bulgarian artist Nikola Bechev, entitled "Naomi: The Black Pearl". The woman is comprised of over 7,000 polys with the entire scene totaling just over 106,000 vertices. Three light sources are used, with the entire scene being enhanced with HDR and ray tracing techniques, and subsurface scattering applied to certain objects. The scene is rendered at 1800×3600 as a production release, with HQ detail levels being used all-around.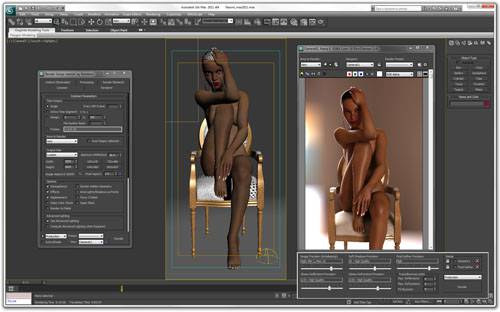 ASUS again has a clear advantage thanks to its innate overclock, while the others perform just about the same. This time, it's MSI to fall into last place, with GIGABYTE leading the stock-clocked pack.
SPECviewperf 11
Where PCMark benchmarks using tests that the common user can relate to, such as watching a video or editing photos, SPECviewperf caters to workstation users who run some of the most complex software on the planet. The test results produced with SPECviewperf can prove a benefit to those doing 3D character animation, architectural and industrial design, and those who use visualization software to help benchmark models or pinpoint issues.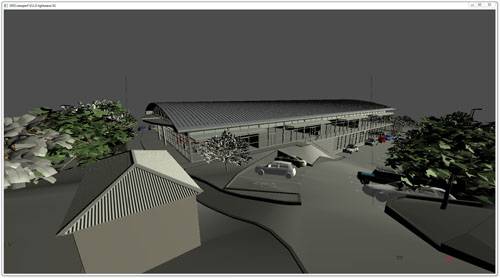 It's a bit harder to single out a top-performer when dealing with eight sets of results, but overall, GIGABYTE again comes out on top, aside from ASUS which has an advantage due to a higher CPU clock speed.
I/O Performance: HD Tune Pro 4.6 & Iometer
For those looking to purchase a new motherboard, storage performance likely isn't something that immediately comes to mind, but the fact of the matter is, optimizations can be made, and also higher-quality controllers be enlisted, in order to deliver I/O performance that puts one board above the rest. While a little more difficult to spot prior to SSDs, thanks to today's super-fast Flash-based devices, we can indeed see some notable differences between the various motherboards we bench with.
For as long as Techgage has existed, HD Tune has remained a static part of our virtual toolbox. The reasons for this are simple. First, it's super-reliable, and second, it offers an unparalleled ease-of-use. It's also highly configurable, but as we're simply testing the I/O for motherboards here, we stick to the main "Read" benchmark, which provides us both min/max/avg results along with the all-important access time.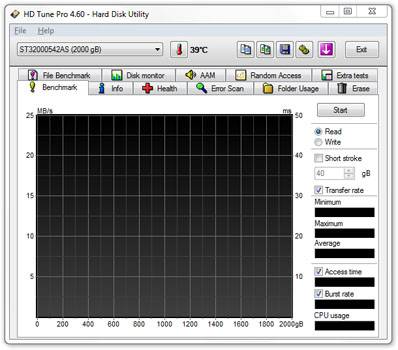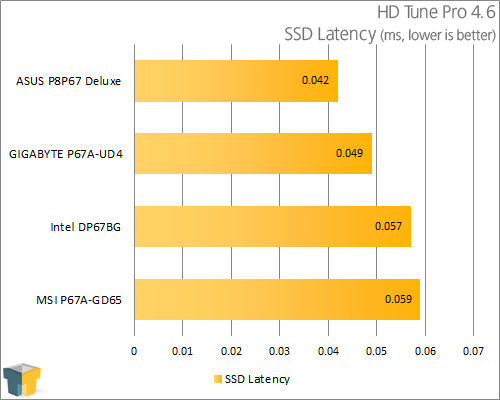 Although ASUS' board is clocked a bit higher than the others, that doesn't affect I/O performance since the CPU is not the bottleneck. That said, ASUS has done something right here, because it surpasses the performance of all the others, although GIGABYTE follows close behind. Intel and MSI about tie each other, although Intel gets a slight nod in the end.
Iometer 2006.07.27
While HD Tune is a superb tool for allowing us to benchmark a storage device in a variety of ways, Iometer is a bit more of a serious tool, allowing us to create our own tests and fine-tune them to our liking. It also outputs the performance as IOPS (in/out operations per second), allowing us to see which motherboard can handle a greater number of I/Os.
If a motherboard has more than one SATA chipset, we default to SATA port 0, unless there exist SATA 6Gbit/s ports that happen to be numbered higher. The goal is to use the fastest SATA port available on the motherboard, as that's the one most people will use for their OS drive.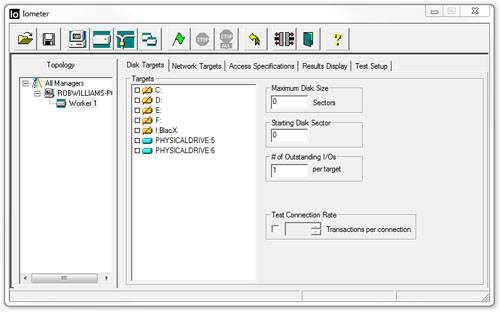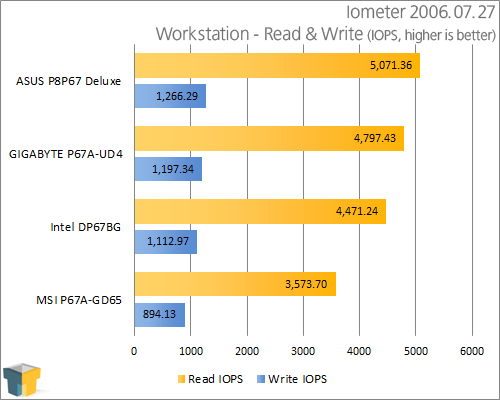 While HD Tune's test isn't affected by CPU speed, Iometer's is, as it stresses the storage device with as many input/output operations as possible. For this reason, ASUS once again soars past the rest, while MSI's weakness becomes super-clear here.
I/O Performance: USB 3.0 & Ethernet
Thanks to the introduction of the super-fast USB 3.0 bus, we're able break free from the rather limiting ~30MB/s transfer speed that we were confined to, to now being able to plug in an external SSD and in some cases double or triple the transfer speed of a regular hard drive. Just like how the SATA chipsets can affect hard drive and SSD performance, USB 3.0 chipsets (and their drivers) can impact the overall performance just the same.
For the same reasons that we use HD Tune a our standard I/O benchmark, we also use it to test for USB 3.0 performance as it's perfectly suited for the task.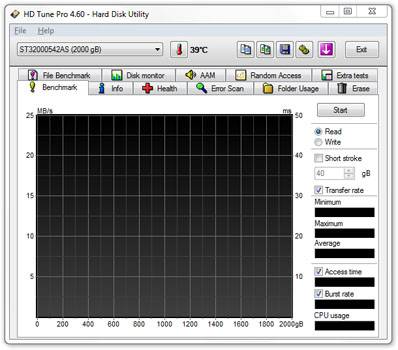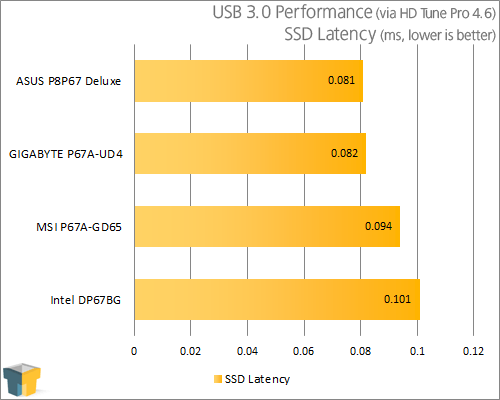 I'm starting to feel like a broken record here, but ASUS has managed to keep on top of the pack, with GIGABYTE keeping right up with it. Similar to our SATA tests, MSI's board falls behind Intel once again.
Ethernet Performance
To some, a LAN port is a LAN port, but for those who take networking seriously, there's can be major differences between one chipset and another. While some may handle a 100GB transfer before slowing to a crawl, another might not even reach 20GB – and trust me, we've seen that sort of difference in our personal machines here.
Benchmarking Ethernet performance and getting reliable results is tough, and we in fact don't believe there is a "perfect" methodology to it, as many variances can come into play from run to run. Plus, it's difficult to replicate the kind of stress where a NIC might stall, because while the first five runs might be fine, it could be the sixth that decides to die out.
Our test server is my personal PC, featuring Intel's Core i7-980X processor, 12GB of Kingston RAM, Windows 7 Ultimate x64 and also Intel's server-grade I340 network card. A network card such as this is an important piece of the equation, as it's in most regards "overkill", meaning that it cannot become a bottleneck when testing on-board solutions.
To both stress-test and benchmark our network we use a cross-platform tool called "Iperf", and for the sake of easier testing, opt to use a Java-based GUI front-end called JPerf. We run two different tests here, with one using 64KB sized packets (a standard test) and another using 1518KB packets (typical of HTTP transfers). Each of these tests opens up 50 connections between the client and server, simulating a true server-like workload.
Note: Performance is just half the equation where NICs are concerned. While one might out-perform another, that doesn't tell us anything with regards to the predicted lifespan of a given model. Based on the personal experience of both myself and Jamie, we've been able to conclude that overall, Intel's NICs are much more reliable over time.
While ASUS has out-performed all of the other boards consistently in each test, it falls a bit short where network performance is concerned. From the results above, we can also see something interesting. In some cases, it's not just the NIC itself that has the ultimate say with the performance, as GIGABYTE's use of Realtek's 8111E out-performed ASUS' implementation by 36~52MB/s.
To help see if one NIC being tested is more durable than another, we run a stress-test using the same tool as above, but double the number of jobs in order to see which NIC fails first. True server-grade NICs, such as our I340, would be able to handle a stress like this for quite a while, but no on-board solution we've tested up to this point has been able to make it past the 20 minute mark.
Interestingly, both of the Intel NICs stalled before the Realtek's, with both Intel's and ASUS' boards being affected. The Realtek-equipped GIGABYTE and MSI boards not only lasted the longest, but managed to retain near-1Gbit/s speeds right up until the time of their failure.
Applications: Adobe Lightroom 3.3; Handbrake & Sandra 2011 SP1x
Photo manipulation benchmarks are more relevant than ever, given the proliferation of high-end digital photography hardware. For this benchmark, we test the system's handling of RAW photo data using Adobe Lightroom, an excellent RAW photo editor and organizer that's easy to use and looks fantastic.
For our testing, we take 250 RAW files (in Nikon's .NEF file format) which have a 10-megapixel resolution, and export them as JPEG files in 1000×669 resolution, similar to most of the photos we use here on the website. Such a result could also be easily distributed online or saved as a low-resolution backup. This test involves not only scaling of the image itself, but encoding in a different image format. The test is timed indirectly using a stopwatch, and times are accurate to within +/- 1.00 seconds.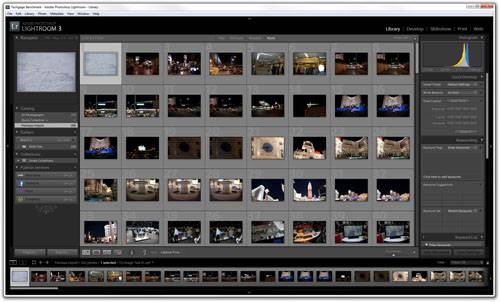 Although Lightroom doesn't take advantage of all the threads that a CPU has to offer, it does benefit from faster overall single-threaded performance. For that reason, ASUS out-performs the pack once again. The others all ranked close to each other, with a minor 4.4 second delta between the top and bottom – not bad for a process that takes about five minutes.
Handbrake
The task of photo editing can be made a lot easier with a faster computer, but nothing is quite so apt to benefit from a speed-boost than a video encode. With mobile phones and similar devices being as popular as they are, it's little surprise that a lot of people like to encode their HD videos to something a bit more manageable.
While some encodes might take minutes, others can take hours, and to get a more accurate look at overall endurance and both CPU and I/O performance, we use the popular Handbrake encoder to take a 1080p Blu-ray movie and encode it to a 720p archival-quality MKV. The settings used here are not for the feint of heart (the encode times are for just the first 10 minutes of the film). These are the same settings I use when encoding a film for archival purposes – whether it's a Blu-ray or DVD.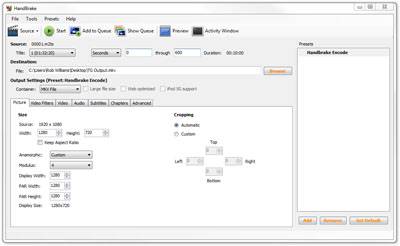 As one might have guessed, video encoding is about as CPU-dependant as it can get, and thanks to ASUS' CPU frequency boost, it again wins this round. Similar to our Lightroom results, the other boards perform just about the same, with super-minimal differences between them.
Sandra 2011 SP1x
SiSoftware's Sandra is a piece of software that needs no introduction.It's been around as long as the Internet, and has long provided both diagnostic and benchmarking features to its users. The folks who develop Sandra take things very seriously, and are often the first ones to add support to the program long before consumers can even get their hands on the product.
As a synthetic tool, Sandra can give us the best possible look at the top-end performance from the hardware it can benchmark, which is the reason we use it for our memory tests – both for transfer and latency.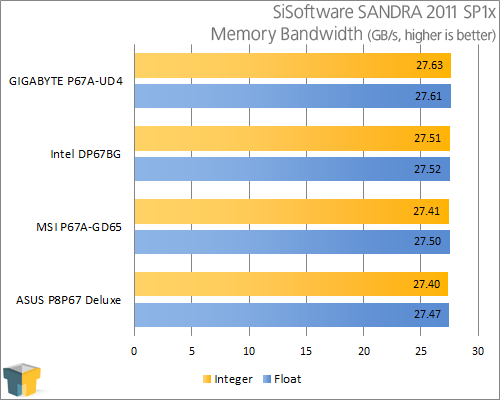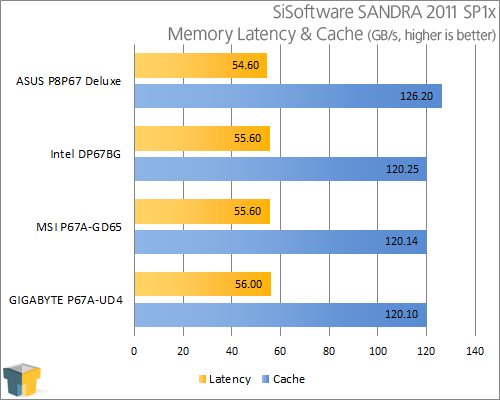 With super-fast RAM like the kit we're using (Kingston DDR3-2133 9-11-9), the CPU won't have much of a say with regards to overall throughput, but where latencies are concerned, a faster CPU can make a huge difference. We can see that to be the case here, with ASUS slimming down the latency by a single millisecond, and boosting the cache throughput by 6GB/s.
Gaming: Futuremark 3DMark 11; Civilization V & Left 4 Dead 2
Game benchmarks stand to see the least amount of gain in comparison to our other tests, but they're necessary for the sake of introducing GPU performance into the mix. Also, while we benchmark hands-on for our graphics card content, we opt for synthetic testing here, as we're utilizing the same components across each motherboard.
First up is the ever-popular 3DMark benchmark, which we run using both the "Performance" (1280×720) and "Extreme" (1920×1080) profiles. A major benefit of this benchmark is that it stresses not only the GPU, but the CPU as well, thanks to its heavy-duty physics tests.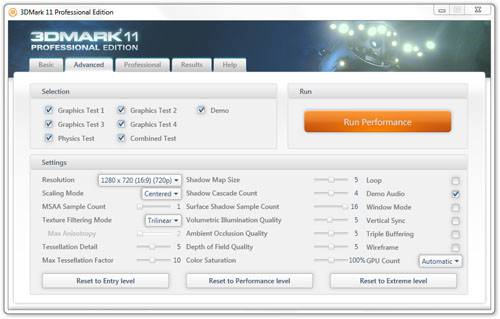 Despite the CPU speed boost on the ASUS board, it doesn't pull too far ahead as the main focus here is on the GPU. Overall, I'd say all four boards perform the same.
Civilization V – Units Benchmark
Real-time and turn-based strategy games tend to be the most stressful on both the GPU and CPU, and Civilization V does well to live up to that stereotype. The game is so stressful on a PC, in fact, that the developers included built-in benchmarks that are meant to test a PC in a worst-case scenario sort of way. For our testing here, we use what's referred to as a "Units" benchmark, which as you can see by the screenshot below, is rather complex.
This benchmark doesn't spit out an average FPS rating, but rather an overall score (which we believe are accumulated frames but we're not certain). Because the game and this benchmark do stress the CPU quite a bit, it makes for a great overall motherboard benchmark. The "No Render" result refers to just the performance from the CPU, while the "Full Render" is CPU+GPU.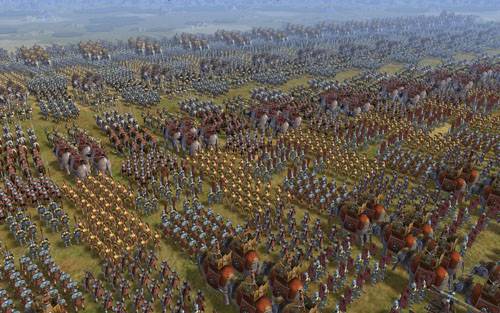 Thanks again to the CPU speed boost the ASUS board has in place, the No Render test performed in its favor. When things were combined, though, all four boards performed just the same. It is rather interesting that MSI's board performed behind the GIGABYTE and Intel, however.
Left 4 Dead 2 – Techgage Timedemo
For as long as Valve's Source engine has existed, its performance has scaled well with CPU clock speeds, and for that reason we used to use Half-Life 2 in both our CPU and motherboard tests. With Left 4 Dead 2, CPU scaling is no longer the case, with a variance of a 1GHz CPU clock speed unable to change our average FPS results at all. Thanks to this, Left 4 Dead 2 is an ideal benchmark for our motherboard testing, since we can see if there is an issue with the GPU performance by singling it out directly.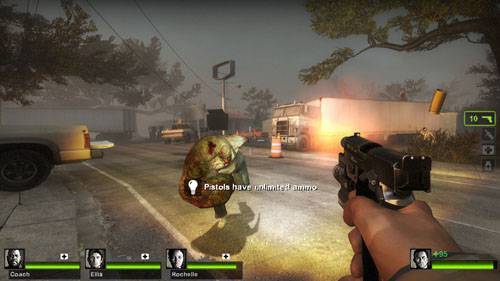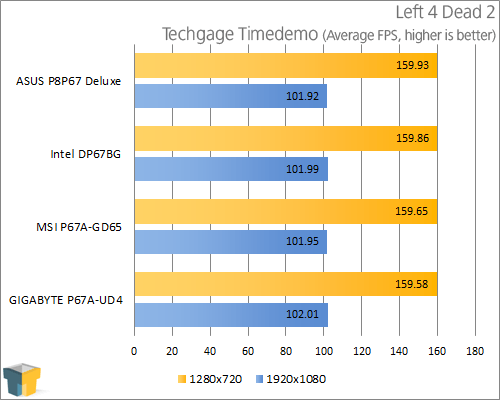 As we'd hope, there is no variance whatsoever across any of the boards tested – a great thing.
Power Consumption
Thanks to the fact that we can see our environment diminish in front of our eyes due to our global habits, being "green" has become a priority of many like never before. Thankfully, companies have also jumped on the bandwagon by developing the most power-efficient products possible, to help us reduce our overall footprint – and save money to boot.
Being the base of a PC, it might not seem obvious that one motherboard may draw more power than another, but because all of the extra chipsets and features piled onto one motherboard may not be on another, there can in fact be a discernible difference between various models.
Because the CPU is the biggest power draw in a PC for most people, we single that out in our testing. If a board has a poor power design, it could end up drawing more power than needed, and likewise, if a board has an excellent power design, it could offset the extra power draw of additional components. It is important to note, however, that while one board might draw more power than another, it shouldn't be considered a bad thing if it's filled to the brim with features. If a board has little in way of features but draws the same amount of power as a beefier model, that'd be reason for alarm.
To test for power consumption, the computer is first boot up and left to sit at idle for five minutes at the Windows desktop, at which point the current wattage is recorded if stable. To test for full CPU load, LinX is run with ~7000MB memory usage for a total of five minutes. During the run, the highest point the wattage reaches on the meter is captured and becomes our "Max Load".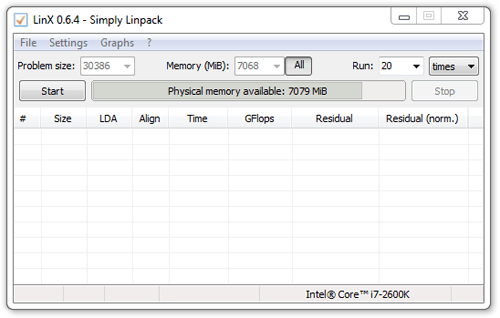 Being as feature-rich as it is, it's no surprise to see ASUS draw more power than the others, and for the opposite reason, it's expected to see Intel draw the least amount of power. Interestingly, though GIGABYTE's board draws a little less power at full load, it draws a lot more than the Intel and MSI at idle.
Final Thoughts
As we took a look at four different boards here, I am going to have a mini "Final Thoughts" for each one, rather than group them all together and offer up overall conclusions. Because these boards are not all priced the same, this article wasn't meant to be a "versus" look at the boards, but rather was a way for us to kick off our P67 coverage with a bang.
First up is ASUS' P8P67 Deluxe, the board I can call the "best" of the entire bunch. Though more expensive than the others, at $230, ASUS makes sure that the board is well worth it. As I've mentioned before, the goals of ASUS' Deluxe boards are to give people a lot of functionality without breaking the bank or entering overkill territory, and the P8P67 Deluxe is no exception.
A lot about this board just feels right. It has a great layout and design, offers on-board power/reset buttons, eight SATA ports, a USB 3.0 header and a generally ideal placement for all of the components. It gives us four fan headers, ten USB ports at the back, and even Bluetooth – an exclusive to ASUS as far as I'm aware.
Add to the fact that the P8P67 Deluxe offers a great EFI that's both aesthetically-pleasing and easy to use, there's nothing to dislike about this board. Plus, it comes with a 3.25″ drive bay for adding two USB 3.0 ports to the front of your PC. Though a bit more expensive than the others, the $230 price tag is justified as far as we're concerned, and given the choice of any board here, this is the one I'd opt for.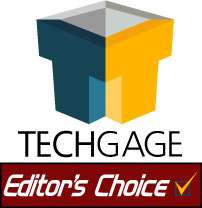 ASUS P8P67 Deluxe
GIGABYTE's also offers a lot to like. The first thing I love about this board is its aesthetics… it just looks killer. Adding to that, its layout is almost as good as it can get, though there are some caveats. There are only three fan headers aside from the CPU here, which to me is an unfortunate downside – four would have been far better.
Another downside is that there are only six side-mounted SATA ports, while the ASUS and MSI offer eight. In today's day and age, it's not at all difficult to populate six slots across HDDs, SSDs and ODDs, so having eight here would have again been preferred.
Where the board lacks in that area, it makes up in others. Though GIGABYTE stuck to an old-school BIOS, the board as a whole performed exceptionally throughout our tests, being only surpassed by the ASUS board, thanks to its auto-overclocked nature. For $180 though, this is a great board – as long as you don't mind the minor omissions with the extra SATA ports and fan header.
Up next is Intel's DP67BG. Being that this board isn't available online as of the time of writing, I won't go into great detail here. Not that there is much to discuss, regardless. We've come to know Intel motherboards as the no-frills option in the market, and the DP67BG doesn't change much. It does have a nice industrial look to it, but compared to the GIGABYTE UD4, which is priced about the same, it'd be hard to recommend Intel's offering. Unless of course, power consumption is a major concern, as it performed the best in those tests.
Where the board lacks in extra features, it makes up in stability and also overclocking (might be hard to believe, but it's true). Plus, it has some other extras that not all of the boards here offer, such as on-board power/reset buttons, a BIOS status LED and… a skull. Admit it, that's cool.
Long-time readers of Techgage might notice something a bit odd about this MSI board. It's the first one we've ever posted a review on. That's not something we did on purpose, though. There have been two failed attempts to publish an MSI review in the past, but due to problems with the samples, I could never write about them. So, when I received this one, I was a little worried to say the least.
But overall, I ended up being seriously impressed. For starters, the board looks great, and has a fantastic layout – well, aside from the 8-pin motherboard connector being located a little too low on the board. Unlike the GIGABYTE board, there are actually four fan headers scattered about, and also eight SATA ports available. To top it off, this board includes the best-looking power/reset buttons of all the boards discussed here.
Apart from ASUS, this is the only board here that offers a robust EFI. While Intel's board offers one, it's not aesthetically special in any way, and is in fact rather generic. While ASUS' EFI does win the battle of looks + function, MSI is to be commended for its own solution. After all, GIGABYTE is a larger player in the enthusiast market but couldn't even manage an EFI in time for launch.
One problem we did have with the board is that it didn't perform quite as well in a lot of cases, but overall, the differences were rather minor, and all of the other perks of the board make up for it. Overall, at $180, it's a well-rounded board and offers a lot of useful features, and one-ups the GIGABYTE UD4 with regards to fan headers and SATA ports.
This board definitely made up for our previous failed attempts to review an MSI board. I look forward to seeing how the company's boards continue to improve over time, and am especially looking forward to what should be a totally revamped EFI with the company's next major series launch.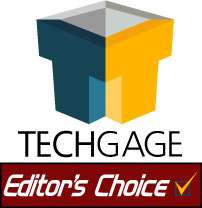 MSI P67A-GD65
In the end, I'd have to vote for ASUS as offering the best board here, but at $230 it might be priced a little high for some. If that's the case, then MSI's board at $180 is another great choice, but for those who don't mind some scaled-backed SATA ports and fan headers, GIGABYTE's board proved to be the best performer at that same price-range.
Discuss this article in our forums!
Have a comment you wish to make on this article? Recommendations? Criticism? Feel free to head over to our related thread and put your words to our virtual paper! There is no requirement to register in order to respond to these threads, but it sure doesn't hurt!
Copyright © 2005-2020 Techgage Networks Inc. - All Rights Reserved.