CES 2013 Coverage Round-up

Date: January 11, 2013
Author(s): Techgage Staff

Been slack on checking back to our site for recent CES coverage? Don't fret – this article helps take care of that. Within this singular yet beefy page, you'll find all of our CES-related content. From mobile to PC hardware to peripherals to technologies – it's all here. Best part? No trademark CES sore feet.
---
Introduction
Each January, the International CES attracts thousands of companies from all over the world to Las Vegas, filling up both the city's convention center and most of its hotels. It's no surprise, then, that with each event, a ton of products and technologies are unveiled that get us excited for the future – whether or not we can actually afford most of them.
Thankfully, this year's CES was no different. Mobile, as usual, hogged the limelight, while desktop PCs were relegated to the background – talked about only by companies that rely on them to survive. We also saw two SoCs get announced by two industry giants, NVIDIA and Samsung, sure to make the next year for smartphones interesting. And who can ignore all of the "4K" talk?
As you may have noticed, our news section has been quite busy all week, with as much talk about the show as our fingers and brains have been able to muster. For those who weren't able to keep up with our news all week, this article is for you; it features all of our CES-related content, aggregated to a single page. You can click on either the title or the images to view a respective article, then simply hit your browser's back button to continue perusing.
Technologies
Crucial Demonstrates DDR4 Memory; Discusses Some Fun DIMM Facts
Its DDR4 sample was running at DDR4-2133 speeds, equipped with DDR3-level latencies. As JEDEC spec supports a maximum speed of DDR4-3200, this is quite modest, though it's 2x the launch speed of DDR3 (1066). This effectively means that our DDR4-equipped systems should have at least double the memory performance than what we saw at DDR3 launch – or better, depending on other architectural changes that were made.
Intel Formally Announces Haswell as 4th Generation Core Processor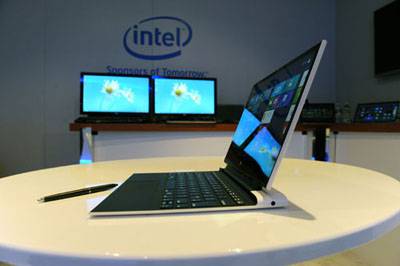 As a quick recap of what Haswell actually is, it's a microarchitecture that falls into Intel's "tock" phase. With its yearly product cadence, Intel's "tick" involves a slimming-down (process-wise) of its previous microarchitecture while adding in evolutionary improvements, whereas "tock" is a brand-new microarchitecture built upon the same process as the previous "tick". Like Ivy Bridge, Haswell will be built on a 22nm process.
NVIDIA Announces Tegra 4 – Sports Cortex-A15 CPU and 72-Core GPU
Internally, NVIDIA kept the general design of Tegra 4 the same as the previous generation, sticking with its 4+1 layout (4 cores + a "second generation" battery-saver core). The CPU cores themselves have been upgraded to ARM's latest, Cortex-A15, which helps dramatically with the overall speed boost. Graphics-wise, Tegra 4 is theoretically "up to" 6x faster than Tegra 3, thanks in part to its inclusion of a 72 cores. 72!
QNAP's 3.8 NAS Firmware Introduces DJ, TV and Video Station Apps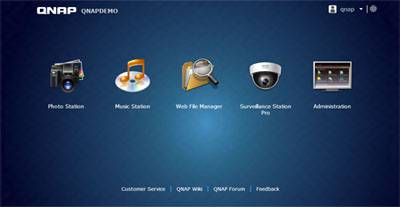 New to 3.8.1 is the company's Surveillance Station Pro capability, and with that, over 1400 supported IP cameras. Also new are updated apps for iOS and Android, a new DJ Station, Video Station and TV Station. Updated in the new firmware is the popular Photo Station and Music Station 3. Also new from the company is its TS-x70U-RP series of NAS. If the naming of the device turns you off, the specs wont. 10GbE ready, the TS-x70U-RP is capable of reaching over 1,800 MB/s throughput and over 180.000 IOPS.
Samsung Unveils Eight-Core SoC – Exynos 5 Octa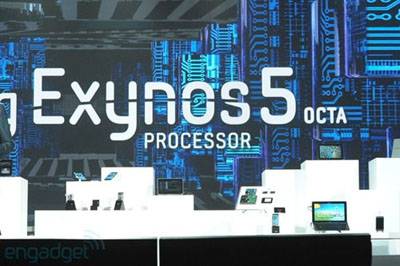 To call Exynos 5 Octa an "octa-core" is a little inaccurate in the sense that it's not a singular chip with eight cores. Instead, it's designed using ARM's big.LITTLE design, pairing both a high-performance quad-core with a power-efficient quad-core. For big tasks, the Cortex A15 clocked at 1.8GHz will be engaged, whereas for modest ones, the 1.2GHz Cortext A7 will be called into action instead.
So What Exactly is "4K", Anyway?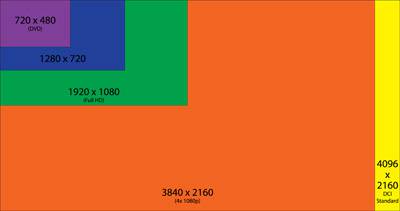 What defines a 4K resolution is that it's at least 4,000 pixels in width; the height isn't under such strict ruling. However, there's no established 4K standard at the moment, which has led to many companies skewing the final resolution ever-so-slightly. In fact, some companies don't even match the 4,000 pixel width, yet still refer to their technology as 4K.
Synology Releases Feature-packed DiskStation Manager 4.2 Beta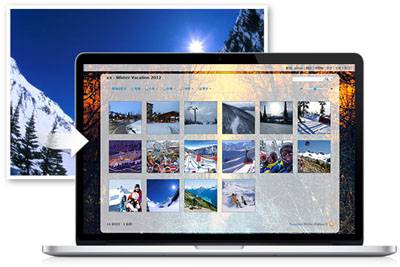 Using this week's CES in Las Vegas to showcase its latest hardware (two pieces of which I'm currently wrapping up reviews for), the company also dropped a substantial bit of news – a brand-new beta of its DSM (DiskStation Manager) is here. I have installed the updated software on my personal NAS at home, and while those familiar with the current GA offering from Synology will feel right at home, the improvements on attached apps and features are worth the upgrade for those not deterred by beta software.
USB 3.0 Will See Speed Double in 2013
It's amazing what a little competition can do. First it was FireWire that brought about much needed updates to the original 1.5Mbps USB spec, culminating in the venerable 480Mbps USB 2.0. Now apparently we may have Thunderbolt to thank for such a rapid update to the still very new USB 3.0 spec.
WaterBlock – Thin, Clear & Effective Gadget Water-cooling That You Can't Buy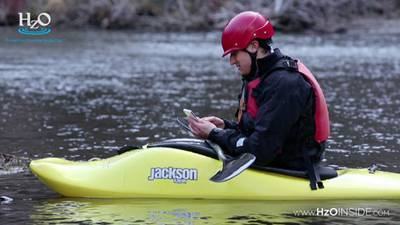 HzO has created a technology called "WaterBlock" which applies a thin microfilm to most any gadget through a process of vapor deposition, which results in a totally invisible coating. Your phone won't weigh more, won't feel thicker, or result in the touchscreen failing to work. What it does do, however, is resist water extremely well. In a test done at CES, the company had a Samsung Galaxy SII submerged in water, and it kept on ticking. Even better – the back was off, meaning both the battery and SD card were left exposed.
Westinghouse Wants to Sell You a $300,000 4K TV – You In?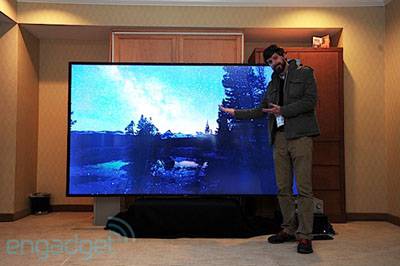 As you'd expect, many TV vendors at the event are showing off their own models, but it's Westinghouse's 110-inch offering that really stands out. For starters, the screen is simply massive – so big, you may not even realize someone is walking in front of it (alright, that might be a slight exaggeration). What will one of these bad boys cost you? Only a cool $300,000.
Computer Hardware
ASUS Announces Calibrated ProArt and 144Hz Gaming Monitors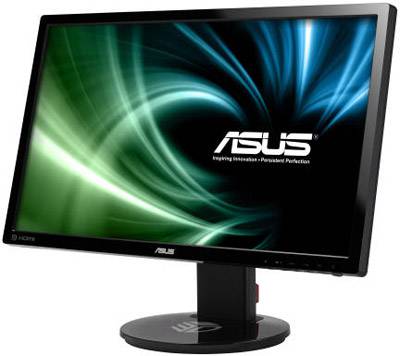 ASUS may not be the first, nor the last company to calibrate any line of monitors, but it's an important step. The 24? PA249Q ProArt is one such monitor, sporting an IPS panel and calibrated to within a delta-E of 5 (a 0 would be perfect and 2.5 would be excellent). While not optimal, it's still a long ways better than if it were left unchecked. As such, the ProArt can achieve a color reproduction rating of 99% Adobe RGB, 103% NTSC and 100% sRGB.
ASUS Goes Big with ARES II Dual Radeon HD 7970 GHz Edition Graphics Card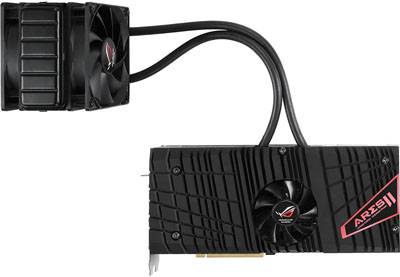 At the forefront, ARES II sports dual AMD Radeon HD 7970 GHz Edition GPUs, featuring 6GB of GDDR5, ASUS' exclusive DIGI+ VRM and Super Alloy power technologies, a cool aesthetic and somewhat surprisingly, a dual-slot design. Alright, there's a reason for that. ARES II is liquid-cooled, but to achieve this, ASUS bundles a large, double-width radiator equipped with two fans.
ASUS' Transformer AiO Combines a Tablet with a Desktop PC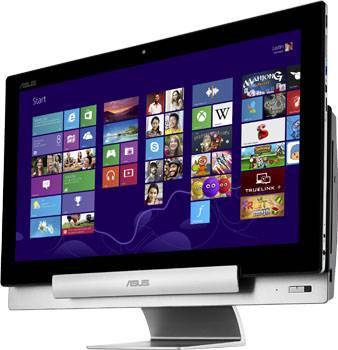 The Transformer AiO can be used at your desk like a normal PC, but for those who want to go lounge on the couch or elsewhere, it can be detached from its base and carried along. As most of the tablet's hardware is found inside its base, this is a solution that's designed for home or business use only – you can't leave the house with it. Because of its ability to use more robust hardware, though, the Transformer AiO bundles in both Windows 8 and Android 4.1. That's right – x86 and ARM architectures under the same hood.
Corsair Goes Bigger than Big with Obsidian 900D Chassis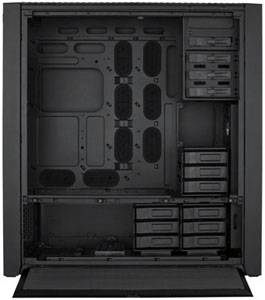 Holy mother of all hot-swap bays this thing is intense. It's what Corsair calls a "Super Tower", and it's hard to disagree with that classification. Out-of-the-box, the 900D supports fifteen fans, nine hard drives, four ODDs, dual power supplies and the largest enthusiast motherboard you can throw at it. Is that not enough for you? If you want, you can purchase extra drive bays and increase the hard drive support to fifteen.
Corsair's Voyager GT Turbo is Native USB 3.0 and Crazy Fast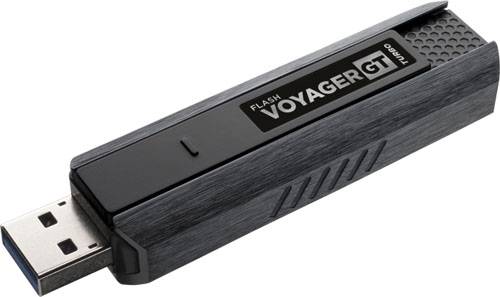 Because Corsair was able to introduce a native USB 3.0 controller inside of the flash drive, the bottleneck introduced with a USB 3.0-to-SATA converter has been avoided. This design allows the Voyager GT Turbo to reach speeds of up to 260MB/s read and 235MB/s writes. We're talking SATA 3Gbit/s SSD-level performance here from a drive no larger than previous generation thumb drives.
SSDs are Crucial; So is the Crucial M500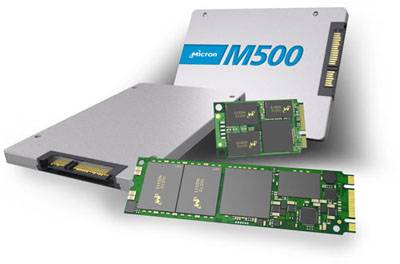 The M500 upgrades the Marvell controller to the 88SS9187-BLD2, which SSD aficionados may recognize as the controller from the Plextor M5 Pro drives. Crucial of course writes its own proprietary firmware for the controller, and Plextor does likewise. This time around Crucial has elected to keep the M500 branding consistent between consumer (Crucial) and enterprise (Micron) drives to minimize confusion.
GIGABYTE's Super-small PC Packs an SSD, Core i7 CPU and 8GB of DDR3
This yet unnamed mini-PC was spotted by the folks at Engadget during a visit to the company's suite at CES. It's much smaller than a Mac mini, at 0.3 liter volume, yet can still sport either an Intel Core i3, i5 or i7 processor. GIGABYTE is also able to squeeze in 8GB of DDR3 and up to a 256GB SSD into the small PC. Despite its size, it sure can pack a punch. Connectivity-wise, the PC includes dual USB ports, Ethernet and two separate HDMI ports.
iBUYPOWER Introduces Striking Revolt Gaming PC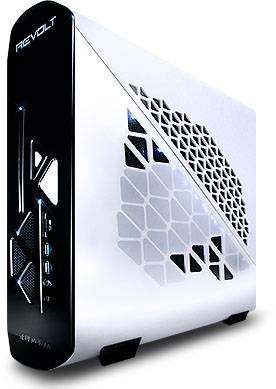 In designing the Revolt, the folks at iBUYPOWER said that they didn't look to the market for ideas, but rather sat down and pictured what kind of PC they'd want to see sitting next to their desks. The result is something pretty striking, and almost artsy. The chassis is mid-tower in size, and features a white and black color scheme. Triangular holes are arranged on the side in a specific pattern that not only allows some air to escape, but the internal lighting as well.
Kingston Commemorates 10 Years of HyperX with Special Edition Memory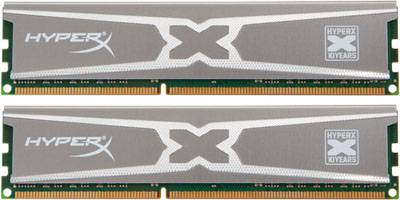 Simply called "HyperX 10th Anniversary Edition", these modules sport a low-profile design and a gray heat-spreader with a light metallic design creating an "X" in the center. It's a simple, yet sharp design. Those interested in picking up a kit will have a good number of configurations to choose between. Kits come in sizes of 8 – 32GB, with single modules going as low as 4GB. Speeds range from DDR3-1600 all the way up to DDR3-2400.
Kingston Delivers Third-Gen DataTraveler Ultimate 3.0 Flash Drive

As you'd expect with a new generation, the current Ultimate 3.0 is faster than the previous model – and by a rather fair margin. The first-generation Ultimate 3.0 boasted speeds of 80MB/s read and 60MB/s, while the second bumped those to 100MB/s read and 70MB/s write. This generation 3 model bumps those speeds once again to 150MB/s read and… 70MB/s write.
Kingston's HyperX Predator Flash Drives Go to 1TB – Yes, 1TB

About a year ago, I took a look at Kingston's first-ever HyperX flash drive, weighing in at 64GB. At the time, that was in all regards impressive – though not quite as impressive as the 256GB offering the company also had. It's not uncommon for technology to move at such a pace where densities can double each year, but I am not sure anyone expected Kingston to be announcing a drive today that quadruples last year's top-end model.
OCZ Shows Off Enthusiast-bound Vector PCIe SSD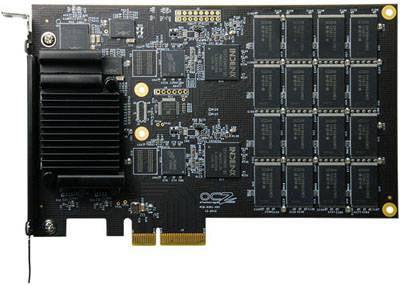 OCZ is no stranger to PCIe-based solid-state disks, as it's already responsible for the RevoDrive and RevoHybrid among other enterprise options, and it has now put its accrued experience into the PCIe Vector design. It features two Barefoot 3 controllers linked via OCZ's Virtualized Controller Architecture 2.0 technology. Judging by the mounting points on the PCB (and if the Revo was any indication) we suspect that models with up to four controllers may also be in the works!
Thermaltake Beefs Up Chaser Series with New Models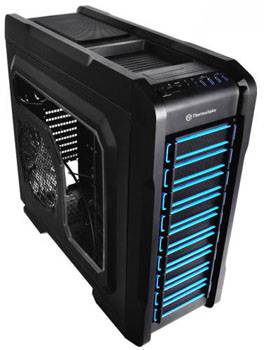 This time around Tt is launching two mid-tower versions in addition to the redesigned full-tower model. The first is the A31, which will be available in black, white and a very eye-catching blue. It comes with two 120mm fans and features a more basic, clean look that might appeal to folks who thought that the styling of the original was a bit too much.
Thermaltake Introduces NiC and WATER 3.0 CPU Coolers; GOrb II Notebook Cooler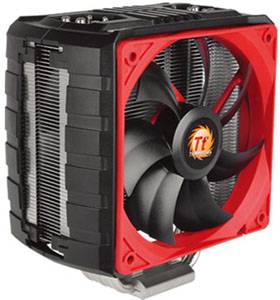 New for Thermaltake, aside from the chassis line we discussed here, is its NiC line of CPU coolers. The air cooler design features "slim tower side flow design", a 120mm fan and enough clearance for RAM modules. For good measure, an adjustable fan controller is added, allowing the user to pick their speeds and tailor them for their preferable acoustics.
TRENDnet Announces First USB 3.0 802.11ac Adapter
The company's TEW-805UB AC1200 adapter sports a USB 3.0 interface – meaning no more bottleneck – and supports both n and ac wireless specs. When connecting to an ac router, the adapter will peak at 867Mbit/s (pretty specific, there), while on n, it'll run at the typical 300Mbit/s. When it launches in April, the TEW-805UB will retail for $69.99 – not bad, considering that's about the same price as NETGEAR's USB 2.0 offering.
TRENDnet Powerline 500 AV Nano Adapter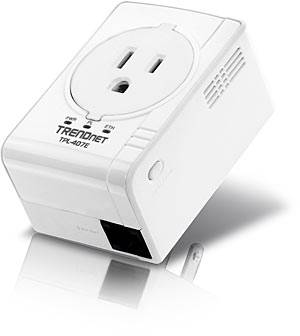 TRENDnet has chosen the 2013 CES in Las Vegas, Nevada to debut their TPL-407E Powerline 500 AV Nano adapter. If that seems like a mouthful to say, it's because it is. Setting this powerline adapter apart from the majority of other similar products is the addition of a built-in outlet – no longer will you have to sacrifice an outlet to use a powerline adapter.
ZOTAC Announces Third-Gen ZBOX, Packs in NVIDIA GT 610 and Dual NIC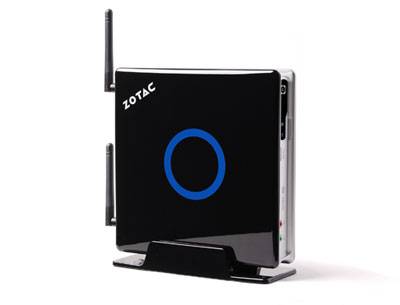 The biggest difference between the third-gen "ID42? models and the previous-gen is the addition of NVIDIA GeForce GT 610 graphics. While hardly a powerful GPU by any stretch, some may prefer it over Intel's HD 4000 found in the second-generation ZBOX, if not for anything else but compatibility with certain games. Alongside those graphics, ZOTAC employs a dual-core Intel Core processor which runs at 1.1GHz, 4GB of DDR3 and a 500GB 5400RPM hard drive.
Consumer Electronics
ASUS' Google TV Device is the Cube-shaped "Qube"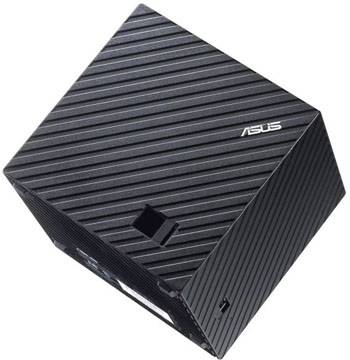 Set to sell at $150, ASUS' Qube is a bit more expensive than competing products, and at the moment, we're not exactly sure if it's warranted or not. Despite being unveiled at the show, details are surprisingly vague. Engadget reports that the device will ship with 50GB of "cloud" storage, though nowadays that isn't too much of a surprise.
Corsair Voyager Air – a Mobile Wireless NAS and Hub
Equipped with 802.11n/b/g Wi-Fi, USB 3.0, Ethernet and a rechargeable battery, the Voyager Air comes in 500GB and 1000GB models. Accessible from almost any device, it can connect to any PC, Mac or with a free Corsair app, Android and iOS touch devices. When at home, the Voyager Air can connect to network enabled smart televisions, Blu-Ray players, consoles, DVRs and media streaming boxes. Make note of those devices as Corsair claims the Air can stream HD content up to five devices at once.
Hauppauge Rolls-out HD PVR 2 Model 1512 and GE Plus Video Recorders

Starting with the HD PVR 2 Model 1512, a device engineered for "home media enthusiasts", it allows users to create a library of their favorite cable or satellite TV recordings. Compatible with Windows Media Center for Win 7 and Win 8, the HD PVR 2 can be programmed to change the channels of a set top box using the IR blaster at a designated time.
Steam Box Concept Design – Xi3's Piston
S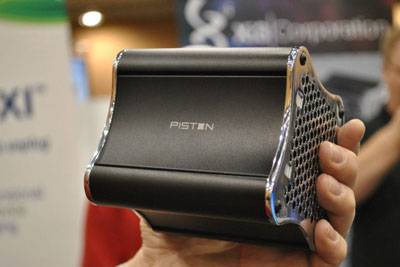 Currently on show at CES 2013, specifics about the Piston are minimal, as well as any long-term relationship between Valve and Xi3. What we do know is that it's based on the X7A modular series, which comes equipped with a quad-core processor, 8GB RAM, up to 1TB worth of SSD storage and support for three monitors. This particular series starts at $999, and does not reflect the specific configuration of the Piston.
Mobile
ASUS' TAICHI Notebook Features Dual-displays – Yes, We Said Notebook
By most regards, TAICHI hits all of the marks you'd expect an Ultrabook to, but there's one feature that will help this one stand out in a crowd: dual-screens. Now, I admit this is a feature that caused me to do a double-take at first, but who could blame me? We're talking about two displays on a single notebook. No – we're not talking screens that fold out to create two displays; rather, TAICHI's hood has a display on either side.
NVIDIA's "Project Shield" Vows to Offer Ultimate Mobile Android Gaming Experience
Essentially, "Project Shield" is an Xbox 360-like gamepad with a 5-inch screen that extends out of it (it can be folded down into the gamepad when traveling). You can use the screen like a normal tablet, but then use the gamepad when you want to use the device for its main purpose.
Razer's "Project Fiona" Becomes Razer Edge, Will Launch in Q1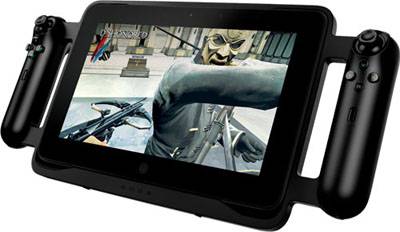 The "true PC hardware" I mentioned above is what sets Edge apart from the competition. Most gaming tablets stick with a mobile solution, such as NVIDIA's Tegra, whereas Edge employs either an Intel Core i5 or i7 processor and a notebook-level GPU (GeForce 640M LE). Neither component will be top performers in their category, but this is a tablet.
Peripherals
Corsair's New Generation of Vengeance Peripherals – Introduces Raptor Brand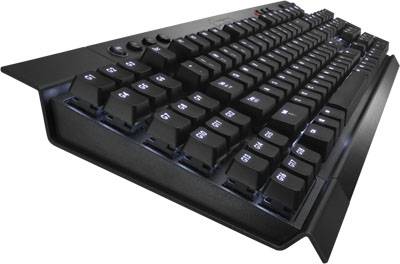 Simply called "HyperX 10th Anniversary Edition", these modules sport a low-profile design and a gray heat-spreader with a light metallic design creating an "X" in the center. It's a simple, yet sharp design. Those interested in picking up a kit will have a good number of configurations to choose between. Kits come in sizes of 8 – 32GB, with single modules going as low as 4GB. Speeds range from DDR3-1600 all the way up to DDR3-2400.
Rosewill's Helios RK-9200 Mechanical Gaming Keyboard Features Dual LEDs
Rosewill has become a bit of a de facto standard as far as mechanical offerings are concerned, as the company doesn't focus too much on bling but rather simply delivering a well-built, easy-to-use keyboard that feels great to type on. The RK-9200 follows in these footsteps, but does add a bit of flavor.
ROCCAT Soon to Release First Mechanical Gaming Keyboard, "Ryos"
Ryos features 100% backlighting that can be modified on a per key basis. This would allow gamers to light up only the keys they use in gaming – especially useful for MMOs. In addition, thanks to its inclusion of "up to two" 32-bit ARM processors, you're able to equip the keyboard with up to 500 individual macros. The idea here is that if there are some keys you don't use often in your games, you could instead dedicate them to macros. Further, under the keys and above the wrist-rest are three dedicated "Thumbster" keys.
Copyright © 2005-2020 Techgage Networks Inc. - All Rights Reserved.